Air gap required
10-30-17, 06:48 PM
Air gap required
---
I know the final answer will have to come from a local inspector, which I'll try to do tomorrow, but does anyone have a clue if air gaps on kitchen sinks are required by code? My old house, built the same year as this one, didn't have one (and yes, it was all original hookups). I mean, I'm pretty sure it is, but I've seen 2 posts from AZ where the state modified it to read basically either an air gap or a high loop is acceptable. I'm also not sure which cycle they were talking about since they didn't mention the version. Seems odd because each municipality/county is allowed to adopt their own code I believe, so why would what the State adopts matter? Maybe they just adopt what the State adopts out here?

I know they are required in CA, statewide I believe, but we're pretty anti-anything California does, out here anyway...lol.

Not like it has to be inspected or anything, but I want to try to do it right.

What kind of donuts do codes inspectors like?
Sponsored Links
10-30-17, 06:57 PM
Join Date: Oct 2012
Location: Northern NJ - USA
Posts: 59,039
The last couple of jobs I was on there was just a high loop in the hose.... no air gap.
Fresh chocolate ones.
10-30-17, 10:02 PM
Well, I know that's the way it's done a lot of places, but doesn't code say use an air gap, and then that part is overridden locally? Or is it the other way around? As a lowly DIY'r, I haven't found anywhere online to look at actual code. They have copies at the City and County offices I believe.

Ohh OHHH...wait, I found it! I was looking at the wrong section that one of the posts referenced...

802.1.6 is what I needed. I was looking for 807.4.x that was posted. Now I just need to see if the City goes by that verbatim and I'll be golden. I kinda think they do...not real stick up the butt here like some places.

Boy, what a nightmare. Some places require air gaps, some don't. Some allow connection to either the waste line or disposal, some don't. Some allow connection to the disposal if an air gap is used, but not if it's just a loop. No wonder so many tradespeople stay in one area or only work in the County, not the City.
10-31-17, 09:39 AM
When you tie into the dishwasher tail piece or the disposal, thats where the air gap is..
They did away with the high air gap in my location years ago. The one that came up at the sink in the sprayer hole location.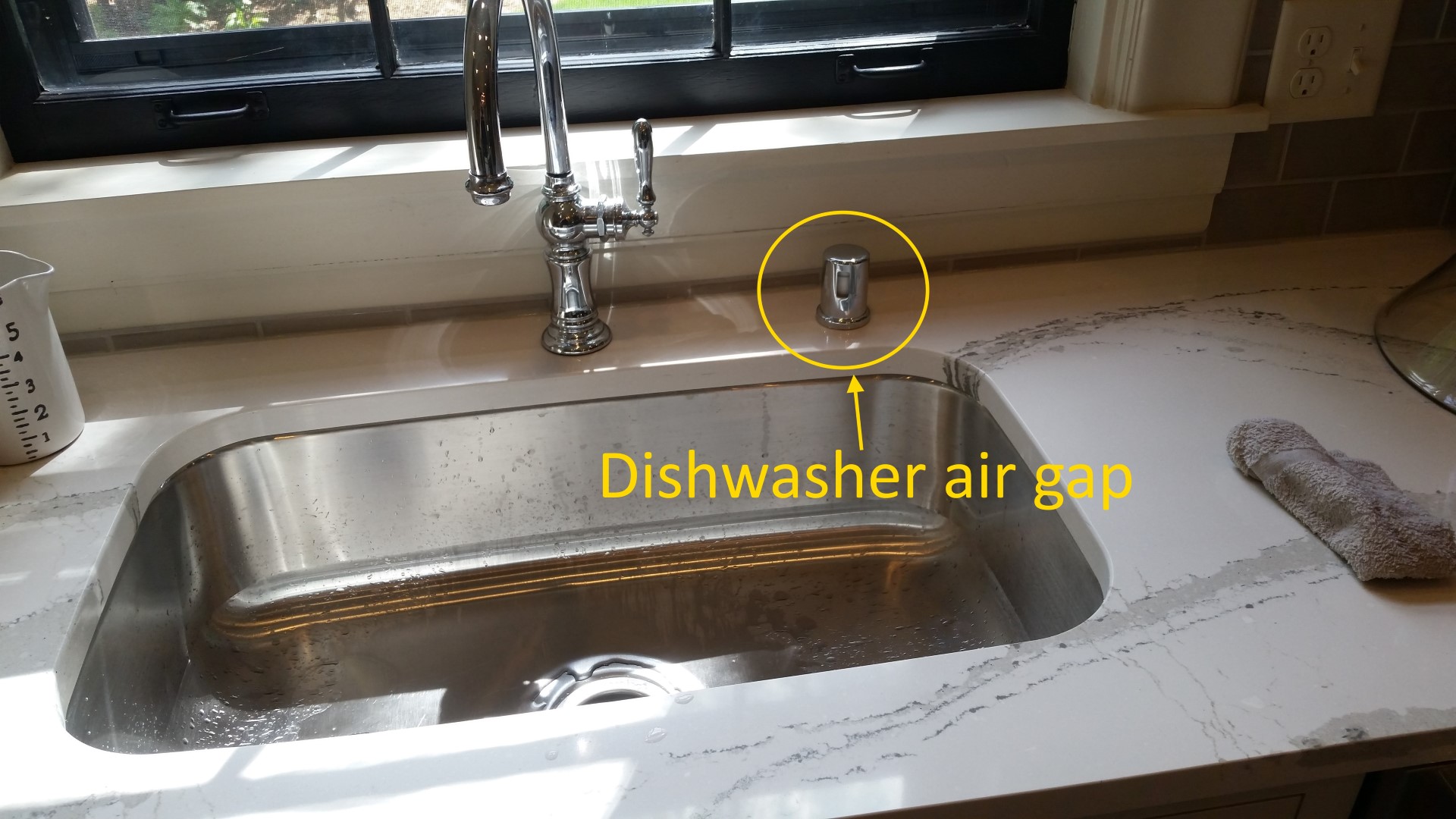 10-31-17, 12:44 PM
If you are allowed a high-loop, I say go for it. Personally I think an air gap is the best way to drain, and I think Air Gaps are required or should be required in every state.
I want to post some info just for anyone wanting to research. The problem with a high loop is it doesn't provide true air flow if the sink drain is clogged, it also doesn't meet the requirement of being 1" above flood level of the sink.
I stumbled on this years ago. Apparently air gaps fall under Protection of U.S. Fresh Water Supplies. If your sink floods with sewer water, that water can make it's way back into the water lines without a true break. Unlikely that will happen, but this is to protect cities from losing fresh water. If one DW is backing up, there could be thousands backing up.
The air gap is a backflow preventer and the loop is not. You can look at ASME 112.1.2, also see the pic/quote:
Thanks for allowing me to bore you
10-31-17, 03:10 PM
Well, all done. Went downtown, girl in the office called the inspector, he was nice enough to answer my question (gotta love small towns). Either is ok per the UPC 2015, so I went with a loop. Less cost no additional parts and I was able to take the piece of heater hose someone used out of the loop.

As to sewage in the water lines...that sounds like total BS. Explain to me how normal gravity pressure sewage makes it's way up stream past a closed valve into a 60 psi or so water line? Maybe MAYBE if all the factors went against you (failed valve, loss of water supply, etc) I guess a section could be contaminated, but highly unlikely.

Haven't seen an air gap down near the disposal. Didn't even see any for sale at HD site. I mean, I've seen them in industrial and commercial use, but those are basically just big open brass funnels.
10-31-17, 06:48 PM
oh, duh, nevermind. You meant the act of tying in to the tailpiece or disposal is the air gap. Just took me a while.
lol.................................................
10-31-17, 09:46 PM
Maybe MAYBE if all the factors went against you (failed valve, loss of water supply, etc) I guess a section could be contaminated, but highly unlikely.
Exactly, that's what they are saying, city loses water pressure, sink floods and contaminated water goes back into the water supply. Highly unlikely but it can happen. That's what backflow devices are for..............
Why did I get into this?
10-31-17, 10:14 PM
Hmmm, with no water pressure, how exactly would the sink flood? Oh, I get it, if the land was dropping into the ocean, then the water level would rise and lift the sewage with it? lol

Hey, it's CA, don't try to explain it. Just give me that AZ Pacific beachfront property I always wanted.
---
Last edited by Gunguy45; 11-01-17 at

12:33 AM

.
10-31-17, 10:39 PM
Although there is an air gap at the tail piece or disposal, if the sink drain backs up it will flow back to the dishwasher if you dont have that high loop.

And if you didnt have the high loop it would fill the DW with waste water.

How will this water contaminate the potable water?

I assume the solenoid at the DW must faile and no water pressure and said line will suck the waste water into the potable water line to DW...

Same as vacuum breakers on outside hose bib. If you didnt have one, You must lose house pressure, have an open hose in a puddle and have the moon aligned to the north star axis x 3.14 pi for it to start sucking water into the house...
Posting Rules
You may not post new threads
You may not post replies
You may not post attachments
You may not edit your posts
---
HTML code is Off
---