Colorado Trip
09-22-07, 06:33 AM
Colorado Trip
---
After 65 years of wishing, My wife and I finally made the trip from East Tennessee to Colorado. We traveled on a 10-day bus tour and loved every minute. The scenery was magnificent. Pike's Peak took our breath away, literally.
We visited the Gateway Arch in St. Louis, Rocky Mountain National Park, Garden of the Gods, Pikes's Peak, and Royal Gorge, to name a few.

Thanks to those who gave advice. It helped us make a good decision.
09-22-07, 07:06 AM
I am glad you enjoyed our neck of the woods and mountains. This time of year is one of my favorites - warm sunny days, brisk nights, sprinkling of snow on the peaks, rustling of the changing aspen, bugling of the elk bulls. Did you see the big herds in Rocky Mtn NP?
09-24-07, 01:43 PM
Elk in RMNP
---
We did not see the elk. I think we were at the right place at the wrong time of the day. I think it was too early in the day, as 4:00 p.m. A couple of hours later would probably have been better. We were on a tour bus, and on their schedule. I wish we could have seen the elk. Not seeing them was my greatest disappointment of the trip. Thanks for asking.
09-24-07, 08:29 PM
Did you get to go over Wolf Creek pass and see the area from there, through Pagosa Springs, Durango, and up to Grand Junction by way of Red Mountain pass? If not, that's another reason to do it again. When God takes his vacations, that's where he goes.
09-26-07, 08:34 AM
Rmnp
---
We entered from Grand Lake and traveled the Trail Ridge Road. We came out at Estes Park. The tour bus company chose the route. I am just glad I was not driving that bus in those hairpin curves! I would love to explore more of the area by private vehicle. Thanks, everyone.
09-26-07, 12:39 PM
Trail Ridge is one of my favorite paved road drives in Colorado. Some awesome views especially near the summit. I'm surprised that you didn't see any elk. Every time I've driven the road we've stopped at the top and there's always been a small herd bedded down there.
01-03-08, 05:50 AM
Join Date: Dec 2005
Location: USA
Posts: 39,964
Late toss in, but we were in Estes Park in mid September. Best time for the elk herds! Couple of pix
,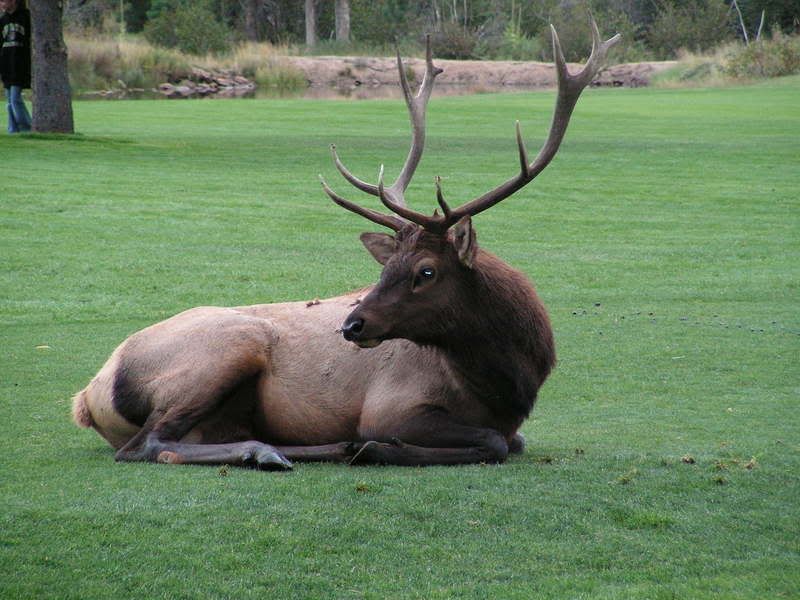 , Had a great time. Daughter and SIL have Optometric practice in Denver, so we visit when we can.
01-07-08, 04:06 PM
Join Date: Dec 2005
Location: USA
Posts: 39,964
Zster, the elk didn't mind a playthrough, really! There were guys teeing up, making their shots, and walking the long way around the herd to get to the next shot. Trouble was putting. Ever putted on a green with hoof prints all over it. Weebles wobble, but they don't fall down.