North East Minnesota
06-16-13, 04:42 AM
North East Minnesota
---
Planning to spend the 4th of July around Duluth Mn then head North up the "coast " to explore in an RV.
Have campsites booked at Duluth, Two Harbors and near Gunflint Trail for the first part of the trip.

Anyone with personal experience have any suggestions as to what stands out in this area?
07-12-13, 07:32 AM
Join Date: Jun 2002
Location: Northern Minnesota
Posts: 1,623
Noticed this too late for any tips, how did you make out?

Hope you stopped at Split Rock Lighthouse, I always found that interesting.
07-12-13, 08:22 AM
Join Date: Jan 2005
Location: PA - USA
Posts: 4,751
Greg's not back yet..................
07-24-13, 04:11 AM
Hey, thanks for responding.

We should have visited this area years ago.....very nice area with lots to see and only a 12 hour drive from home.
Spent time at Split Rock, Two Harbors, Grand Marais, Cascades State Park and a week at Spirit Mountain outside of Duluth.
07-24-13, 10:02 AM
Join Date: Jun 2002
Location: Northern Minnesota
Posts: 1,623
Week at Spirit Mountain....I'd guess you made it down to Canal Park then.
With all the rain we've had the rivers up the North Shore should have been flowing pretty good. Some beautiful falls up there if you don't mind walking a bit.
Glad the skeeters didn't cart you off, they've been brutal the last month or so.
07-24-13, 02:12 PM
Yes, we found the city parking lot next to the canal to be one of the few in the area we could park our pick up with a 10' truck camper and bicycles on the front.
Seen several Lakers come through the canal.......1000' long, 150' beam with two rear props @ 14,000 hp and two 1500 hp bow thrusters!.
These ships were said to burn less fuel/lb freight than a locomotive.
One thing we didn't get a chance to do is ride the chair lift on Spirit Mountain down to the restaurant and back.

Funny you mentioned skeeters.
Our white camper and truck drew a bit of attention with the front being totally black from built up bugs from the Canadian portion of the trip.
She volunteered and it took almost an hour to scrub the bicycles to be ride-able.
We found there to be very few biting insects compared to what we get here.
07-24-13, 02:43 PM
Glad you had an interesting trip. Too bad you did not hit Ely or Echo trail and other accesses to the Boundary Waters Area. I sent a few 10 day trips each year while in college doing the canoe trip every year in September without a person or bug around, but you had to paddle and portage. Access is limited to preserve the huge area and planes even have problem flying over it.

If you ventured south 150 miles, you could have "enjoyed"/experienced the annual hatch of Mayflies around the bigger lakes (not the Ocean/aka Lake Superior) or Mississippi River. Snow plows on the bridges to remove the 4" depth in the morning and dealing with the lights on the bridges and nearby streets turned off at night to minimize the quick intrusion of the 24 hour life of the flies.

I often neglect the area, but it is 3 hours away.

Dick
07-24-13, 04:53 PM
Ely Bear Center was on our list of things to visit along with the falls near Grand Portage.
Problem is there is too much to do but so little time!
We had a little over a week and did a ton of stuff, along with some good R&R.
Heck, it took three days to figure out the darn expressway and exits around Duluth!
Plan to go back to the area now that we know our way around.
07-24-13, 06:26 PM
NE MN is a unique area and the good things are well hidden.

Duluth is very strange and it the old capital of the area. - Can you imagine being there with the lake effect snows and hills (almost mountains in some conditions) with cars sliding down to the lake followed by huge boulders? I was there at the airport area on the flat land above the city when it was 75F in April and then went down to go trout fishing in a Superior tributary where it was 32F and snowing only 2 miles away. Maybe that is the reason it is just for the hearty since the water temp in the summer gives you 15 minutes before death from hypothermia, when people are swimming on a beach at the bridge to Superior, WI.

The area is great from a truck & trailer on the roads, but gets more interesting when you get off the well traveled routes.

Grand Marais, on the north shore, if you were there, is an extreme. In the winter, it can be above zero on the lake and 2 or 3 miles in and up if can be -20F. I skied there (Lutsen) in the middle of March and it was 65F on the top of the south facing hill (great snow all the way down), but the lake view from there was totally covered with for at least 25 miles out because of the south wind moving the ice pack.

If you have lived near there, it rubs off on you, but it is tough living, especially when you are 30 or more miles north because it is boring.

Dick
07-24-13, 06:59 PM
Ya, we tried to explore the old downtown of Duluth but the brutal hills put too much strain on our pu with a 2800 lb + camper on it's back.
Might buy a small pull camper next year that we can leave at the campground to make us a bit more mobile.

Spent a day in Grand Marais and really enjoyed it.
07-26-13, 10:52 AM
Join Date: Jun 2002
Location: Northern Minnesota
Posts: 1,623
Good to hear you had a fun time, lots to see for sure. Did you happen to make it to the railroad museum at the Depot down on Michigan St.?
Unless you like traffic jams it's good you didn't come this weekend, nine 'tall ships' are in town along with around 100k+ people to look at them.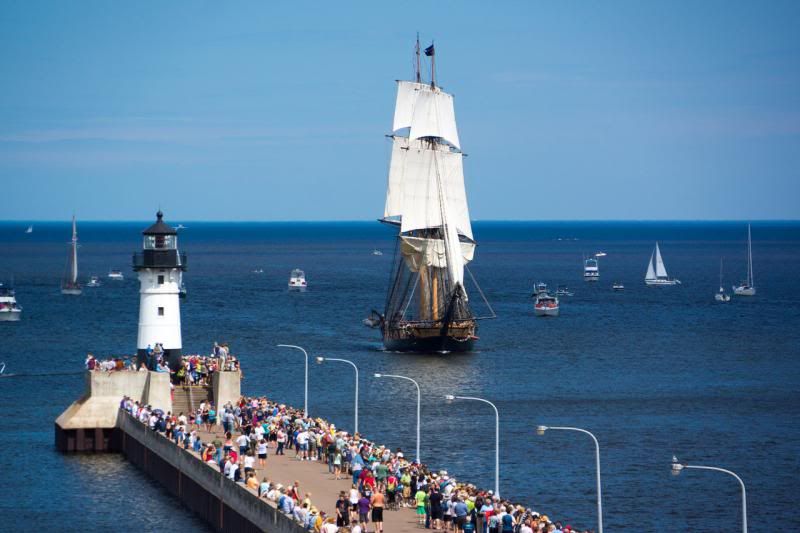 You'd never see me up there!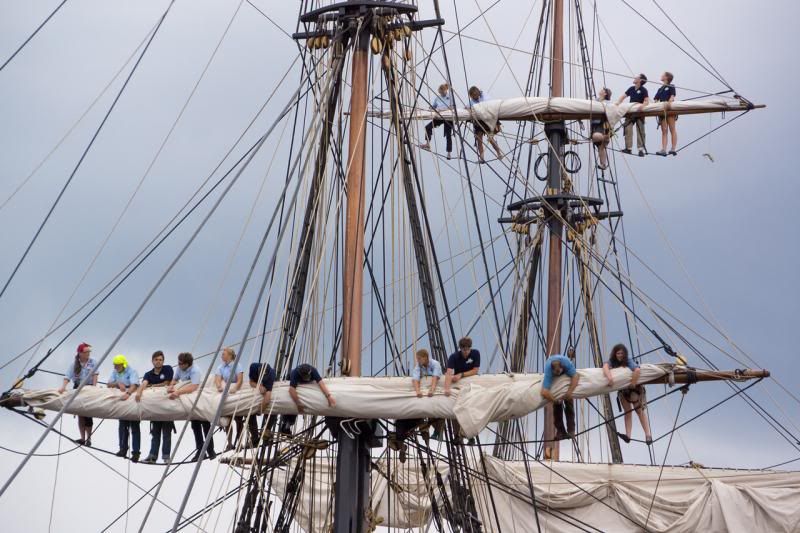 07-27-13, 08:57 AM
Join Date: Nov 2007
Location: United States
Posts: 13,756
I wish I saw this thread sooner.
The north shore of MN is one of my favorite places in the state. You did hit my favorite town (Grand Maris) but if you do it again, let me know and I'll try to give some suggestions.