Possible Asbestos Vinyl Tiles ?
04-14-13, 10:47 AM
Possible Asbestos Vinyl Tiles ?
---
Hi all,
I have recently been removing some old flooring from the ground floor of our new house, after removing about 2/3 sq metres in the kitchen area and breaking some more removing the carpet edging strips I realised that these may contain asbestos !!
The house was built in 1983, the tiles in question measure 11 3/4"x11 3/4" oddly enough but look alot like pictures I've seen of asbestos containing tiles. Also the cut back adhesive used is the black tary stuff which I believe can also contain the stuff ?!
What is the likelyhood of this given this info ? Is it worth worrying about ? We have swept up and vacuumed the rooms too before realising.
I have now used PVA sealer and painted it allover the flooring to seal it, and will install some laminate flooring over the top.
[ATTACH=CONFIG]11483[/ATTACH]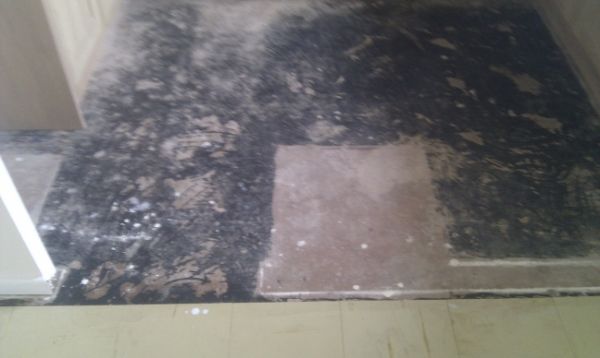 04-14-13, 11:25 AM
Join Date: Dec 2005
Location: USA
Posts: 39,964
Welcome to the forums! Here in the States asbestos was eliminated from use in the late 70's. But in the UK, we just don't know what standards were set. It is possible you still have asbestos in the glue residue as well. The best way to alleviate your concerns is to have it tested. If positive then having it removed professionally would be your best bet.
04-15-13, 03:26 AM
I would add that asbestos is really only dangerous when it's in a dry airborne form - where you can breathe it. Since you are covering it up, I don't think it would be a big issue.
04-23-13, 12:50 PM
I agree that your potential level of exposure is very minimal and I would not lose any sleep over this issue. Especially since you have encapsulated the product.

That being said it should be noted that asbsetos is not eliminated in the US as many believe. There was a ban (about 1990?), the ban was vacated due to many different reasons, and then the ban was re-introduced (about 1993?)to include only those products not being produced prior to a certain date ( about 1990?). Since floor tile was being produced prior to this date you can still get floor tile in the US, that was produced outside of the US, that was being made prior to the ban date and it can legally contain asbestos and can legally be sold and installed in the US.

Most vinyl composition floor tile that gets sold in the US was made in the US. Furthermore the vast majority of floor tile made outside of the US and sold in the US does not contain asbestos. However asbestos content in new floor tile is not illegal in this country. very very very rare; but not illegal.
04-23-13, 04:25 PM
Join Date: May 2010
Location: floor installer
Posts: 1,060
The U.S. stopped asbestos production In 1978, but all existing stock could be sold. No one knows when the last of it was sold.

In 1989, the Environmental Protection Agency issued a final rule that banned almost all products that contained asbestos. A Court of Appeals in New Orleans overturned this regulation. Consequently, the Court decided that certain asbestos-containing products remain banned such as corrugated, commercial or specialty paper, rollboard and flooring felt. Furthermore, the regulation maintains the ban on any new uses of asbestos.