Tile Ideas?
06-13-18, 04:43 PM
Join Date: Oct 2014
Location: US of A
Posts: 56
Received 0 Upvotes on 0 Posts
Tile Ideas?
---
Hi Guys,
Looking for some tile recommendations that I can lay myself. Had some really nice results for a nursery I did about 2 years ago using a dark cherry floor tile, but that room was a blank slate so it was easy to get everything to match.
Our new house has a 2 story great room with fireplace. It has some nasty silver/grey/black carpet (might as well add yellow in there thanks to the dogs). The walls are all this grey/blue color. The room borders the kitchen with about 10' of open space which is floored with maple hardwood - very light in color. I've tried every color tile I can think of, and don't really like any of them. Any suggestions on what you guys think could work would be appreciated. It's definitely a challenge trying to find something that goes well with the light maple hardwoods and also the blue grey color of the walls. Here's a few pictures: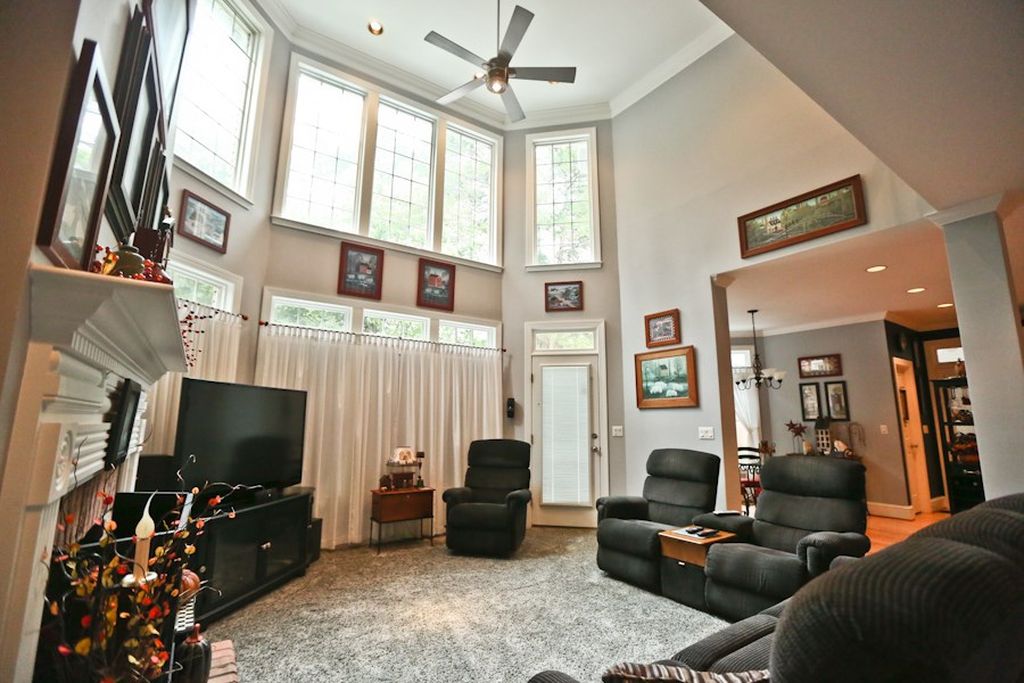 The actual carpet is darker than it looks in the above image so I figured I would include this image from my office which borders the great room and has the same carpet: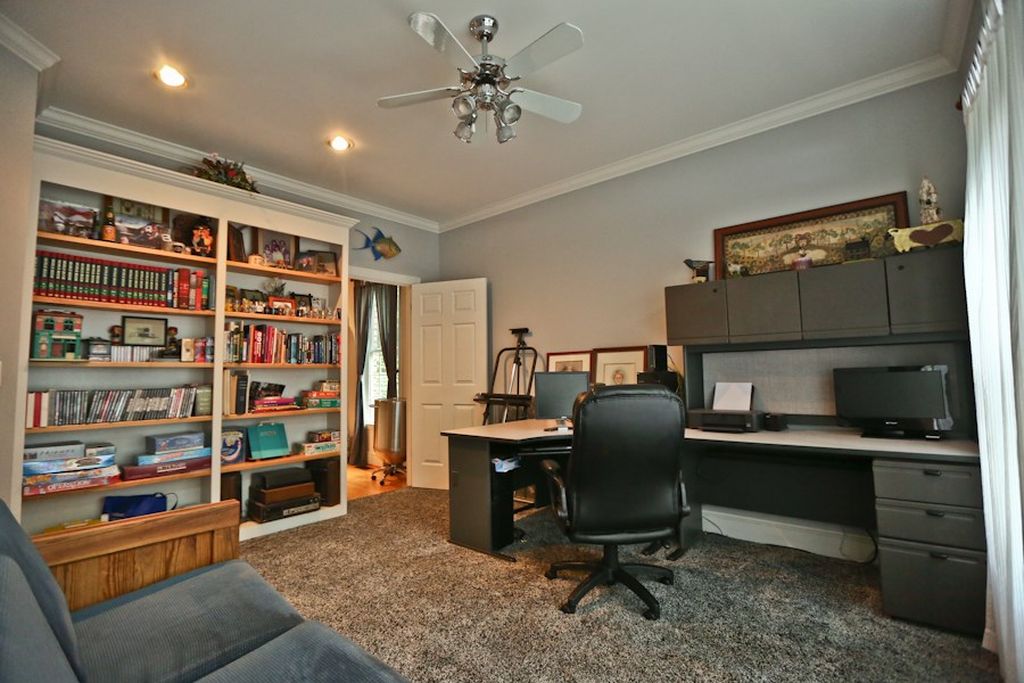 Not the best image, but you can see the lighter color of the maple in this image and a bit of the carpet...
Would you guys run tile symmetrically or staggered? With the wood planks or against the wood planks? What are a few color options...I just can't think of anything that would go good between a light yellow and bluish grey, so I'm guessing something neutral?
Anyways, looked at everything Lowes has so far, and haven't found one thing I liked. Any suggestions are helpful
06-13-18, 09:29 PM
Join Date: Oct 2004
Location: WI/MN
Posts: 19,075
I'd start by figuring out how to keep the dogs from adding that yellow color you mention or many of the choices you mention may not look good for long.
06-14-18, 11:35 AM
Join Date: Oct 2013
Location: Michigan USA
Posts: 145
Received 0 Upvotes on 0 Posts
How about continuing the maple into your great room?
06-14-18, 12:02 PM
Join Date: Oct 2014
Location: US of A
Posts: 56
Received 0 Upvotes on 0 Posts
I wish it were that easy. We've got a geriatric dog that has some issues w/ bladder control. The present carpet has been the sacrificial area of the house since she can't stay outside. I've got a 3 and 4 year old as well, so whatever we go with will have to stand up to some tough treatment. Maybe I should just give in and pour some concrete, lol
Figured she'd move to the small floor mats if she couldn't make it outside, and those would be easier to replace than the carpet. Thought about stainmaster carpet, but I think the tile will end up being cheaper. Material wise, the tiles is $1.50-$2/sqft, and I don't think it would need to be leveled. Already have all the tools to do the job, so just need grout. Planned to seal the grout to avoid any 'yellow' areas. Not to mention we'll probably go with a darker grout color....
Even w/ Lowes offering free installation, we'd still be looking at $4-$5/sqft for stainmaster if we got carpet and padding. I've got exactly 300sqft in our great room. If i did my office at the same time, we're probably talking another 140 sqft? I'm guessing I could probably get the tile done myself over a weekend for about $1k. If I went the easy route and had carpet installed, I'm guessing it'd be 2-3x that.