fill holes in floor
03-14-19, 12:27 PM
fill holes in floor
---
We have some hand railing divider type fence things made out of stainless steel that have posts in them that are installed into holes in the floor going through ceramic tiles. We want to get rid of these altogether and just fill in the holes in the floor. We don't particularly care about the appearance too much afterwards, but just want the surface of whatever we fill it in with to be able to withstand the occasional wet mopping of the floor as needed for cleaning. I was thinking of filling it in with this Quick Plug product which actually does not absorb water and in fact forms a watertight seal. I would want to paint (or coat) over this dried/cured cement as per the instructions on the product which state "only use paint or coating specified for application to concrete." I'd want the paint (or coating) to have a kind of dark greenish color probably so that the concrete patch stuff doesn't stick out as being too obvious (as I recall it dries to kind of a light grey color.
Any comments/suggestions as to what I have in mind appreciated. Here's a picture of the floor and type/size of hole(s) I'll be needing to fill/coat, and a link to that Quick Plug product.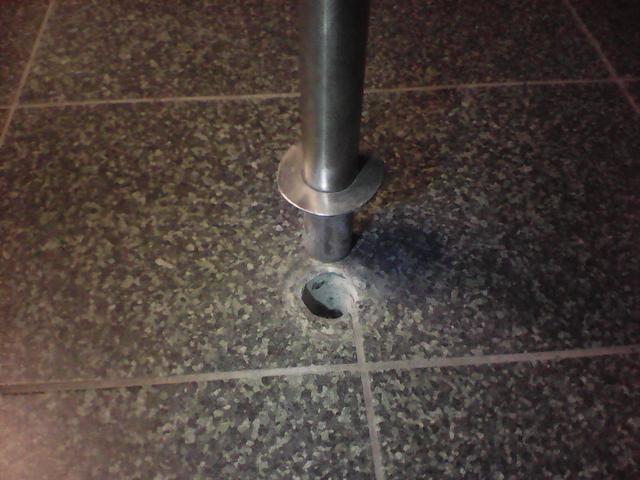 https://www.dap.com/dap-products-ph/...horing-cement/
Sponsored Links
03-14-19, 05:19 PM
If you want to get fancy, fill with mortar, then about 1/4" of colored grout to match.
03-14-19, 06:24 PM
Yeah sounds like the way to go. thanks Marq1.
Posting Rules
You may not post new threads
You may not post replies
You may not post attachments
You may not edit your posts
---
HTML code is Off
---