Properly remove popcorn ceiling
01-07-08, 01:36 PM
Properly remove popcorn ceiling
---
Hey guys... it LOOKS like I scraped off the popcorn ceiling properly but I wanted to know if I did it right...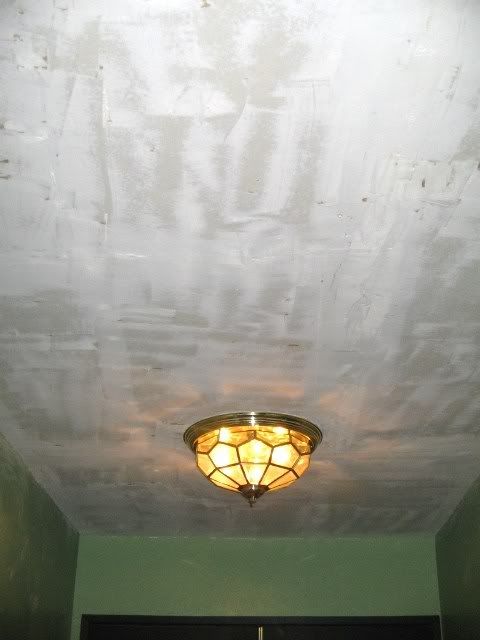 ??Can you tell by the photo? In the photo it looks like a mess, but it's pretty smooth and the popcorn is off. Am I done with it?
See the little nicks? Do I have to do anything with that? (The little brown spots).
Next step...skim coat, primer, then paint?
01-07-08, 02:19 PM
looks like you did a good job taking the popcorn off.
But you aren't done yet
You need to sand off all of the residue from the drywall. Then you need to coat the joints again. from the looks of the pic you might need two coats. Then sand that. Of course that is for a smooth ceiling. you might be alright if you are going to texture.
01-07-08, 02:31 PM
It was a lot more fun than I thought it would be and not as much work as anticipated...but...now I'm sure the rest will be. Whew.
I take it the residue is the white stuff?
Coat the joints again?
(booooooo...) with...? Joint compound? Yeah...I'm just guessing without knowing or rearching.
Purpose
of coating the joints? (Just so I know "why" I'm doing it).
Smooth ceiling (yep...that's what I want)
01-07-08, 03:25 PM
Join Date: Mar 2005
Location: USA - N.E.Tn
Posts: 45,228
The main reason for using popcorn texture is to make less work for the finisher. A slick finish ceiling needs to be finished a LOT better than one being covered by texture - especially a heavy hiding texture like popcorn.

Sand and dust the ceiling before applying more j/c. It is easier to just recoat the joints [with each coat being wider] but a skim coat will give the best result. You might be able to skip redoing the joints if you skim coat the whole ceiling.
01-08-08, 07:50 AM
I removed popcorn from all the ceilings in my home. I now have smooth ceilings and I have to say that they look very good. When I scraped off the popcorn I expected to find a really bad mud job under the texture. I always heard that popcorn was a quick and cheap way to hide a sloppy drywall job. Actually it was a very smooth, professional job underneath the crappy popcorn.

All I had to do was repair the gouges that I made when scraping ( I cut away any torn paper, smoothed and mudded them) and I fixed a few areas where the original joints were a bit rough. Any lumps or bumps were sanded smooth.

I didn't redo joints or skim coat the entire ceiling because in my case it just wasn't necessary. I primed and applied two coats of white ceiling paint. I recommend taking a good look at the condition of your ceiling and then decide what needs to be done to get the results you want.
01-08-08, 03:53 PM
Thanks guys. Hopefully I'll be able to get to it on Monday
I'll start with the sanding and dusting. Hopefully I can do a good job on the skim coating! Will keep you guys posted. Maybe even if it comes out bad!
01-24-08, 09:49 AM
A popcorn scraper (not sure what that thing was called
) but it's about 5" long (maybe) and you can replace the blade. I sprayed water the popcorn ceiling and it soaked it right up so it was easy to scrape. Keep in mind all ceilings aren't the same. Some may be harder to scrape than others. I'm glad mine was easy. I'll try and find the proper term for the scraper I got.
Yeah...it's NOT called a "popcorn" scraper
, but if you go to any bigbox store, look in the paint section and you'll find different size, types of "scrapers". If need be, I can post a pic of the one I actually got tomorrow
BTW: I've changed my mind and I think I'm going with the orange peel ya all. I got tired from sanding. I tell ya...sanding a ceiling is different from sanding a wall.
01-24-08, 10:59 AM
Any type scraper will work - from a 6inch paint scraper to a 15inch drywall mud blade... as long as it's flat/smooth/sharp - it will remove that crap from your walls/ceiling.

The nice thing about any sort of texture, from Orange Peel to Knockdown - is that it hides most imperfections from your finish without a ton of sanding/building of the sub finish. I'm a big, big fan of knockdowns myself - but as I move from region to region frequently - I sometimes get questions from the locals as to "how is that done"..... (especially in regions where a smooth finish is the norm)....... I am constantly surprised at the fact that some regions have never even seen a knockdown finish before - but every (without exception) review I've gotten on that particular style is favorable.
01-24-08, 04:21 PM
Wow...strange thing is that everywhere I go...there's nothing but knockdown so I'm getting sick of it
I've done knockdown before and don't mind it but I really like the smooth no texture walls/ceilings. We'll see how the orange peel goes
01-25-08, 05:33 PM
It sure is easier to do a repair on a slick surface then textured. Here in the Chicago area I see nothing but smooth. My friends in Milwaukee, all I see up there are sanded texture. My folks in Arizona and all there friends I see nothing but knockdown. Of course in hotels nothing but texture and fabric wall coverings where ever I go.
Make sure we get a picture of the final work DIYaddict
03-05-08, 10:16 AM
I decided to leave a bit on the roof for a texture look
---
01-01-09, 06:49 AM
using orange peel
---
We have the popcorn look on our walls . question : what needs to be done to have the orange peel look instead. can this be done over the popcorn or do we have to completely take off the popcorn look, sand & etc. before this can be done?
01-01-09, 09:23 AM
Join Date: Mar 2005
Location: USA - N.E.Tn
Posts: 45,228
Welcome to the forums VICKYM!
It would be highly unusual for popcorn to be on the walls. Can you better describe the texture or supply a pic using a free site like
Image hosting, free photo sharing & video sharing at Photobucket
While you can apply a heavier texture over a lighter texture, it doesn't work well the other way around.
01-01-09, 09:36 AM