Styrene "Tin" Ceiling
01-29-09, 02:31 PM
Join Date: Sep 2008
Location: Detroit
Posts: 49
Upvotes: 0
Received 0 Upvotes on 0 Posts
Styrene "Tin" Ceiling
---
After taking a saw to my kitchen ceiling (shower leak above), I have decided to apply over my repair area a styrene 2' x 4' plastic "Tin" ceiling. Overall project area is only 7' x 8'.

It will be glued right to drywall. The manufacturer suggests a quick grab adhesive, doesn't say much more than that. Anyone have a good/bad experience with this and maybe have some advice?

Thanks in advance to anyone who replies.

Norm
01-30-09, 01:52 PM
Join Date: Dec 2007
Location: USA
Posts: 19,281
Probably something like Loc-Tite "quick grab" or whatever its called. It really does work pretty good. Don't think I'd glue a brick to a wall with it or anything, but those PS tin panels probably weigh a lot less than a drop ceiling panel.
01-31-09, 03:56 AM
Join Date: Mar 2005
Location: USA - N.E.Tn
Posts: 45,413
I don't know anything about those panels but would think the only bleed thru concern would be at the joints.
01-31-09, 04:30 AM
Tiles are only about 1/32" thick. Use an oil-based primer/sealer on sealing to prevent bleed through of stains from leak. Use a light-colored adhesive to prevent telegraphing through tiles. White Loctite quick-grab adhesive or Liquid Nails following quick-grab instructions.
Customers who wish to paint the tiles purchase matte white. Preferred paint colors are hammered copper/silver by Rustoleum or copper/silver/gold by Behr.
SurfacingSolution
Photo Credit: surfacingsolution
01-31-09, 05:08 AM
Join Date: Sep 2008
Location: Detroit
Posts: 49
Upvotes: 0
Received 0 Upvotes on 0 Posts
Thanks twelvepole, the white loctite is exactly what I was looking at.

Right now I actually have a sample on my ceiling for about 2 weeks with industrial grade carpet tape, but that is dark in color and bleeds through...
01-31-09, 09:55 AM
Glad to be of service. Don't forget to prime/seal with oil-based primer/sealer to cover the ceiling leak stains. Otherwise, they will bleed through. Whether you go with white or go with matte white and paint, you do not want any bleed through after all that work.
02-21-09, 04:58 PM
Join Date: Sep 2008
Location: Detroit
Posts: 49
Upvotes: 0
Received 0 Upvotes on 0 Posts
Here's what I ended up with. Just did rough drywall to fill in the area I cut out for the leak. Styrene "Tin" panels adhered with LocTite quick grab adhesive. Did a few nails at the corners where 4 panels meet. This was super super easy and done in about 2 hours. Total cost $200.00.
This is unpainted, next room will try painting.
BEFORE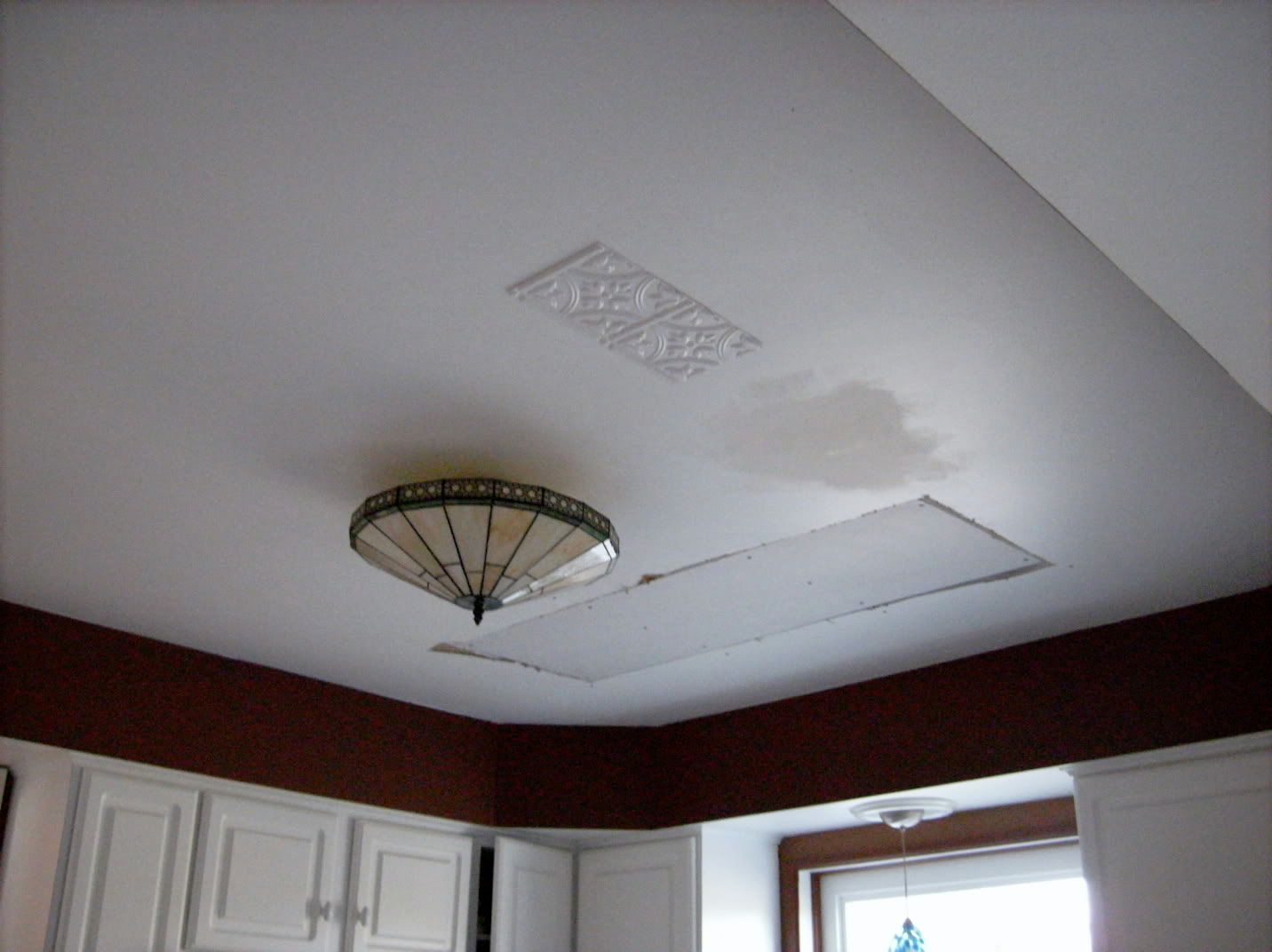 AFTER