Shelves into Fireplace Mantle--Room to go Into Wall?
03-13-09, 06:52 PM
Join Date: Mar 2009
Location: Colorado
Posts: 6
Upvotes: 0
Received 0 Upvotes on 0 Posts
Shelves into Fireplace Mantle--Room to go Into Wall?
---
Hello, all!
As you can see this is my first post here--thank you all for having me! I hope you may be able to assist me in a project I'm planning to take on--if so it would be GREATLY appreciated!
THE BACKGROUND INFO:
The I've been trying to get out of my current condo for about a year, but with the market the way it is I figured I'd be better suited to fix it up a bit to where I can stand to live here for the time being instead.
It's a small place (800 sq ftish?) so I really need to maximize the space, and with a fireplace, sliding glass door, seating and main entrance there isn't really a place for a traditional entertainment center.
I currently have a flat screen mounted above the fireplace (we never use the fireplace, ever), but it's the component stand that's really throwing the room off and taking up space. The cables are strewn sideways from the back of the TV and have to go a couple feet to the stand otherwise it'd basically be in front of the fireplace, which doesn't work.
THE PROBLEM:
I'd like to eliminate the component stand all together. Because of the layout of the condo (the fireplace wall is an exterior wall) I don't think I can do this by sneaky infrared extenders and moving everything to a different room, because then I'm stuck with wires all over the place again.
The solution I came up with was to build a new mantle for the fireplace that has shelves built into it to house the components, and I will have a Home Theater installer come in and take care of electrical and running a tube through the wall down to the back of the shelves for AV cables.
The issue is that I don't know what I'm dealing with when it comes to the makeup of the fireplace wall and the mantle. I know there're studs in it, because I mounted the TV to two of them. But in order to fit components into the shelf/mantle without it sticking out ridiculously far, the shelves would need to recess into the wall a few inches.
My questions are:
What does the skeleton of a fireplace like this look like? Will there be room to cut a big hole in the wall and put in a homemade shelf/mantle and recess it? Is there already a recess there for the huge lumber mantle that's there?
Any insight you guys may have into the possible success (or lack thereof) of this project would be AWESOME. Below are some visual aids I made:
Wall now: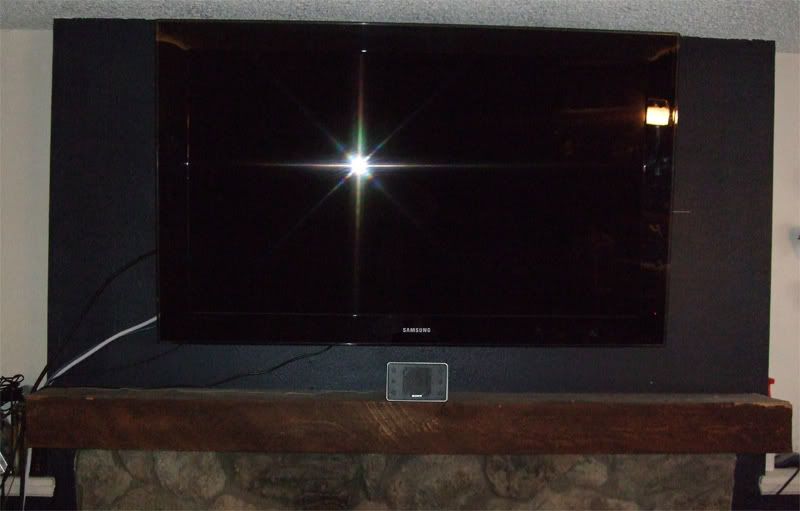 Proposed set up: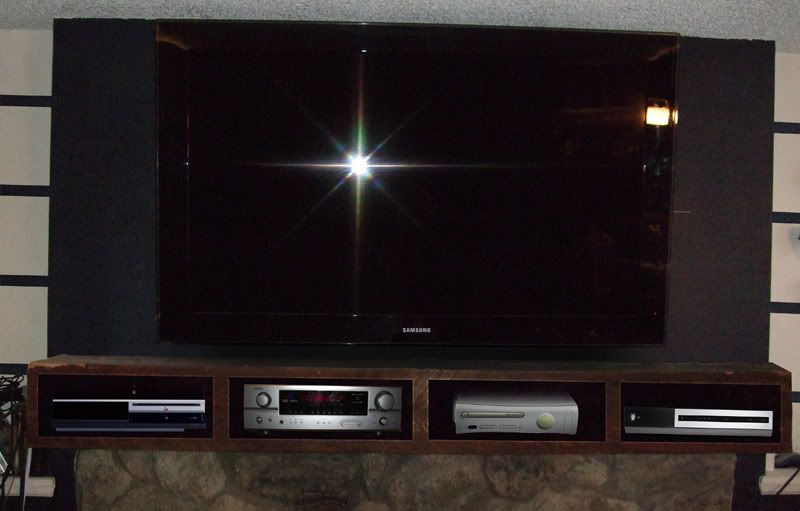 You can see some floating shelves I'm putting in on the left and right sides to help eliminate DVD and Blu-Ray clutter also.
Thanks again for your help!!
03-14-09, 12:31 PM
Join Date: Mar 2009
Location: Colorado
Posts: 6
Upvotes: 0
Received 0 Upvotes on 0 Posts
A bit more information:

It is a wood burning fireplace, and the exterior is covered with siding. It's a large rectangle that juts out about 3 feet from the building and is covered with siding.

I hope that helps, and please let me know if you need any more information--I really want to know what kind of stuff I can expect when I rip into this dry wall.