how to cover water stain on ceiling
08-31-11, 12:34 PM
Join Date: Nov 2007
Location: USA
Posts: 338
how to cover water stain on ceiling
---
The attached photo shows the spot on the ceiling. This seems to have occurred due to an object getting lodged in the rain gutter outside, which caused water to collect along that section of the roof. That problem has been remedied but now I need to determine the best way to repair the unsightly spot on the ceiling.
The covering used for the textured ceiling quickly softens when wet, so I don't believe I can use a paint brush to apply latex paint. I'm thinking a sponge applicator may be the best way to apply paint.
And, I guess I should first apply a latex primer and then cover that with paint. Hopefully, I can find a flat color that matches the ceiling close enough that it won't be noticeable.
Does this sound like the best approach?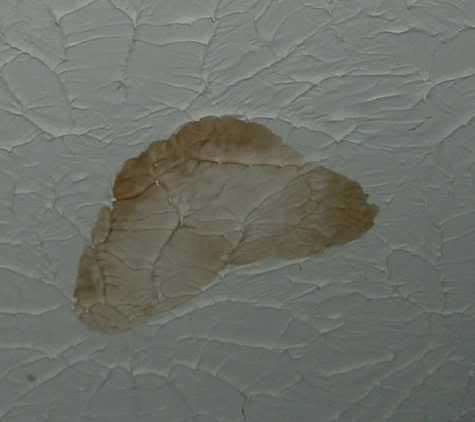 08-31-11, 03:19 PM
Join Date: Dec 2004
Posts: 26,400
I would use a spray can of Zinsser B-I-N shellac or Kilz original primer to seal the stain. One coat should suffice but nasty stains like that might take 2 coats.

Latex primer is about the worst thing to use. The stain will just bleed to the surface with every new coat of latex primer.

After the stain has been locked in with the primer, use any paint you want. From the looks of that stain I'd say that ceiling has never been painted. But your best bet would be to get a can of flat ceiling white and roll the whole ceiling. If the ceiling has never been painted there is no way around it. You'll be amazed how dingy the rest of the ceiling is if you try to just paint one spot.
08-31-11, 04:52 PM
Join Date: Mar 2005
Location: USA - N.E.Tn
Posts: 45,225
Agreed!! For a stain that dark I'd use a pigmented shellac like zinnser's BIN, most any oil base primer should work but might require 2 coats. I wouldn't use any latex primer no matter what the label says - the stain will bleed thru sooner or later
If the ceiling texture has never been painted [which explains it softening when wet] you might get by with thinning some joint compound down to paint consistency and using that to 'paint' over the primer. A far better solution would be to prime and paint the entire ceiling ...... but that is more work
08-31-11, 07:30 PM
Join Date: Nov 2007
Location: USA
Posts: 338
Thanks to both of you for your replies. I get your point about primer, so I'll plan on using one of those suggested here.

I dread the thought of painting the entire ceiling for at least two reasons. One is that this room, a bedroom, has two computers desks plus a 4-drawer file cabinet, and an office-type table. So, the room is somewhat cramped and moving this furniture around is really not feasible. The only way I could paint the ceiling would be to cover everything and try to reach over the desks and filing cabinet. Perhaps it could be done but it would be very difficult.

So, I may try the joint compound idea. If that doesn't look good, I may have to wait until I actually move or make a major change in the usage of this room.

Another concern I have about painting the whole ceiling is that it has a lot of small tips, or pointed ends of the ridges, that I'm sure will easily break off and get into a paint roller.

All ceilings in this home have the same textured coating. I also have some stains, not nearly as dark, in the living room. Again, this was water damage. The cheapskate builder of this home put no asphalt paper underlayment on the roof when he installed the shingles. This caused some problems for me when storms with high winds ripped some shingles lose.

Painting the living room ceiling would be easier than painting the ceiling in this room. However, perhaps I could choose a smaller room, the utility room, to paint first as a test and see how the rolling goes.
09-01-11, 04:29 AM
Join Date: Mar 2005
Location: USA - N.E.Tn
Posts: 45,225
I've painted quite a few of those types of ceilings and have never noticed 'tips' breaking off and being much of an issue. It is possible to tint the j/c if needed to make it match the ceiling texture better but that is really beyond the ability of most diyers. Even if the touch up doesn't match perfectly - it's bound to look better and be less noticeable than the water stains
09-01-11, 05:16 AM
Join Date: Dec 2004
Posts: 26,400
If you bought the cheapest roller, with a 1/4" nap, then you would have to push so hard to get paint into the texture that you might break off some tips. But with a 3/8" or 1/2" nap roller it should not be a problem.
09-01-11, 05:27 AM
Join Date: Mar 2005
Location: USA - N.E.Tn
Posts: 45,225
I wouldn't use a 3/8" nap, it doesn't hold enough paint. 1/2" will work although I'd probably use a 3/4" because it will hold more paint and allow me to paint the ceiling quicker. Also it pays to buy a decent roller cover - they'll last awhile if you clean them well. The biggest problem with cheap roller covers is they tend to shed, leaving unsightly fibers in the wet paint.