Options for "hiding" minor cracks and chipped plaster ceilings
11-20-13, 10:08 AM
Options for "hiding" minor cracks and chipped plaster ceilings
---
Hello,
This is my first post! I am trying to learn to do more around my house, and would welcome any suggestions regarding this.
I live in a traditional, brick Cape Cod, built in 1947. The ceilings are in good shape, not sagging or moldy or anything like that, but there are certain areas where the paint/plaster is cracking and starting to slightly chip away. I could just prime and re-paint those areas (after scraping away the loose paint), but different textures and "levels" on the ceiling would remain. I don't want to have to re-plaster those areas, as that would be very time consuming and I would never get them even. I purchased the house in 2005 and re-painted all the ceilings with normal, flat ceiling paint at that time. There were some minor cracks then, but not as noticeable as they are now. Please see the two photos below: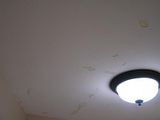 The first photo shows how the cracks look. That's about the worst of it, in my living room. Not even really anything to scrape or sand, but it is a bit softer in those areas than the rest of the ceiling. The second photo shows the hall area right outside my bathroom. I imagine that is worse because of all the steam from the shower (I always leave the door open when I shower). I have scraped off the loose plaster/paint with a putty knife. Both of these areas are on the main (ground) floor of the house. All of these areas are 100% dry; not a hint of moisture anywhere where the peeling paint or cracks are.
What would you recommend to "fix" this, outside of re-plastering? If I prime the "bare" areas and then use textured ceiling paint (applied with a roller) will that work? Should I re-paint or seal the ceiling outside the bathroom first (maybe with an exterior, glossy paint for the shower steam) and then put the normal ceiling coat/texture on top of that?
If I just paint as is now, the bare areas will be noticeably "different", and I also don't want to have to keep doing this every year or so. What would be a good, simple (and economical!) solution to this problem? My main goal is to hide the imperfections and have it look good, while also preventing this from happening in the future. Overall everything is structurally sound.
Thanks for your help!
11-21-13, 03:16 AM
Join Date: Mar 2005
Location: USA - N.E.Tn
Posts: 45,229
Welcome to the forums!
Something is going on causing the paint to not adhere well! The most likely cause is latex paint applied over unprimed oil base enamel. The bath rm walls/ceiling would have been painted with an oil base enamel!
given the age of the house it is almost a certainty that the original paint is lead based
Lead based paint in itself isn't harmful but breathing lead dust or ingesting lead chips can be!
I'd scrape off the loose. If the underlying paint isn't disturbed, great! otherwise you'll need to contain and properly dispose of ALL of the debris. Do not sand the underlying paint! Then prime those areas, skim with joint compound, sand lightly, prime and then apply your paint.
The bath rm [walls/ceiling] needs to be painted with an enamel, which sheen you use isn't all that important. Enamels will repel moisture, flat latex will absorb moisture [causing more adhesion issues] Using a bath rm paint would be better. It would also be nice to install an exhaust vent to get rid of the moist air after taking a shower.