3 season room options
09-30-16, 06:41 AM
3 season room options
---
Hello everyone. I was going to start to tackle my 3 season room by rippin down the old walls and putting up greenboard. This room was an add on from the kitchen before I purchased the house. I went to take a peak behind the wall that touches the kitchen and I can see they just covered up the original exterior of the house which is wood shingles with, what I tested is, lead paint. Its a stretch of 18 feet long, 8 feet tall and has a double window into the kitchen and a door.
Can I, with all the precautions of lead paint, rip down the old shingles and cover with sheet rock/green board or is there a problem since its an old exterior of the house?
My other option is to get rid if all the loose paint and encapsulate and paint it and kinda make it an accent wall to the room.
Thanks
Picture just shows the room im working with. The left wall has the exterior shingles on it.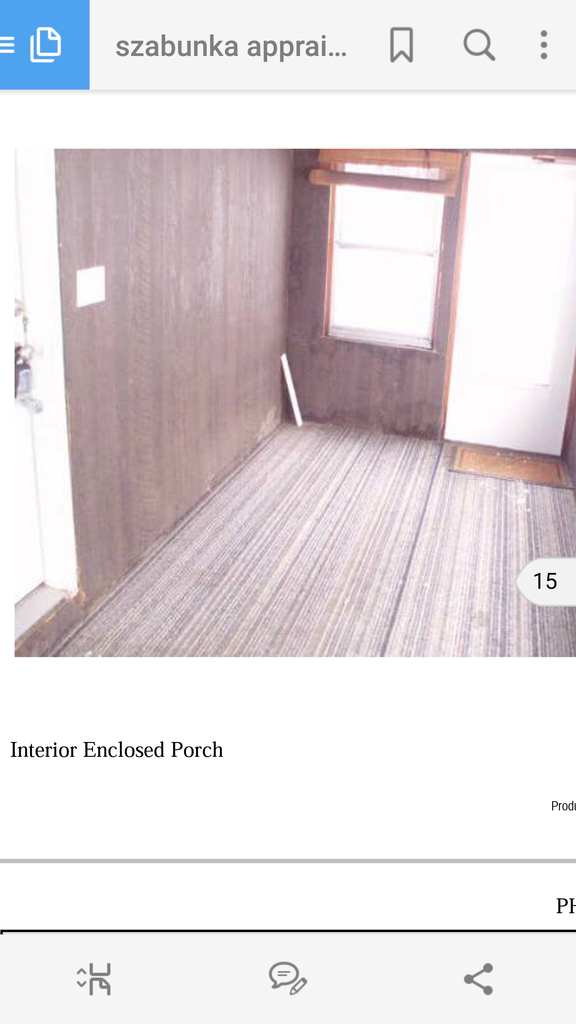 Sponsored Links
09-30-16, 06:49 AM
What makes you think it needs green board?
Regular 1/2 drywall will work fine.
If your just removing it there is no danger, it's when you start sanding on it becomes an issue.
I'd get rid of it, leaving it makes it look like any DIY addition I've ever seen.
09-30-16, 07:02 AM
I only say greenboard just because of any moisture issues there might be. But what is normally behind the wood shingles? Ive worked on interior walls before not an exteruor one before.
It seems easy enough, rip down shingles and vacuum really good and I should be able to put up the wall with no problem. Right?
09-30-16, 07:26 AM
There is sheeting behind the siding, depending on the age of the home that could either be plywood or 1xs.
Greenboard doesn't accept paint as readily as regular drywall and as long as the drywall is primed and painted it should have all the moisture protection it needs.

Will this room be heated/cooled?
09-30-16, 08:35 AM
Even better! It was built in or around 1956.
And the room will not likely be heated or cooled. Just want to make it more appealing to the eye to sit in with looking at the cardboard type material thats in there now.
09-30-16, 04:24 PM
Your saying shingles, but I'm not seeing any shingles in that picture. Pictures to blurry to see much.
No one here has x ray vision, where not going to know what's behind whatever that is on the wall.
We have no clue where you are since there's no location in your profile.
If you really want a 3 season porch your going to have to start thinking about adding some HVAC.
09-30-16, 08:27 PM
Sean pretty clearly told us everything we need to know. The left wall inide the 3 season room used to be an exterior wall and has wood shingles (with lead paint) on it which have since been covered up. The door into the kitchen is pictured, and I would assume the double window he mentioned is not pictured and is left of the door.
Back to the original question,
Can I, with all the precautions of lead paint, rip down the old shingles and cover with sheet rock/green board or is there a problem since its an old exterior of the house?
The answer to that question is yes. Although do it yourselfers are not obligated to follow the same high standards that contractors are, you would still be wise to familiarize yourself with safe work practices. For instance, using a household vacuum or shop vac to vacuum up lead paint chips and/or dust is a bad idea, as it is a sure way to contaminate a vacuum that might later be used inside the house... and non-hepa vacuums will exhaust some lead dust into the air, spreading it around.
https://www.epa.gov/lead/renovation-...it-yourselfers
10-01-16, 03:52 AM
Join Date: Dec 2005
Location: USA
Posts: 39,967
As Brant said, using a saw or vacuum would not be very good. Of course we can't see the shingles, but normally you would start at the top, removing the trim board and shingles. Removing them as intact as possible will reduce airborne lead paint particles. Still wear eye and breathing protection as well as gloves.
Posting Rules
You may not post new threads
You may not post replies
You may not post attachments
You may not edit your posts
---
HTML code is Off
---