Mount TV on cement block behind drywall.
10-21-18, 12:27 AM
Join Date: Sep 2018
Location: USA
Posts: 16
Upvotes: 0
Received 0 Upvotes on 0 Posts
Mount TV on cement block behind drywall.
---
I'm planning on hang a 75" TV and a media center on my wall. It is cement block covered with drywall. Drywall is installed using some sort of metal furring strips so there are no studs.
I believe all I need is the right hardware, isn't it? This should help explain the scenario: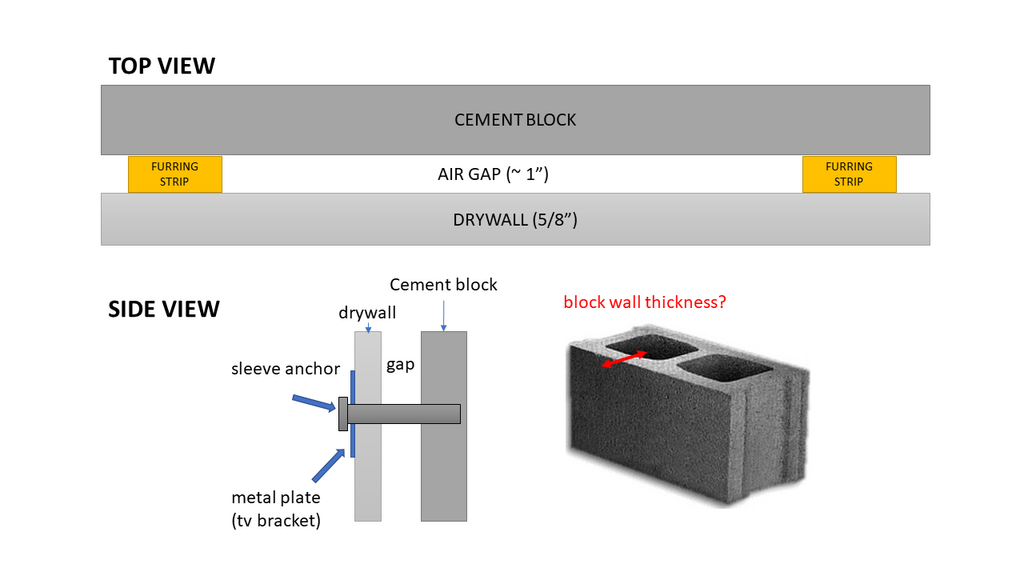 I tried
Snaptoggle
but after making the roles and putting it in place I can't get the screws in.
Looks like it won't be properly aligned (a nice 90 degrees) due to block imperfections and the gap.
Then I thought about the metal toggle bolts.
The problem with those is that I need a 5/8 hole for a 1/4 screw.
The head of the bolt won't have any support and since I already have a one inch gap... is it still a viable solution?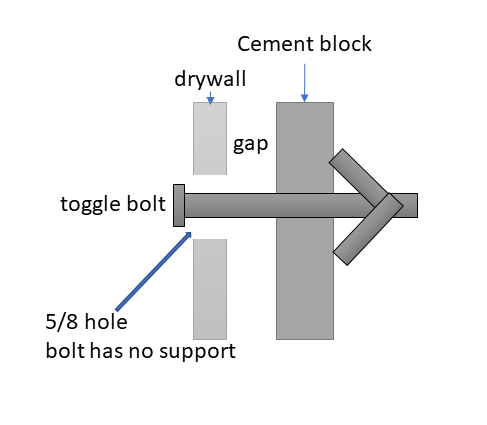 My third option (that I know of): sleeve anchors like this one:
Dynabolt Sleeve Anchors
, but I'm really concerned about the gap between the drywall and the cement blocks. If having only about 1 inch of a 3 inches sleeve anchor inside the block will be enough. Also what happens if the tip of the sleeve anchor goes through the block wall? Is it still safe?
TV is around 80 lb according to website (
Samsung QLED 75"
) and will be mounted with a TV bracket.
Media center is 70 inches wide and it has 6 holes that I can use to basically hang it. It is between 80 to 100 lb (give or take):
IKEA Media Center
.
I may be missing something or overthinking this.
It shouldn't be too hard. Everybody does it :-)
10-21-18, 05:30 AM
Join Date: Sep 2016
Location: USA MI
Posts: 9,470
The toggle type fasteners are not going to work as you noted.

For block the best type of fastener is a Tapcon style.

Your problem is that 1" gap. The TV mount will add some structure but if you dont have a couple of the stringers behind the bracket no telling what will happen.

I suppose if I were installing I would simply open up the wall and install additional stringers in the area.

It's more work but you dont want to comprise that TV.

Also, put in larger stringers, you never know what you will be mounting in the future. We are on 2nd TV and considering a 85" UHD so things change!
10-21-18, 05:44 AM
I agree with the tapcons. When you drill the pilot holes into the cinderblock, use a slightly smaller bit than would otherwise, as the cinderblock tends to crumble a bit when you drill compared with concrete. If the pre-drilled holes in the bracket don't line up in the right spots, you can always drill some new ones in the right spots.
12-14-18, 07:17 AM
Join Date: Sep 2018
Location: USA
Posts: 16
Upvotes: 0
Received 0 Upvotes on 0 Posts
Thanks pitching in guys and I'm sorry for the delay.
So here is what I did:
I opened the wall just enough.
Used plywood to close the gap between the drywall and cement blocks (tapcons were use to secure the plywood into the blocks). This should prevent the TV mount screws from bending.
Used tapcons to secure the TV mount.
Here is a Tapcon performance table:
https://www.tapcon.com/getattachment...ss_v0-1_c.aspx
Based on performance table and what you see in these pictures, do you believe it is safe to hang an 80 pounds TV in there? If it comes down it will be $2200 for the TV, plus the rack bellow it plus the damage to the wall so it an accident happens it will definitely cost me close to $4000.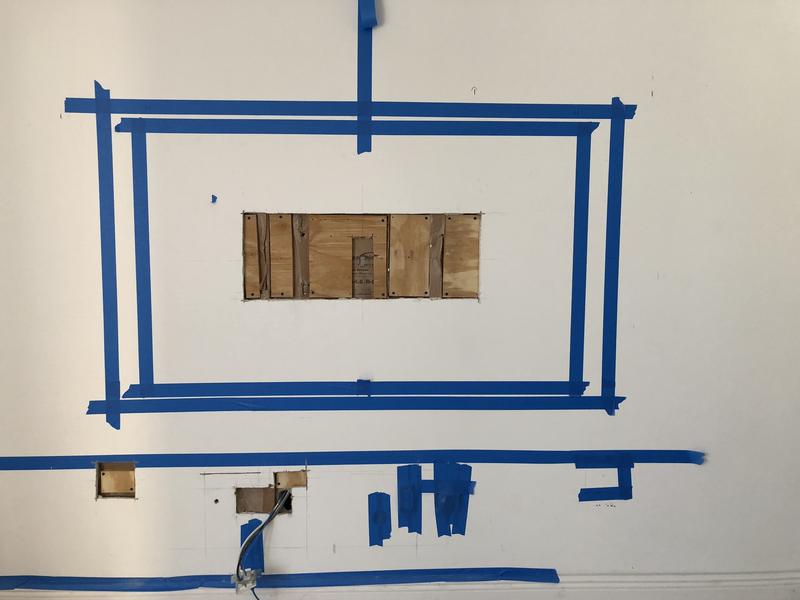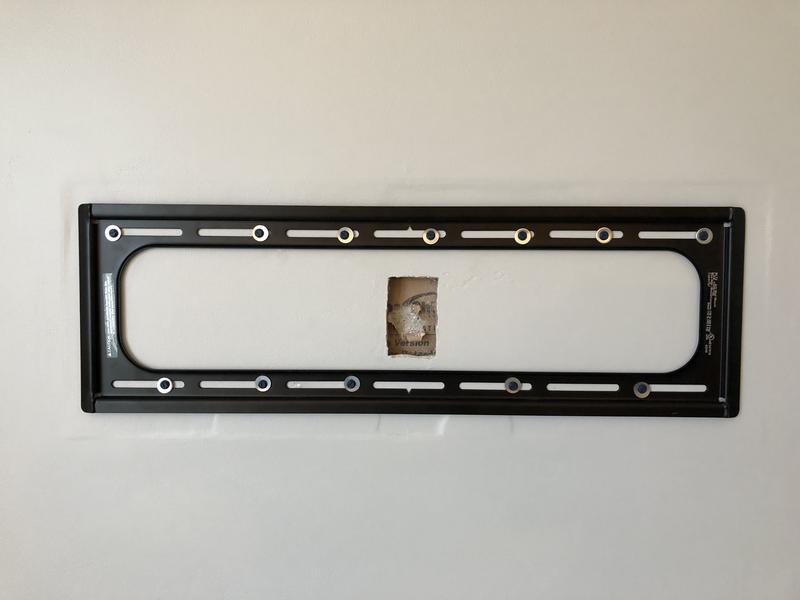 12-14-18, 08:32 AM
Join Date: Mar 2009
Location: Northern Virginia
Posts: 3,905
Only issue with that approach is that your drywall is now sunken in. Same thing happened to me when I was hanging my TV over the fireplace. I ended up adding some joint compound and repainting the wall, so it is no longer visible. You'd be fine to leave it as-is since the TV will cover it up. The bracket looks sturdy enough to me!

Are you going to have enough wall depth to install an electrical outlet?
12-14-18, 09:46 AM
Join Date: Oct 2012
Location: Jersey
Posts: 62,522
I missed this thread originally although I did respond to a similar one. I use sleeve anchors and spacers to mount a TV to a block wall. Most TV mounts come with bags of extra hardware and typically plastic spacers. I set four anchors in the block and then slip four spacers over the bolts and then fasten on the bracket. The spacers allow the bracket to be tight against the block without crushing the sheetrock.

Tapcons can be risky in that their holding power is based solely on the material and the hole size drilled. You aren't concerned with their shear strength..... you'll never approach that. You need to be concerned when you pull the TV away from the wall..... the stress placed on the top screws that they don't pull out.

You have used a lot of screws in your mount. I don't think you'll have any problems. Make sure that all the top screws have caught well. They are much more important than the bottoms ones.

One problem you will probably run into is trying to plug your TV in with the receptacle right behind it. I try to keep it above the mount because the TV is usually tipped down giving you extra room for a plug. They do make recessed boxes and receptacles but would be difficult to use in a block wall.
12-14-18, 01:10 PM
Join Date: Sep 2016
Location: USA MI
Posts: 9,470
If the bottom picture is the final product, with 12 Screws, that works out to only 7 #'s each, you nailed it!!!
12-14-18, 01:24 PM
Join Date: Mar 2009
Location: Northern Virginia
Posts: 3,905
Didn't realize you were hanging the TV closer to the floor like that (I just noticed the base moulding). If you're putting a media cabinet underneath, that will hide the electrical outlet. And you could conceal the cables running to the TV through a short piece of wiremold right down the center.

Since you've already made swiss cheese of your wall, now would be a good time to run speaker wires for some wall mount left/right channels speakers if that appeals to you. Makes for a cleaner look IMO as opposed to floor speakers.
12-16-18, 04:39 PM
Join Date: Sep 2018
Location: USA
Posts: 16
Upvotes: 0
Received 0 Upvotes on 0 Posts
Thanks guys.
I was starting to get paranoid.
It crossed my mind to add two sleeve ancors a foot above the tv mount and use some sort of steel wire as a backup, then I thought about replacing 4 tapcons with screws long enough to go through the wall so I could secure then on the outside of the house...
As you can see it was driving me insane but I believe your comments brought me back to reality, thanks a lot :-)
As for some of your questions and comments:
There is only 3/4 between drywall and block so it is not enough for any kind of outlet but it is enough to run the wires down so I will use this
one gang brush plate
in there.
I agree it is not the optimal place (in the center) but this particular mount will keep tv a minimum of 2 inches from the wall so it will be ok to run cables from the tv straight down.
there was already a couple of outlets down (close to the floor): cable tv, ethernet power and speakers. TV rack will cover them all so no wires visible. This also answer the question regarding speakers... I'm lucky the house is already wired and I even have brackets on the roof for them (kind of behind the sofa).
As for the wall looking kind of weird around the bracket, the tv is big enough to make it impossible to see so we are good there (as you suggested).
And as for the TV being close to the floor... TV is 69 x 38 inches. It is pretty big so if it goes too high we will have to watch tv looking up.
I did some research on this subject and considering room size, distance from the sofa and everything else, that is the perfect height (I tested it and it felt pretty comfortable).
Thanks again everyone and please if you have some additional ideas, I will take all the help/suggestions I can get.