Zone Heating Woes
01-19-12, 12:04 AM
Zone Heating Woes
---
A little background: I'm in rural Alaska using a Weil McLain hot water boiler that is powered by heating oil.
I came home today and my house was warmer than usual. I went to the thermostat in the back of the house (zone 2) and noticed that the temp was higher than what the thermostat was reading. The same was true of themostat 1 (zone 1), but to a much lesser extent.
I felt the pipes from zone 1 and zone 2. Zone 2 was hot, zone 1 was relatively normal... warm but not in a "heating state."
Diagnosis procedure:
Thinking it might be a thermostat, I increased and decreased the temp for zone 2 (the constantly heating zone), with no avail - the zone was still heating and the boiler still running. If I increased thermostat 1, it would heat normally.
I then swapped the thermostat (same Honeywell model), and repeated the same test - no change. Zone 2 heated constantly, zone 1 heated only when indicated by the thermostat.
So my next step was to look at the zone valves. Both valves for the zone were set to "Auto." I moved them both back and forth and they move easily. I removed their outer encasement (as pictured) and noticed they were wired similarly.
I again repeated the themostat test. When I engaged the top zone valve for thermostat 2, there was minimal spring movement, while thermostat 1 had a good amount of movement (in the working zone). I read the current on both devices at a touch over 24V.
So my question: Is this a motor issue or ... do I need to replace the zone head ... or do i need to diagnose more?
Update: As I was writing this, I managed to turn zone 2 (hot zone) on and off until the spring moved just enough to shut off. However, I don't know if the zone is completely closed. I continued to play with it... and now I've managed to lock both zones in the open position I believe. I rechecked wiring and thermostat wiring to device and wall... appears normal... Furnace will come on, run for a while and hit 190 or so, shut off for a bit, then fire up again.
Some what of a failure there... and I'd call a plumber if there was an "on call" in this town but there's not. I'm still thinking maybe it's the motor?
This issue is important for me to address because I don't want to run out of oil and freeze the house. I'm just turning the boiler on and off manually at this point while I wait until the morning. Any help would be greatly appreciated.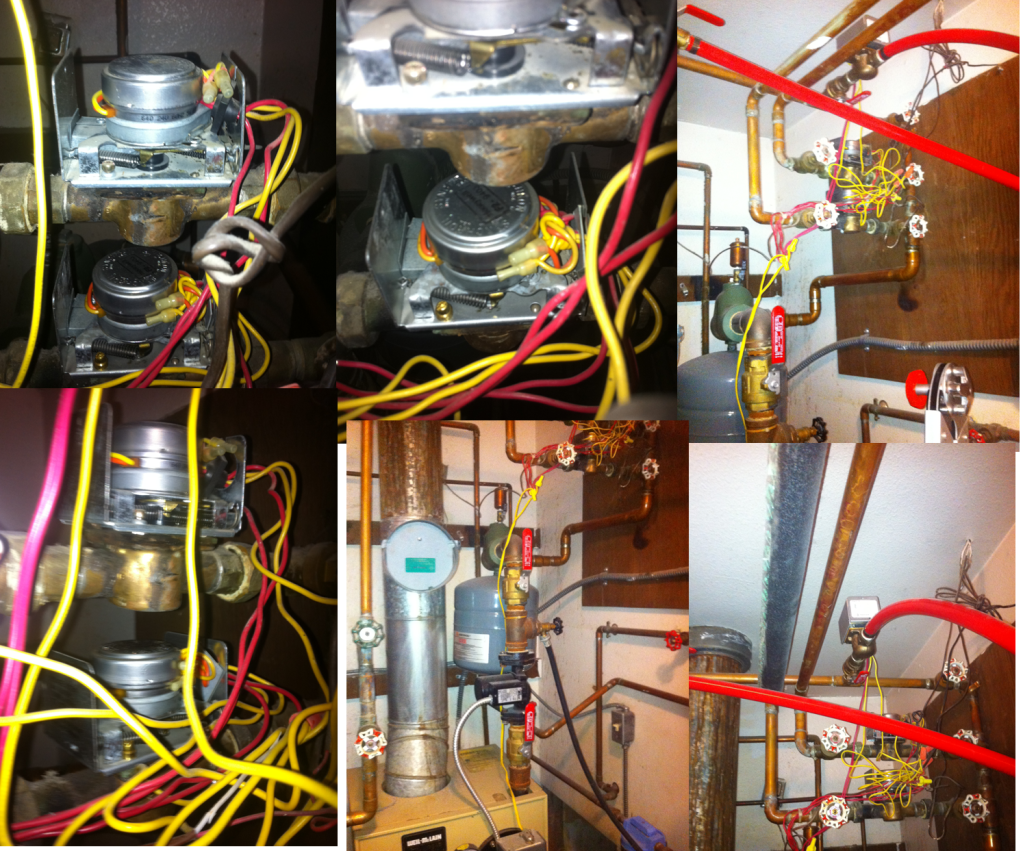 PS: Does the wiring suck on this job? As I've done more learning about houses, it seems like electrical and water don't mix well. Also - should I have my pippes heating to the zones covered in foam (or something) to insulate so I don't waste heat in the utility room?
---
Last edited by dane4695; 01-19-12 at

12:58 AM

.
Sponsored Links
01-19-12, 01:51 AM
Please delete this post I realized now "water heaters" is the wrong section and should have been posted there. I went ahead and copied this post to that location, but I can't delete this one. Sorry.
Posting Rules
You may not post new threads
You may not post replies
You may not post attachments
You may not edit your posts
---
HTML code is Off
---