a new, or 2nd water heater
12-06-13, 04:20 AM
a new, or 2nd water heater
---
I looked for previous questions like this, but did not find any so here goes...

We bought our house in July. It has been majorly remodeled, the work was well done and high quality for the most part. They did a couple things on the cheap, albeit correctly. They installed a new water heater, and it it works very well. The problem is that my two teenage sons and my lovely wife seem to need a good deal more water each day.

So, rather than tear out a new and perfectly functioning water heater, I was wondering if it would be better to install an ADDITIONAL water heater. We have the space in the maintenance room. I would repipe the current heater to our bathroom, and install a larger heater to cover the boys shower and house needs.

Am I asking for trouble? Is this a good idea? I'll take any feedback or suggestions. Thanks in advance.
Sponsored Links
12-07-13, 08:34 AM
You didn't mention the capacity of the water heater, but I am guessing 40 gallons. You also didn't mention whether this is a gas or electric heater.

That being said, if you are willing to spend the price of a new water heater, I don't know why you would even consider adding a second heater. With the repiping required plus an additional fuel source, whether gas or electric, your costs will be high. I'd hate to take out a perfectly good water heater too, but in this case I think I'd just replace it with a new one of larger capacity. In the end, a new 50 - 80 gallon heater will be the best cost option to install and for future operating costs. You can probably donate the existing water heater and take a tax deduction for it's value.
01-09-14, 05:35 AM
I have two water heaters in my home. We live in the boonies and often loose power sometimes for long periods and I'm a bit odd in wanting/having a backup. The house is plumbed so both heaters can serve the whole house and there are valves so I can close to feed the master suite off one heater while the other serves the rest of the house. Great for when we have many guests. We always have hot water
. I admit that it is not the cheapest nor most efficient system but we always have hot water.
One heater is propane while the other is electric. Both are 40 gallon. If the power goes out we can make hot water with the propane one and not have to run the big generator to power the electric heater. The electric heater exists if we ever run out of propane or as happened several years ago a regulator failed and even though we had gas it was unusable until the replacement valve arrived so for a couple days we got by on the electric heater.
01-09-14, 06:26 AM
Join Date: Dec 2010
Location: Galivants Ferry SC USA
Posts: 18,146
IMO I would keep the heater you have and add a identical 40 gal.. Hook it up in
parallel
so you'll have 80 gallons.
This will be the more economical install.
If one heater fails at least you will still have hot water.
With one big heater, and if it fails, youll have no hot water until its repaired...
Notice the pipeing below in the pic. The tees need to be spaced evenly so both heaters draw water at the same or similar rate... Inlet too....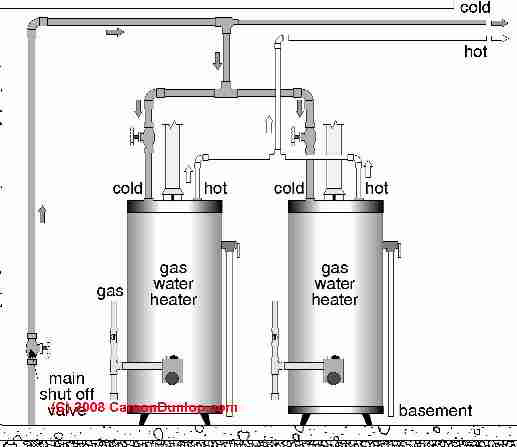 Posting Rules
You may not post new threads
You may not post replies
You may not post attachments
You may not edit your posts
---
HTML code is Off
---