Sulfer smell and VERY rusty water? HELP!
11-30-14, 11:07 AM
Sulfer smell and VERY rusty water? HELP!
---
Hello all. This has been a problem for quite some time now. I have no idea what the issue is either. I am beginning to wonder if we may just have to deal with it? Our water is very rusty to the point that we buy 5 gallon jugs of water and use that for drinking. Tap is fine for bathing and cooking though. The hot water however, reeks of sulfur. I have checked the rod in the tank and below is an image of that. Also, below is an image of the settings for the water softener. It is set to soft water. When draining the tank, even partially, I will get quite a bit of residue. Mostly white particles. I have tried draining the tank or flushing it to relieve the smell but that only fixes the problem for a few days. Have also tried using peroxide in the tank as I have read that can do some good but that still only works for a week or two.
New well was put in 5 or 6 years ago. Water softener is ??? years old. My girlfriend tells me she isn't sure when it was even put in lol.
SO WHAT GIVES? Thanks guys.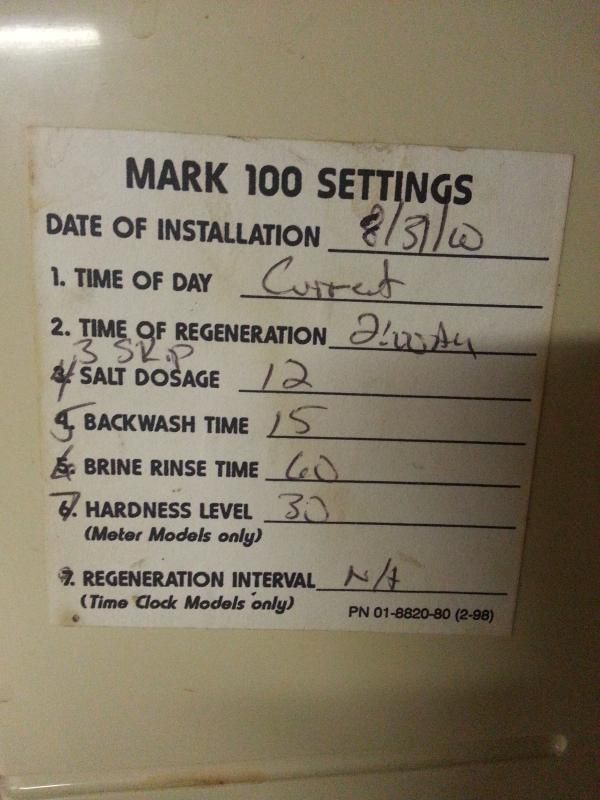 Sponsored Links
11-30-14, 12:20 PM
Banned. Rule And/Or Policy Violation
Join Date: Apr 2013
Location: USA
Posts: 4,297
Received 0 Votes on 0 Posts
Steel plumbing? It will always be rusty if it's running through steel pipes.
Had the water tested, there's no way to know if the softeners working without testing it.
Cheapest way to get hid of the sulfur smell is to add an activated charcoal filter in the main line.
11-30-14, 12:52 PM
Join Date: Nov 2007
Location: Twin Cities, MN
Posts: 13,488
You need to shock your well with a chlorine mix. You have sulfur and iron bacteria. This is not dangerous, only an inconvenience. Google "shocking a well" and you will get many hits. Or watch this video:
https://www.youtube.com/watch?v=MZJ6FxK6cwk
11-30-14, 12:57 PM
Plumbing looks to be PVC to me, not steel. Well, inside what I can see anyway.

And I will do some Googling on shocking the well.

Looked it up and doesn't look too difficult. If I can find out the well specifications that would help :/

Anything else I can do?
---
Last edited by nbarr7655; 11-30-14 at

01:34 PM

.
Posting Rules
You may not post new threads
You may not post replies
You may not post attachments
You may not edit your posts
---
HTML code is Off
---