Mounting Metal into my Deck Railing
06-11-15, 05:55 PM
Mounting Metal into my Deck Railing
---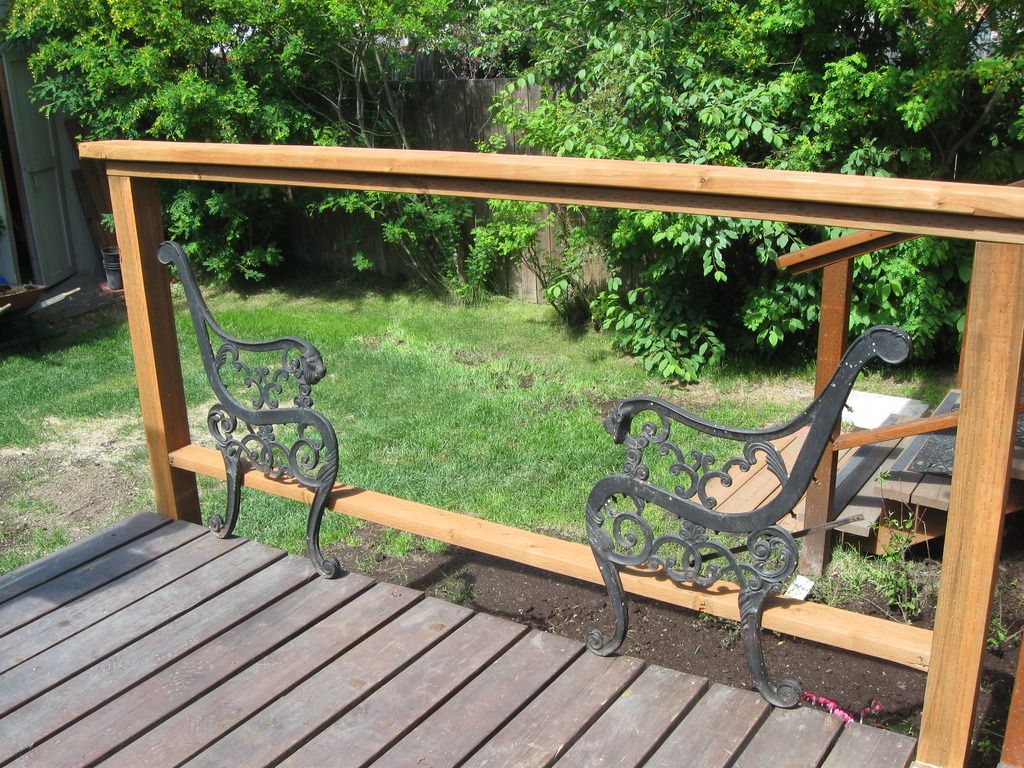 Hello, I took the worn and moldy wood slats off my metal rot iron bench arms. Would like to incorporate the metal 'one-dimensional chairs' into my deck railing. See picture. Trying to figure out how to mount them inside the 8 ft. length of deck frame. Took my picture into a metal shop to see if he could weld screw hole tabs onto top and bottom metal to inset them into the wood frame. The guy said he doesn't deal with pot metal. Want to check with another metal shop in town too. Would this be right that they can't weld or solder any metal tabs on to these pieces? If not, thought I might put a 2x2 back stop on the back side of railing towards the flower bed, top and bottom of railing and then drill with my metal bit a screw hole into the metal to meet up with the 2x2 wood back stop? Not sure if this would look right? I could do a cradle block too with the rot-iron into between with some 1 x1 wood on the 2x4 frame. Not sure I can buy 1x1 treated wood. I would have to treat the wood my myself which is no problem but there is more time involved. How would you mount these? They are 32" tall. Going to have the chairs facing each other, probably centered on 8' long railing. Also, going to fill in any gaps with centered 2 x 2 ballisters about 4" apart. If I ever sell the house, I will have to redo this railing to make it safe for children but not worried about that right now. Thank you for you time here!
Sponsored Links
06-11-15, 05:59 PM
Not for sitting, just for looks. Cleaned them up and took all the nuts and bolts off holding the wood slats. May black spray paint them off too.
06-12-15, 03:11 AM
Join Date: Dec 2005
Location: USA
Posts: 39,967
I could see drilling holes in the top scroll and the bottom foot scrolls and mounting it to the top sub rail and the bottom rail with stainless steel screws. You would still need to fill in between with some sort of balusters, possibly metal painted black, too.
06-12-15, 04:44 AM
The code requirements for this are something that you don't want to avoid, they save little kids. Trying to fill in would be a pain, but wondered if filling the entire space with white plastic lattice and then attaching those end pieces to the lattice. White background and black iron would be a nice contrast.

Bud
06-12-15, 06:40 PM
Thank you! Once I get the metal bench arms in place(going to drill holes in the top curl and foot curls to attach to a back stop), I will place ballisters on each end of railing to fill it in. I will attach lattice behind the railing(to the flower bed) when I need to for selling the house purposes, etc. to block it in. The deck height is about 2 foot off the ground so I will need that for child safety. My house hasn't seen little kids in 20 years. I asked earlier in a post about electrical metal conduit as ballisters but know they will rust quite quickly.<<<Before I remembered the bench arms. Thank you for all your good help here!
06-13-15, 04:34 AM
Join Date: Dec 2005
Location: USA
Posts: 39,967
Just make sure you place things so there is no space larger than 4", and you will be good. I think once you mount the decorative pieces, filling in the middle with iron balusters would make a statement. Making something decorative and useful from junk is very innovative.

My neighbor threw away a wheelbarrow with a broken handle. It was a cheap wheelbarrow. His wife took it, leaned it up against a tree at an angle, filled it with soil and planted petunias. Makes a nice entrance to our driveways!
Posting Rules
You may not post new threads
You may not post replies
You may not post attachments
You may not edit your posts
---
HTML code is Off
---