Franklin Electric Subdrive 75 (2nd one to break in 10 months) Options????
08-04-12, 03:32 PM
Franklin Electric Subdrive 75 (2nd one to break in 10 months) Options????
---
Purchased home about a year ago and its the first time Ive dealt with a well. The Subdrive 75 has been a non-stop headache and I know there's got to be a simpler, more reliable way of operating a well. A month after I moved in my Subdrive 75 broke (it was installed only a year before). They at least have a good warranty and it was replaced. Its 10 months later and now this one is broken too.
Before replacing it with a similar model yet again, is there a better way to do this? I believe in the old "Keep It Simple Stupid" method because the more complicated it gets, the more that can go wrong, the more expensive it is and the less chance I'd be able to fix it myself- I just want something simple, reliable and consistant. Something that leans more towards the mechanical than a computer controlled box.
What options do I have, would I have to replace the pump inside the well to convert over to something simpler, what would the average cost be, etc...
Any advice would be greatly appreciated.... thanks!
08-04-12, 04:03 PM
Join Date: Mar 2003
Location: NC, USA
Posts: 25,973
I like a two wire (two conductors and one ground) submersible pump with a pressure tank and pressure switch. All the components are available at most home centers so they are available 7 days a week, reasonably priced and anyone familiar with wells can fix it with their eyes closed. It's a very simple, reliable system.
08-04-12, 04:08 PM
Thanks for the info.... I really appraciate it!!! Is there a link on the web someplace that could explain how to install a system like this and what to look for in regards to equipment? I looked down my well and it looks like the pump I have now is attached to the side of the pipe out of my reach- not sure how I'd remove it to replace it with the submersible pump.
08-04-12, 05:15 PM
Join Date: Mar 2003
Location: NC, USA
Posts: 25,973
Just start looking online at wells. Much will depend on the depth of your well but the submersible pump type is probably the most common.
Basically you have a pressure switch (a simple mechanical switch) that turns the pump on and off at certain pressures. A pressure tank with a rubber bladder inside that stores water and smooths out the flow of water and the pump. Three main components and only two deal with electricity and no fancy electronics. Just steel tank with a balloon inside, a simple on/off switch and an electric motor.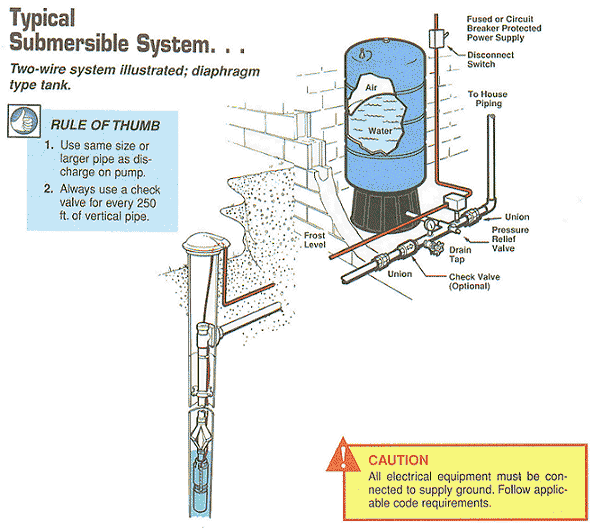 08-05-12, 02:42 PM
Join Date: Mar 2003
Location: NC, USA
Posts: 25,973
It's a simple, dumb system but amazingly reliable and when it's set up properly it is quite hard to notice when the pump is cycling on/off.
08-06-12, 03:26 PM
One more question if that's ok... Im looking at getting an Amtrol tank and trying to determine the size of the tank. I have a 4br, 3.5 bath house with 4-5 people in the house (not sure how deep the well is). Anyhow, it seems like the well doesnt produce enough water and always shuts off until it refills, so Im looking at getting an 82 gallon tank hoping that the more reserve water, the better. My only concern is if there isnt enough water in the well to replenish the entire tank at certain times, will the pump continue to run even though the well is empty or would the pump shut down until the well fills back up before automatically turning back on. Just concerned that the pump might burn out. Thanks again....
08-06-12, 04:35 PM
Join Date: Mar 2003
Location: NC, USA
Posts: 25,973
It's a dumb system and the only thing controlling the pump is the water pressure. If it never gets up to the set pressure the pump will keep running and if the well is dry... Not to good for the pump.
08-07-12, 05:56 AM
Join Date: Mar 2003
Location: NC, USA
Posts: 25,973
A well that goes dry is a big problem and one I don't know an easy way around. The size of the pressure tank won't help too much since regardless of it's size the pump will continue to run until the water gets up to the set pressure. Obviously since the pump will only be running when it's below the cutoff pressure and the well will only go dry when the pump is running is't a bit of a catch 22.

The pressure tank's main purpose in life is to prevent the pump from cycling on/off too often. It is not a water storage device. The tidal volume (the amount of water that moves in and out of the pressure tank during the pump's cycling) is much smaller than the tank size. A 82 gallon tank has a tidal volume of 9.3-12.7 gallons while a 42 gallon tank has 5-7 gallons and a 15 gallon has 1.6-2.2 depending on the pressures. So, even with a big tank you are not talking about storing much water. Maybe 5 or 6 minutes worth of shower time at the most.

I travel in parts of the world where water supply is spotty. Most often there is a large tank somewhere to store water, usually on a tower or on the roof so the water flows to the house by gravity. A pump brings the water up from the well at a rate the well can supply. Then water is used from the storage tank as needed. This way the well pump can run at 1/4 or 1/2 gallon per minute or whatever the well can reliably produce. A float switch in the tank turns off the pump when the tank is full. During peak times the tank is able to supply the heavy demand without running the well dry.
08-07-12, 09:48 AM
Join Date: Jan 2008
Location: Southeastern Pennsylvania
Posts: 3,104
Hi guys –
Don't know what the more knowledgeable folks here think about these, but I installed a Pumptec pump protection box like this one several years ago (pretty sure there are other brands).
Franklin Electric Pumptec Pump Protection System, 1/3 HP to 1 HP Submersible Pump Motors
It's easy to install. You can put it before the pressure switch, or between the pressure switch and the pump. I put mine before the pressure switch, that way the POWER light on the box is always lit so that tells you the circuit has power. I always check that when I walk by. Also when the pump runs the POWER light blinks during the entire time the pump runs. I like that also.
It does work. A few times I was watering a lot of trees for hours and the well must have started to run dry. The Pumptec caught that and stopped the pump. It will retry automatically after a period (time is a variable and can be set).
Another time I had low voltage in the house due to just
one
severed wire to the house and the Pumptec also caught that and stopped the pump.
It is however microprocessor controlled, but maybe the design of the entire device is simple enough to make it pretty reliable?
08-07-12, 10:14 AM
Join Date: Mar 2003
Location: NC, USA
Posts: 25,973
It's a step away from simplicity but for $165 you could keep an extra one on hand as a spare.
08-07-12, 02:46 PM
Banned. Rule And/Or Policy Violation
Join Date: Jun 2008
Location: Lubbock, TX
Posts: 123
Upvotes: 0
Received 0 Upvotes on 0 Posts
Oh my goodness! So many problems with the variable speed constant pressure systems today. I have tried to show people on this forum how to fix these problems in the past, and was reprimanded for promoting a "product". So I don't help out much here anymore, because they won't let me show how to solve these problems. Maybe with all these problems with variable speed pumps on this forum today, they might actually let me show how to solve these problems but you will need my "product".
The Cycle Stop Valve was designed to replace variable speed pumps almost 20 years ago. It is completely mechanical, long lasting, simple, inexpensive, works with very small pressure tank, and makes pumps last many times longer than normal.
Larger pressure tanks just makes the time with low pressure take that much longer. And a pressure reducing valve on the discharge of the tank may give you steady pressure but, will still let the pump cycle itself to death. A Cycle Stop Valve is placed before the pressure tank. It will deliver the constant pressure you need for things like instant water heater, and keeps your pump from cycling as well.
You can see a diagram of how to replace a Sub Drive at this link.
Cycle Stop Valves, Inc.
I hope the mods don't mind if I answer these questions as it doesn't seem anyone else knows about them, and Constant Pressure Valves are all I do.
10-05-12, 04:57 PM
Franklin subdrive 75 (we went through 2 in the last month)
---
RobHa, can you tell me what the vendor said went wrong with your control panel? Ours will not honor the warranty because of a "low incoming voltage" issue but don't know what causes it.
Also, for your concern about running out of water at the well, I suggest you get at least a 3000 gallon cystern. It works great.