Broken Sewer Lateral, could it have been caused by sewer company and new tie in?
09-16-13, 09:53 AM
Broken Sewer Lateral, could it have been caused by sewer company and new tie in?
---
Hi all,
I have a question that I'm hoping someone could help me out with. I received a letter from my water board and a CD containing a video that my sewer lateral is cracked in two places.
In the front yard I have a trap about 10 feet from the street public hook up. They stated that my crack is about 1 foot from the trap towards the house and another small crack at about 8 feet from the trap to the house. The first crack at 1 foot is letting in a good amount of ground water according to the video. Like, someone has a faucet turned on. The pipe is 10 feet deep in our yard.
Funny thing is about 10 years ago, the entire development was ripped up and new sewer lines were laid and tied into the houses. I bought the house 5 years ago so this was before me. Our house is 40 years old and the pipe is cast iron.
One thing I noticed since talking to plumbers trying to get an estimate to get this pipe fixed. One plumber said " Look how bad your yard settled next to the street". I didn't even think about this. After talking with him, I said could that possibly have caused enough pressure to cause my pipe to crack back at the trap? The ground is settling at the trap too. It looks like where the sewer line connects to my house an entire line settling up into my yard. I attached some pics but might be hard to see. The one pic you can actually see the curb area and I've been throwing soil in the sunken hole from time to time. You could actually see under the curb to the street that's how sunken it was..
It appears my trap is no longer straight vertically either, it seems to have pitches to one side so it's not even.
Could when they did the sewer tie in's and new pipes 10 years ago eventually caused this issue? The plumber looked at my video and said in the 20 years of business he's never seen a sewer lateral as clean and solid as mine? This leads me to believe it was damaged.
Any thoughts? I will try to take better ground type photos later if I can.
Any ideas? What's my next step? My first estimate just to dig the 8 foot long trench and replace the damaged pipe is $4,000 without permits. I have a 35 year old Oak tree right next to the pipe which I fear I'm going to loose due to root cutting and such, not to mention ground weakening around the root structure.
Thanks for any info or suggestions you can provide.
Spank.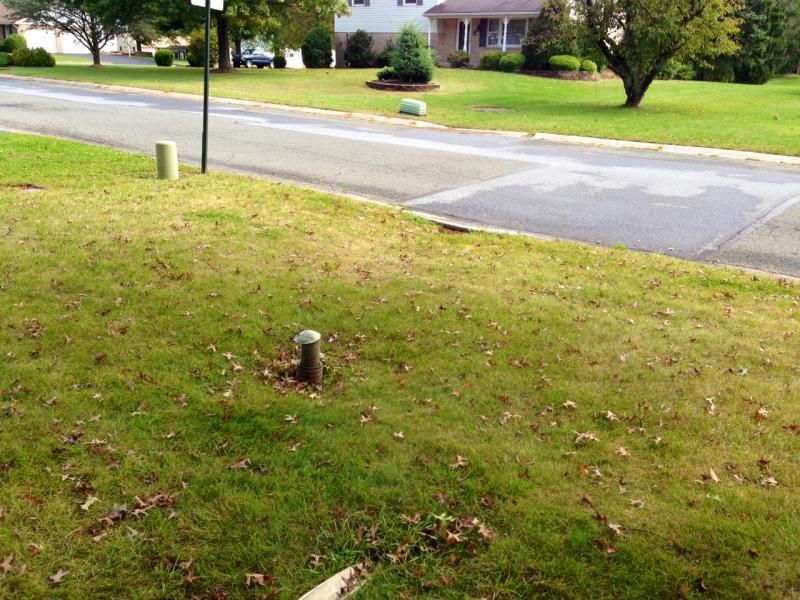 09-17-13, 12:23 AM
I strongly suspect that your yard has been sinking as a result of the cracked sewer pipe allowing ground water an easy exit path. In other words the crack(s) came first and then the ground movement.

Regardless, it is now YOUR problem and you need to fix it. It is possible that your homeowner's insurance might have some coverage.
09-17-13, 05:28 AM
Join Date: Dec 2010
Location: Galivants Ferry SC USA
Posts: 18,159
You need to find out who is responsible for what point of the sewer line. If that is a cleanout in your yard, the towns are usually responsible from that point to the street. Here in NJ anyway.

10 ft doen??? Thats deep. IMO I may be inclined to just repair the section if indeed you are responsible... Look into the insurance the water company may offer. Sometimes you can pay the insurance then you will be covered even though its existing... Or as furd states go through the homeowners insurance.

Also they have trenchless tecnology today and you may not need to trench.. Just a hole at the street is all, and depending on if you have crawl, basement , or slab will dictate what is done on the home side...

I believe you will be fighting a losing battle if you try to hold the town responsible...especially from 10 yrs ago... Except if you can search records where others have had this issue and were compensated. Usually the town highers outside contractors and sometimes work practices are shady to say the least as often they are bid on jobs...
09-17-13, 06:54 AM
Thanks. The water dept dug about 10 feet into the property at time of updating! I'm not trying to blame but want to be sure the entire job is done right and what parties are responsibe! That's all