My 5-6 year old drain field may already be toast
02-23-16, 06:15 PM
Join Date: Feb 2016
Location: United States
Posts: 5
Received 0 Votes on 0 Posts
My 5-6 year old drain field may already be toast
---
Alright, I bought our house in 2010. It needed the drainfield to be redone so I hired a mom and pop company to come out and redo it. Costed me about $3500 with me buying the supplies.
We have a 3 bedroom 2 bath mobile home connected to a buried septic with submerged pump and a lift station to the mound drainfield. This is my first house (besides renting) so I was unaware of upkeep of it. I did keep it mowed but on the backside of it is my neighbors property and it was all woods untill recently with him clearing it out.
Last night He informed me my field was leaking onto his property and i went and had a look and seen a hole about the size of a basketball at the bottom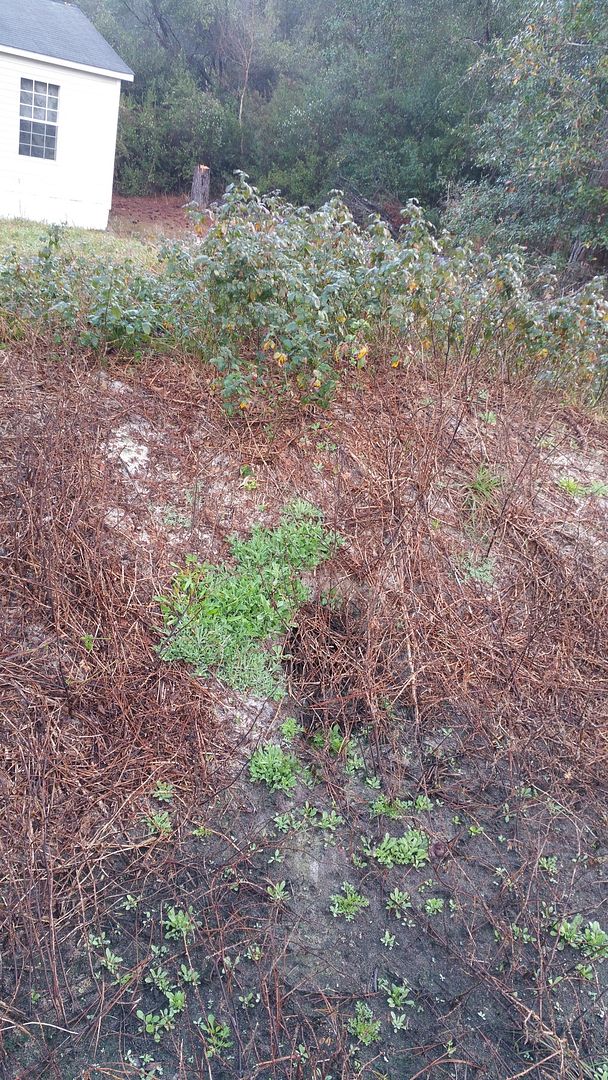 Also I seen that there was some thin vine looking things sticking out. From what ive been looking at online that could have possibly made my field clogged? keep in mind though, i have NO PROBLEMS on the house side. no slow drain no back up, nothing. Did the field just need a place for it to go and it broke?
Here is a front view
Here is a side view of the damage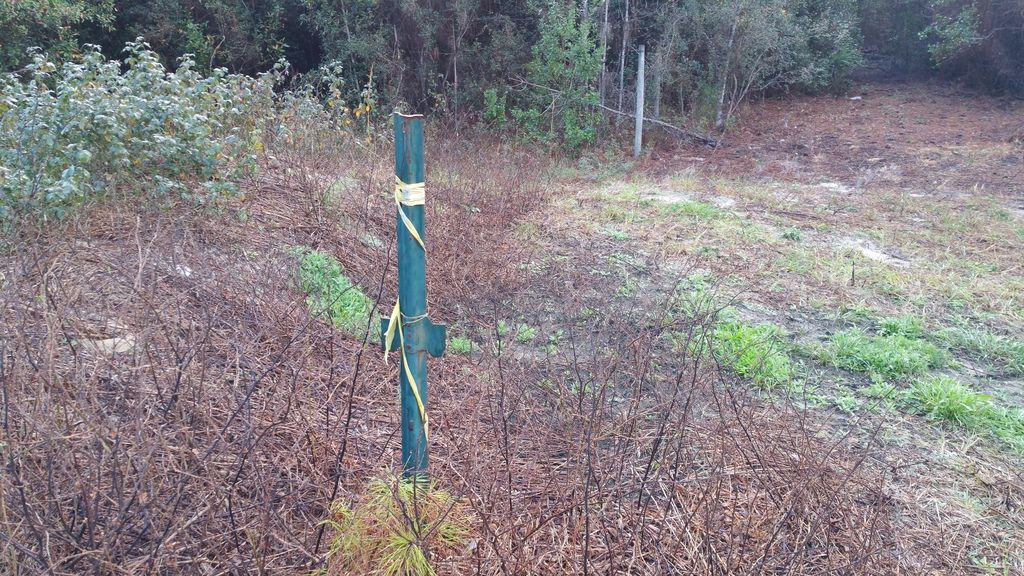 Also, I must be honest. I think I could have messed it up personally. I have driven my 4wheeler up it quite a few times and the wheel spinning could have dug it down or made it weak.
Is it possible that is all it is? I've dug it down and it was weak? So could i re pack it and add a load of dirt and everything start running smooth again? (and get some root killer?)
Just to keep the neighbor happy we have dug a trench and minimized water usage to buy us some time to figure out what to do.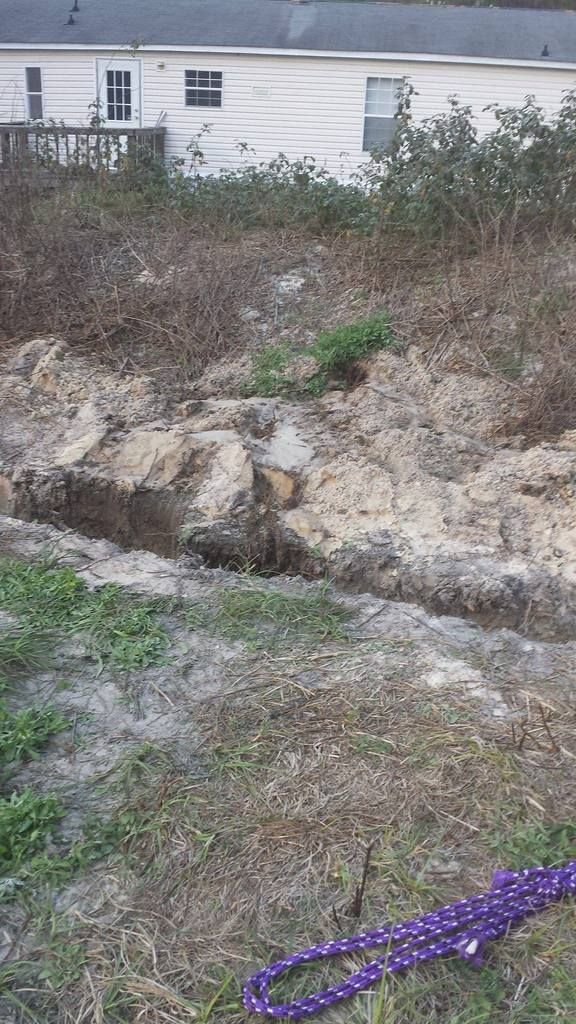 Obviously my reason for posting is that we dont have the funds to fix something so expensive but if I knew exactly what to do and what parts/materials to buy, i'm sure I could do it myself. Doing it is the easy part, knowing what to do is what I need. We have a company coming by for a free estimate on friday. However, I'm trying to get pointed in the right direction.
Also I heard that for clogs ect, its a good idea to shock the system with bacteria so we added 3 boxes of ridx. Looking forward to educated info to move forward with, thanks!
Sponsored Links
02-23-16, 06:20 PM
Join Date: Oct 2012
Location: Northern NJ - USA
Posts: 59,842
Welcome to the forums.

I approved your thread. As a new member, if you post five or more pictures, your thread is automatically put into moderation to reduce spam.

I don't have an answer for you but others will stop by and add their opinions.
02-23-16, 06:27 PM
Doesn't the State of Florida (or your jurisdiction within Florida) require that you get a Permit before altering, or rebuilding a Mound Leach Field, or at least have the work supervised by a Licensed Engineer or Site Technician ?

With a Neighbor so close as to be able to observe the goings on in your backyard, it sounds like you're in a developed or more congested area where these alterations of waste water disposal systems require more close supervision than rural areas with wide open areas between neighbors.
02-23-16, 06:35 PM
I'm not a pro, but have had to deal with a few septic problems.
First, the septic you currently have should have had a design submitted and a permit issued. Solid waste control is one area where code officials get fussy for reasons just as you are experiencing. If the soils were tested properly and the septic was built to an engineered design it may have a warranty period. If this was built without required permits and a proper design, one phone call from someone reporting an exposed leach field and all dickens can break lose.

BUT, those inspectors can also help. I assisted one lady who's septis was flooded and she did not have the funds to relocate it. The inspector knew where and how to get some grant money and the whole job was taken care of.

It is a health issue and it is spilling over onto someone else's property. You need to get this fixed right.

Bud
---
Last edited by Bud9051; 02-23-16 at

06:36 PM

. Reason: spelling
02-23-16, 06:54 PM
Originally Posted by Bo0stLeak
". . . I hired a mom and pop company to come out and redo it . . ."
Did mom and pop have access to a copy of the Site Plan so that they knew what they were looking at when they dug it up, evaluated it, and replaced the "bad parts" ?
For $3500, I think you would be entitled to at least that level of professionalism.
Here, in the backwoods of Vermont, we can't touch a Waste Water Treatment system without having a Licensed Party (Engineer or Site Technician) on location to take responsibility for what's being observed and altered. Anyone doing so without the proper credentials (homeowner or local excavator) is subject to hefty penalties.
I'm just a Real Estate Broker; but I've witnessed plenty of those penalties being dished out . . . . and collected when people jumped the gun and rushed to fix these not-so-simple systems; and it hasn't been pretty.
02-23-16, 08:00 PM
Join Date: Feb 2016
Location: United States
Posts: 5
Received 0 Votes on 0 Posts
Unfortunately, I don't think that they did. This company coming out Friday is going to look and see what to do from there. However if it's gonna be over 2 grand, I just don't have it. I can't get a loan because I have no credit. It's not that I don't want to fix it or don't want to do it right, I just don't have the money. So what else could I do? I'm hoping it just breached due to not having enough dirt and I can just seal it back up. But if that's not the case I don't mind to dig it and replace it myself.
02-24-16, 04:14 AM
I used to have a mound system when I lived in fla. Do you know how/where the drain lines run? Is the problem at the end of a run or in the middle? I'd dig up that area and get a look see, it could be as simple as reconnecting the drain line.
02-24-16, 04:32 AM
Based on the rules for our area regarding septic system distance requirements the area of yours appears to be very small.
Is it possible a permit was never taken out?

Do you have any photos taken of the repairs and what the leach field looks like?
Are you able based on where you believe components are to make a rough sketch with dimensions of the tank and field layout?

It almost looks like the leach field is very small and the hole in the hill is where most of the liquid runs.
02-24-16, 05:14 AM
Depending on how old that system is your local health or building dept. should have the design on file showing how the lines where ran and what type system was installed.
Makes it a lot easier for anyone that knows what there doing to have it in hand.
There should have been a copy with your deed.
Ridx was a waste of money for a blow out like that.
---
Last edited by joecaption; 02-24-16 at

06:06 AM

.
02-24-16, 07:47 AM
It needed the drainfield to be redone so I hired a mom and pop company to come out and redo it.
They dug up and replaced bad parts.
Those are you two problems. When a drain field fails, it's more then parts that need to be replaced. Normally it needs to be completely dug out and all new gravel and soil need to be added to make the field perk again. Your waste water isn't going down into the earth, but rather it's finding it's way out the side of your still failed leach field.
02-24-16, 07:51 AM
02-24-16, 11:34 AM
Looks like a blowout to me...that hole is on edge of your drainage mound on far side of field?
Notwithstanding whatever rules your area has, I would be digging towards mound to find out source. You may just have a cracked pipe from your 4x4 exploits. Never drive over your field with a vehicle! My gravity drainage field mound has one foot of sand/soil on top...no more as per engineer, as it needs some aeration, so I am careful not to drive anything heavier than a lawnmower over it. I would also keep mound clear of brush at all times! Some plants have stout root systems that love drainage fields...so much goodness a foot down for them suck up and a permanent water supply. The roots will invade drain tile and crack it. Up here, we have alders that grow like weeds. They will destroy a drain field in 2-3 years if left unchecked. A little digging won't hurt...just be sure to put soil/sand back in the order you dig it out. The last 6" before I hit pipe I have specially screened C-33 sand (grey and uniform in appearance). If you have that, you need to make sure it goes back. PVC drain tile is easy to replace. Might have to use thin Fernco fittings to replace bad section.
02-24-16, 01:38 PM
Join Date: Feb 2016
Location: United States
Posts: 5
Received 0 Votes on 0 Posts
Melliam, thank you so much for your reply. That is the kind of information I came here for.

Tomf63,
They replaced the rock and other things that run the water, I don't know about soil though. Looks just like regular dirt/sand that the rest of my yard has.
Posting Rules
You may not post new threads
You may not post replies
You may not post attachments
You may not edit your posts
---
HTML code is Off
---