Pressure tank is reading 95lbs. Having water problems
10-15-17, 06:52 PM
Join Date: Jan 2005
Location: Pennsylvania
Posts: 311
Received 0 Votes on 0 Posts
Pressure tank is reading 95lbs. Having water problems
---
Hello, we have recently been not getting much water out of our faucets. It seems to be more the hot water than the cold. Of course we use a lot more hot water than cold, so that may be why we noticed. It slows right down to a trickle for some reason. Here's a little info. I have a submersible pump in my well. I was online reading where my pressure tank should read around 40-50lbs. Mine is reading around 95lbs sitting at rest (no water being used). I took a screwdriver and pushed down on the Schrader Valve? The valve like on tire tube. I had read that if the bladder has a hole in it, it could fill up with water and cause a pressure increase. Well, I pushed on it and got nothing but air. Any ideas? Thanks as always! Jack
Sponsored Links
10-16-17, 04:57 AM
I would first suspect that you have a clogged line or a leak somewhere.

Do you have a working pressure gauge on the water system? If so make sure nothing in the house is using water. When the pump is off does your water system maintain pressure?
10-17-17, 01:23 AM
Join Date: Jan 2005
Location: Pennsylvania
Posts: 311
Received 0 Votes on 0 Posts
Thanks Dane. Sorry I don't know much about plumbing but I shall try to answer your questions. The only gauge that I know of on my water system is the gauge on the pressure tank and like I had previously stated it's reading around 85-95lbs. How would I know if the pump is on as it is a submersible pump that is down in the well like 100 ft or more from what I had been told. I think you may be right about something being clogged somewhere. It seems like it has slowly gotten worse over time. When I first use the water in the tub it runs fairly steady for like 5-10 minutes then slows to almost a trickle. If I shut off the water and wait like 5 mins. I get a good stream for like another 5 minutes. Since it's a trailer I would assume I would hear or see a water leak under the trailer. Getting ready to head to work right now and will check under the trailer for leaks when I get home later today. Thanks as always! It is greatly appreciated!! Jack
10-17-17, 05:07 AM
A water system should have two gauges. One is usually permanently mounted and connecting to the water piping to read the water pressure. For the second gauge most use a tire pressure gauge to check the air pressure inside the pressure tank. But, the pressure tank does not generate water volume or pressure. It just smooths out the flow and prevents the pump from cycling on and off too frequently.
The pump is controlled (turned on and off) by a pressure switch. It is usually located near the base of the pressure tank and the green arrow is pointing to it. When water is being used in the house you can hear the switch click open and closed as it turns the pump on and off. You can also remove the plastic cover and can see the contacts opening and closing but be careful to NOT touch anything as it is hot AC power.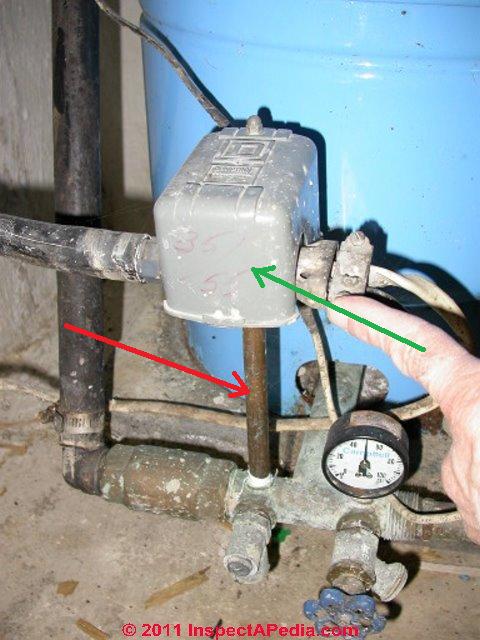 Since you get water back if you go a while without using any water it could be that your well is running dry and needs time to refill.
One simple test is to make sure nothing in the trailer is using water. Go to the circuit breaker panel and turn off the breaker for the well pump. Wait 10 minutes then open a faucet and see if you have water. If there is no water then you might have a leak somewhere. The leak doesn't have to be somewhere visible. It could be in the water line between the well and house or in the pipe going down the well.
10-17-17, 03:35 PM
Join Date: Jan 2005
Location: Pennsylvania
Posts: 311
Received 0 Votes on 0 Posts
Thanks as always Dane! I appreciate your time. I got home and looked around and didn't see or hear any leaks. I did as you said and shut the breaker off to the water pump and waited 10 mins. I opened up the faucet and it ran really good, just as it does when I first open it. I think you may be on to something as far as the well is concerned. A co-worker of mine just recently said he was having water issues, not enough water. He called the local pump guy and he said he thinks his well is that low. My co-worker said he found it hard to believe being that his family has lived in that house for over 60 years and he had never heard of the well being that low on water. I know I, along with my co-worker, have experienced a lot drier years than this year. In my opinion we have had a wetter year than most, especially over the summer. Pump guy explained to my co-worker that all the rain we had was a hard rain and not a soaking rain, causing it to run off rather than soak in the ground. Sound logical? Thanks again! I appreciate it! Jack
Posting Rules
You may not post new threads
You may not post replies
You may not post attachments
You may not edit your posts
---
HTML code is Off
---