Is this part of a septic tank or cesspool or well?
05-27-21, 08:16 PM
Is this part of a septic tank or cesspool or well?
---
Some background, this is a single family home in south Florida, older house originally built in 1941, several additions since.
Researching old permits showed a conversion permit from septic to city sewers in 2008 so 13 years ago.
I recently cut down a large tree in the back yard, where it's root system have pushed my AC compressor totally out of level and have intruded into the crawlspace to the extent that it is nudging against a 4" PVC drain, as well as swallowing up AC lines amongst other issues. After two years of finding ways to deal with it I did the inevitable and cut the tree down.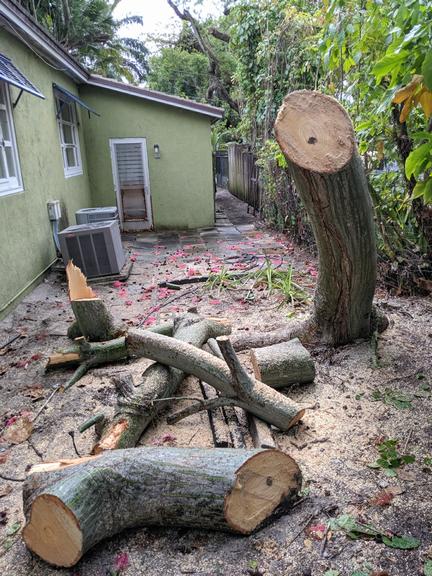 Once the tree gets cut I dug around the root to expose the massive root system, to attempt to clear as much of the ancillary roots out of the way before I get a stump grinder in here.
While digging around I found some 20"X20" concrete pavers buried a few inches under the dirt, curious, I dug those out and set them aside, and found another layer of 16X20 concrete pavers under the 20X20 pavers. This is puzzling.
So I cleared more dirt and more pavers, and eventually found a rectangular thing that measures 28"X40" in size, and a round disc which I assume to be a lid next to the rectangular thing.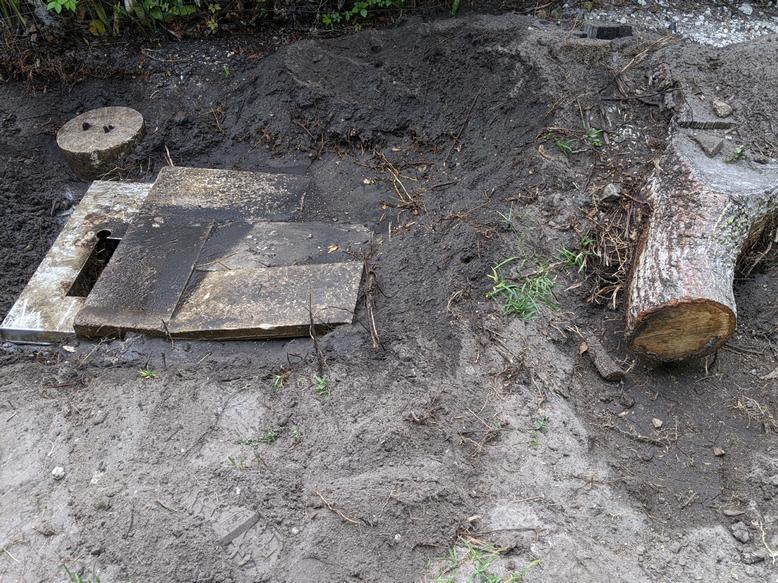 I then removed all the pavers, and now I can see a metal cover with holes of various sizes and shapes. It seems to be covering a rectangular hole under it with concrete walls.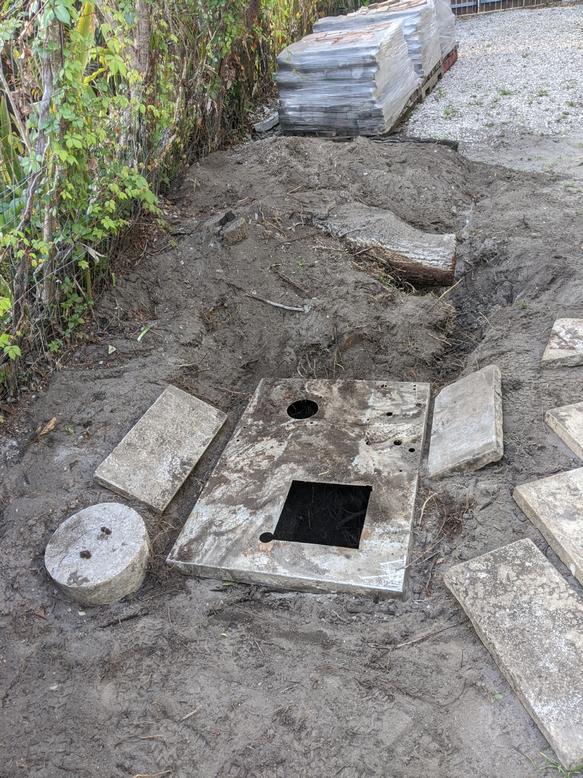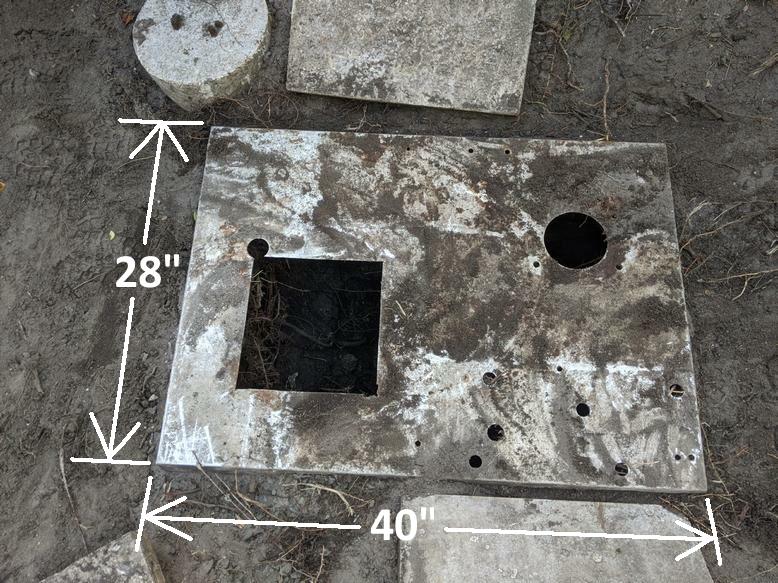 Any idea what I am looking at here?
I starting digging around on the concrete disc/lid, turns out it is deep, very deep, and not a lid at all, but may be an anchor or a pier.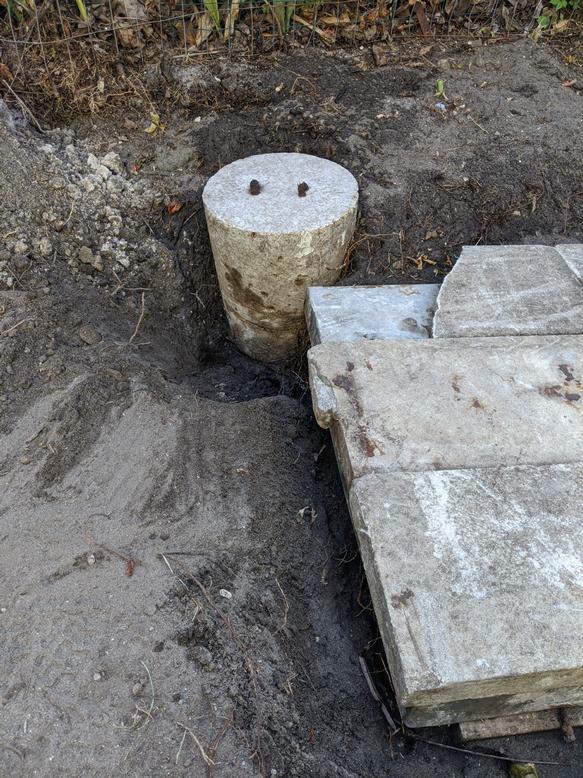 I then removed the metal cover. It was not attached to the concrete walls below.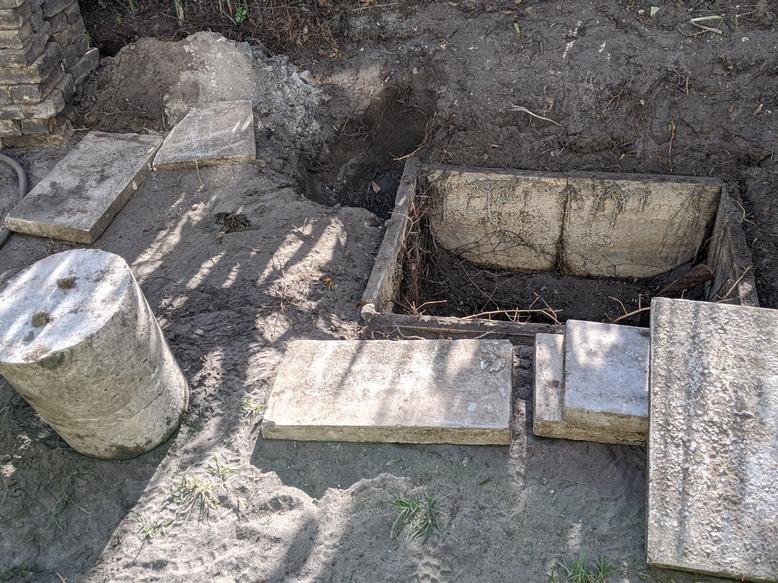 Looking at the box, the walls are made of 2" thick concrete pavers. Prior to removing the cover, I had assumed the walls may be 4" blocks with mortared joints, but this is not the case.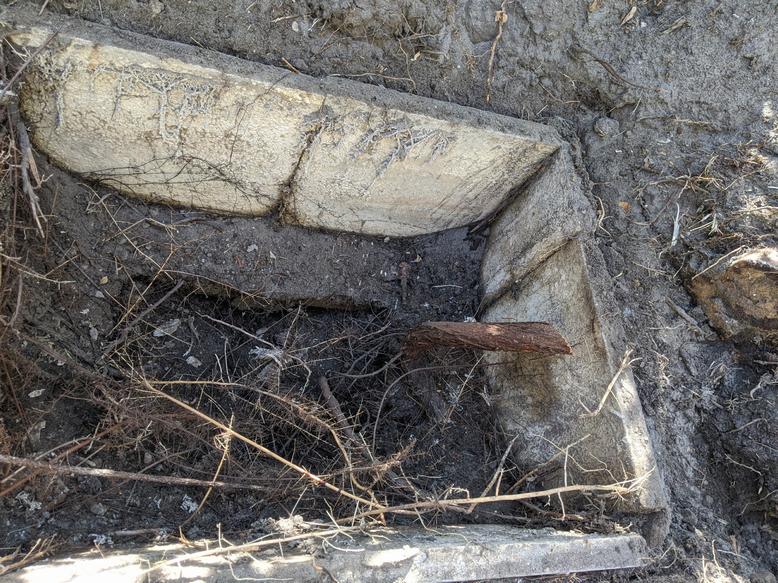 At the bottom of the box, there seems to be a bottom with a smaller rectangular hole. That bottom seems to be made of a cementitious materials. Not sure if you can see it.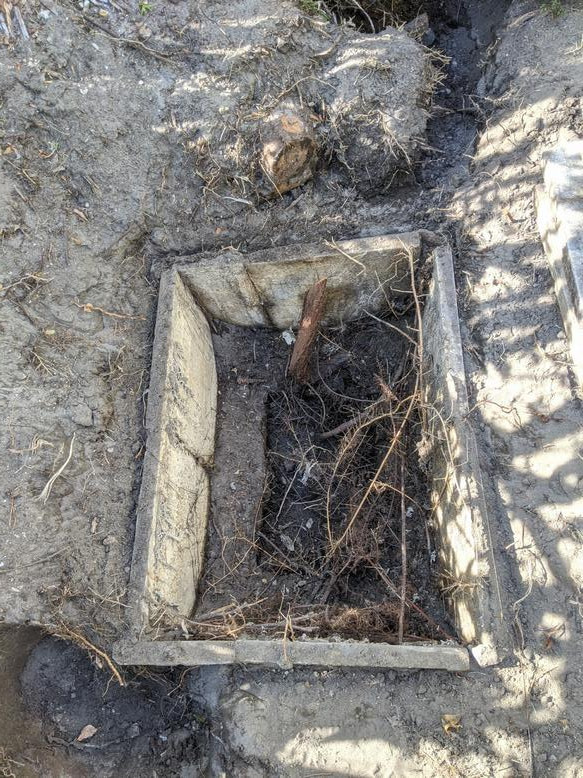 The same picture with the bottom rectangle outlined in red color.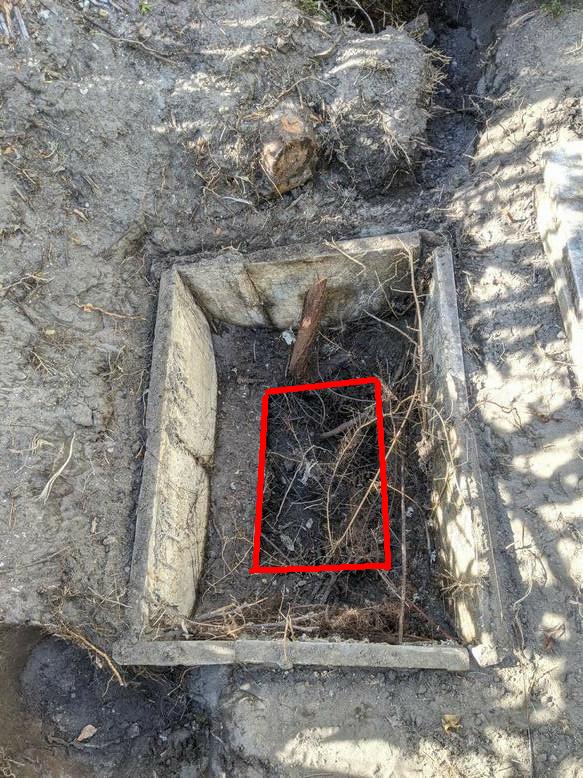 Any idea what this may be?
I looked at old permits and plans, and there was a septic tank until 2008 when they did a city sewer hookup, but there is no location information of the abandoned septic tank. But this is too small for a septic tank right? Unless this hole is just the top of the big septic tank under it and this rectangular hole is just a cavity for a riser access?
A final close up picture. It was dry when I opened it. I rinsed it with a garden hose so that's why this picture shows a puddle of water inside.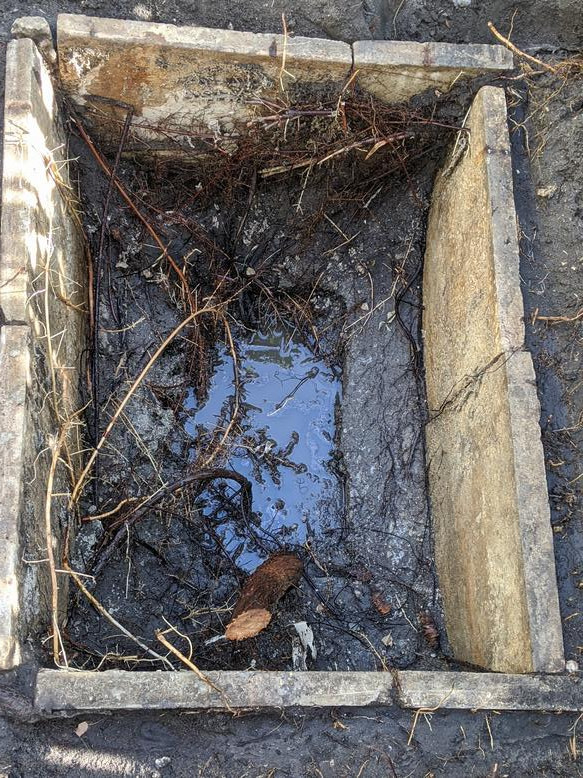 05-27-21, 08:28 PM
Join Date: Oct 2012
Location: Jersey
Posts: 62,067
I have absolutely no idea what it is but it certainly is fascinating.
05-28-21, 04:55 AM
Join Date: Mar 2003
Location: NC, USA
Posts: 25,961
It might be an access hole to the septic tank. The cement block rectangle on the surface is a home made riser.
05-28-21, 07:54 PM
It's old, it's in Florida, it's buried underneath a big tree.

Pirate treasure, no doubt!
05-29-21, 11:46 AM
"It might be an access hole to the septic tank. The cement block rectangle on the surface is a home made riser."

This is what I am thinking as well. There is a large septic tank under there and this is the hole they used to pump or maintain the tank,

Wondering what is the best way to find the perimeter on the large septic tank without digging. No I am not curious enough to dig up the whole thing but just a way to verify that there is a large septic tank under there.

The other concern is when they do abandon an old septic tank I assume they have to fill it right, do they break the bottom of the old tank? Or will it remain closed?

How would they ensure the tank is filled corner to corner? If they just shovel dirt in through the small hole until it's full, it will just be a mount of dirt inside and most of the tank is still empty right?
05-29-21, 02:15 PM
Join Date: Mar 2003
Location: NC, USA
Posts: 25,961
Filling the tank is best practice and required now but for a long time there was no requirement. Luckily yours was filled in.

No, there is no great process or inspection procedure to insure that the entire tank is full. You can assume that the fill forms a cone from the access hatch to the edges of the tank with empty voids along the edges and corners.

No, the bottom of the tank is often not broken. It is best practice so it can drain and remove the drowning hazard. But, because it is way down there... it is often not done. And once many tons of dirt have been dumped in it's impossible to inspect. Since your tank is not full of water that's a good sign that the water has some way to drain.
05-29-21, 07:36 PM
If this "riser" is 18" deep down to the smaller opening which I believe is the top of the septic tank, and that opening seems to be of a cement material, then I would assume the entire septic tank is concrete. Does this mean there is a concrete "floor" extending out from the smaller opening?

If I take a long wood bit (like a 20" long wood bit) and drill into the dirt I should hit concrete about 18" down. If I do this every six inches as I move away from the riser, I should be able to find the spot where I do not meet this concrete floor and that should mark the edge of the septic tank. If I do this in the four directions I should be able to kind of mark out the size of this septic tank? Not really sure why I would want to do this but seems that it is good information to have.

I wonder if there is another riser buried. I understand some septic tanks have multiple chambers each with it's own access hole/riser.

Finally, do septic tank always have a drain field where the stinky water overflows? How deep would those pipes be? I assume those are abandoned in place and not removed?
05-30-21, 04:46 AM
Join Date: Mar 2003
Location: NC, USA
Posts: 25,961
Yes, you can probe to find the tanks outer perimeter. There are unusually two clean out hatches but some old tanks only had one.

Septic tanks do have a leach field connected. That's where all the effluent eventually goes. The leach field lines are probably buried 2-5 feet down. In Florida I would expect them to be relatively shallow. It is also possible that that is a cesspool and not a septic tank. If it's a cesspool there would be no leach field and your tank probably has holes in the bottom and maybe sides and the effluent just drains directly out of the tank.
05-30-21, 05:19 AM
A septic tank has a single inlet and a single outlet, at opposite ends, both typically within a foot (depthwise) of the septic tank top.

Incidentally a septic tank system can have a "seepage pit" in lieu of a leach field. The seepage pit is constructed like, looks like, and operates like a cesspool or a dry well.

I point this out just in case you determine this chambe to be a septic tank and cannot find a leach field.

In most cities, new or replacement seepage pits are no longer allowed although existing ones are grandfathered.
---
Last edited by AllanJ; 05-30-21 at

05:50 AM

.
05-30-21, 08:57 AM
Thanks so there many be many different configurations.
Septic tank with a leach field
Septic tank with holes on the side or bottom
Septic tank with a seepage pit (does this mean it overflows into a separate chamber the seepage pit that's like a swiss cheese?)
Cesspool (I assume a cesspool is smaller in size)
I doubt I will be able to determine the exact nature of what this is. I am hoping to find the tank's perimeter so I can have an idea on future landscape planning for that section of the property.
It actually make sense to have a larger septic tank under there because the tree I took out, I have one on the other side of the property. It has deep roots that goes way down, while this one has shallow roots, most of it just below ground or half above ground, the roots radiate out from the trunk, pushing up paver blocks, air conditioning compressors, strangled the buried gas meter pipes, went into the crawlspace and pushed against a 4" sewer pipe etc...I battled with cutting back the roots for almost two years and finally gave up and had to take it down. Now I think I know why, the roots have no where to go with the septic tank under it.
06-03-21, 10:17 AM
OK a little more progress, and I am not sure there is anything conclusive.
After reviewing all the comments, and looking at all the information I have, I was leaning to the theory that this is an abandoned septic tank as Pilot Dane suggested and the rectangular hole a "home made riser access" to the bigger tank below, which appears to be filled. I also went to the city's permit office and did some digging there, and the city sewer hookup was done in 2008, at the time they also filed and passed a permit to abandon then existing septic tank. Their records office has more papers that's no available online, and I was able to find one ISO diagram of the new sewer line connection, but being an ISO, the septic tank location was only indicated schematically no real location so that's not helpful.
The depth of this hole is about 16-17". If this is a septic tank, then the bottom of this hole is the top of the septic tank right? It looks to be a cement rectangular hole at the bottom. The bottom hole is about 22"X14". If this theory is correct, then I should find this concrete layer outside of the hole right?
So what I did was I used a 24" long 1/2" wood bit. I put it on a drill and drilled down on the outside of the hole. I was so sure I would meet resistance about 16" down to confirm there is a concrete floor below which would be the ceiling of the septic tank. But no. The drill bit went down 20" and nothing. I drilled 4" outside of the rectangular hole, then 8" outside. Nothing but dirt. I did hit a couple of stops, so I dug down to see but those are just bigger chunks of rocks I hit.
Here are more pictures. I dug another hole more than 24" deep outside of the 16" hole. Nothing but sand down there, No concrete layer no debris.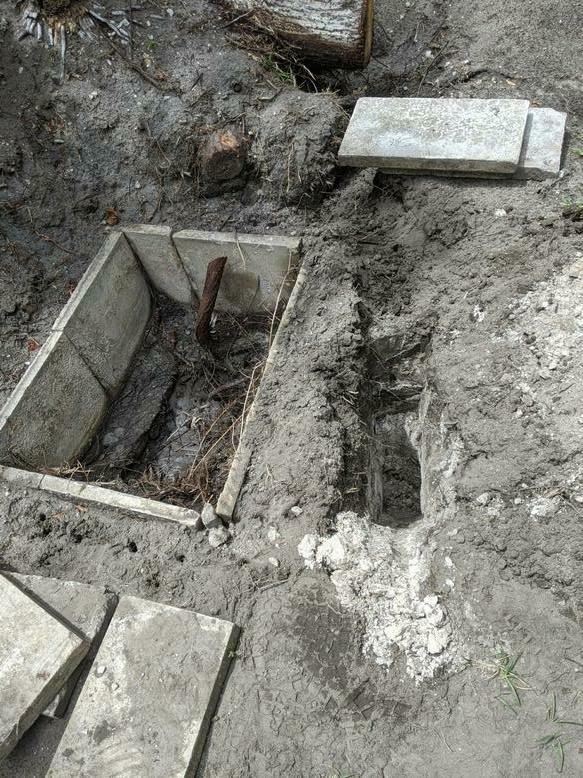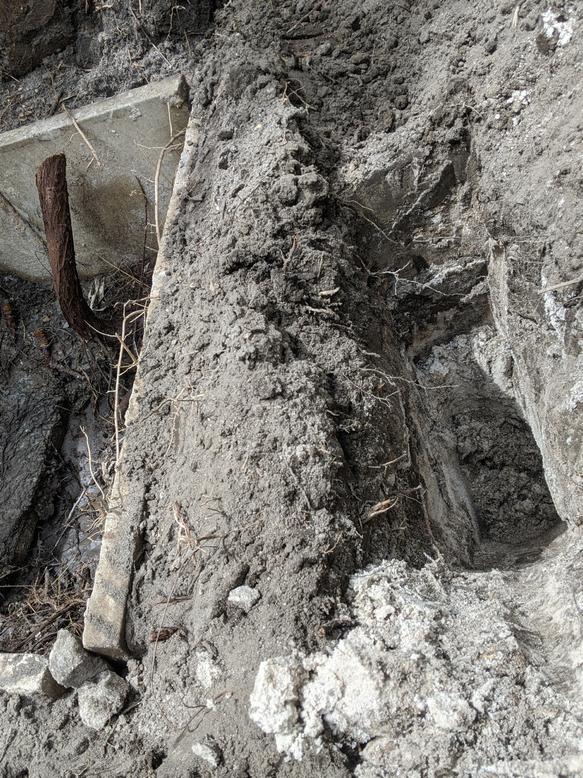 Not sure what else to do. I am not sure any additional digging will yield anything useful.