Home made hovercraft steering? Help!
02-25-14, 02:53 PM
Home made hovercraft steering? Help!
---
Hello all. I'm in the middle of designing one of those leaf blower hovercrafts, but I can't think of a good idea as far as trying to steer the thing. So far, the only thing that comes to mind is rudder style steering.
Anyone have any ideas? The goal is to turn the rear blower on a swivel mount using a steering wheel or a lever... or something like that
This is what I have so far.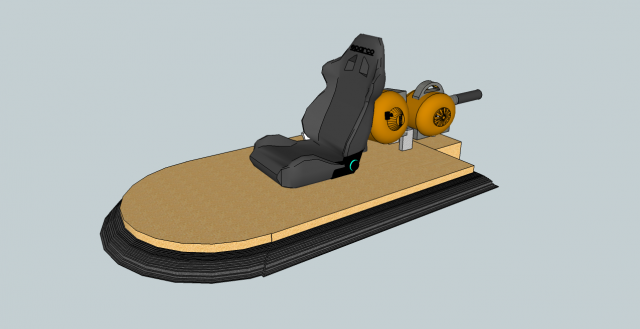 Sponsored Links
02-25-14, 04:29 PM
Join Date: Mar 2003
Location: NC, USA
Posts: 17,949
It looks like you have one blowing down to inflate the skirt and cushon and another aimed aft for propulsion. Just mount the aft one so you can pivot it left and right for steering.
02-25-14, 06:30 PM
Look at steering systems used on boats with out board motors. Basic would be a stering wheel with a drum. Three or four wraps of rope around it. First the rope goes down then through a guide horizontal to the blower in back.
Posting Rules
You may not post new threads
You may not post replies
You may not post attachments
You may not edit your posts
---
HTML code is Off
---