10 Decor Trends to Ditch ASAP!
To ensure our content is always up-to-date with current information, best practices, and professional advice, articles are routinely reviewed by industry experts with years of hands-on experience.

Reviewed by

on Sep 01, 2022
Purchasing an outdated house is one of the easiest ways for a do-it-yourself savvy buyer to build sweat equity. It can often be hard to see beyond the stained carpet and outdated kitchens, but if you can imagine what the space could look like with a little TLC and a few DIY projects, you will be in a really great position for making the big investment of buying a house.
There are many common outdated features you will find in older homes. You'd be surprised how many homeowners have been too lazy to remove shag carpets, wood paneling, and tacky wallpapers. Luckily, most of these home decor faux pas can be tackled by anyone with a moderate level of do-it-yourself skills.
If you just bought a way outdated home or you're guilty of letting your home decor go out of style, don't stress. We're here to tell you which 10 trends need to go immediately, so you don't have any excuses left for leaving them be! And of course, we make some simple suggestions for updating your space accordingly.
1. Sponge Painting
While this trend was originally intended to add a bit of dimension and character to a room, it was never one of those trends that looked like it was done by a professional. While we always advocate doing as many updates to your home as you can by yourself, we also suggest doing it in a way that makes it look like it was done by a professional. This will add the most value in the end.
Luckily this outdated trend is an easy fix. Choose a color that suits your design style and the room's existing decor, and simply cover it up with a couple of coats of new paint.
2. Oak Kitchen Cabinets
Ditching old oak cabinets may not be an easy fix DIY project, but it will definitely update your space in a way that you probably can't even picture.
Get creative here. If you can afford it, buy some cabinets and do the remodel yourself. If you're looking for something with a lower budget, try painting two-tone kitchen cabinets, which are very trendy this year. Consider painting the bottom cabinets navy blue and the upper cabinets white. Want to stick to a traditional update? White cabinets are still popular and are a great way to brighten up a space that lacks a lot of natural light.
3. Disproportionate Wall Art
Everyone loves a good focal point, and a gallery wall is a great way to do that. You really can't go wrong here with the actual pieces you use: art, pictures, mirrors, faux animal heads, arrows, and the list goes on and on. Where you can go wrong is using too much of the wall space or too little.
If you have a big wall, make sure you use up enough space on the wall that makes sense. A bonus for decorating like this is that you can easily incorporate your personality into your home by using photos of your favorite vacation, art drawn by your kids, or a quirky mirror to match your eclectic style.
4. Plastic Blinds
This trend was popular a few decades ago, and while these blinds get the job done, there are much better design choices to use on these big windows and doors. And lucky for you, this is an easy fix.
Simply swap the blinds out for sheer curtains, or if you like something more dramatic, try a more luxurious, navy blue, velvet curtain.
5. Cheap Brass Hardware
While brass is making a bit of a comeback, be sure to avoid the shiny, cheap looking brass hardware.
This is an easy way to make a big difference in the room; simply swap out that faucet for another finish - nickel, iron, and chrome are all great choices, depending on your decor.
6. Carpet in the Bathroom
This is one trend that never should have happened, but since it did you should remove it immediately. No excuses.
If you love the warmth it provides, consider installing underfloor radiant heating and putting in a neutral tile that you will enjoy for years to come.
7. Fake Plants
While this seems like a good option for those of us who lack a green thumb, you lose on two counts. One, you aren't fooling anyone that it is actually a real plant, and two, you aren't getting the most important benefit of having plants in your house: added oxygen!
If you are worried about keeping your plants alive, ask someone at your nearest nursery which plants require the least amount of care. Surely you can water a plant once or twice a month! Besides, succulents and cacti are both very trendy right now, and they are almost foolproof for people without green thumbs!
8. Pot Rack over Kitchen Island
While this idea serves a practical purpose, it is one that should be left firmly in the 90s. The favored trend in this decade is to have things clean and clutter free.
Try organizing your pots and pans in your cabinets with one of the many helpful organizers on the market today. This allows you to keep the airspace over your island completely free or available to add a pendant light or two.
9. Frameless Mirrors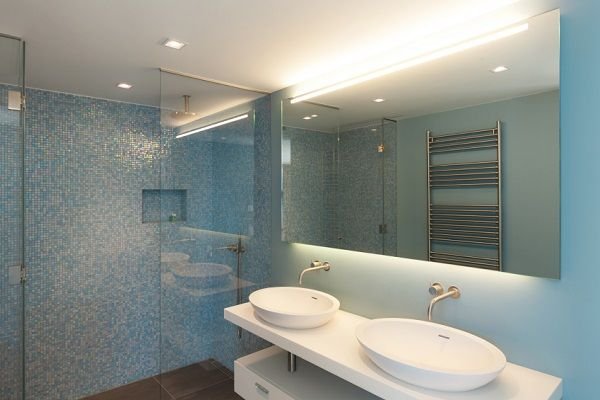 These are a popular trend among builders for both their low cost and ease of installation, but they don't add any real character to a bathroom.
If you find yourself with one of these gracing the wall of your bathroom, the best fix is one that will only cost you $10-$15. Simply pick out your favorite molding (chunky baseboard molding is especially nice), and cut 45 degree angles to create a rectangle and glue it around the edge of your mirror. You may need strong painting tape to hold it in place as it dries, and make sure to use glue that won't permanently fog your mirror!
10. Wallpaper Border
Wallpaper border was once a way to add a touch of character to any space. The modern equivalent is removable wallpaper. While this might sound counterintuitive, if you have ever had to remove wallpaper you will understand the importance of installing something that you can easily remove down the road when you want to switch things up.
There are many different patterns and colors that you can use to bring this bit of character to your space. Want to really jazz it up? Install wainscoting on the lower portion of the wall and the removable wallpaper on just the upper portion of the wall. This will keep your space from becoming too "busy,' while brightening it up with some nice white molding.