10 Items to Collect for Free Wrapping Paper
It's getting to be the time of year where you'll be gearing up to wrap a bunch of gifts. Instead of spending a lot of money on wrapping paper this year, do something sustainable by recycling items as clever wrapping paper. We have a full list of items you can use below.
Newspaper
Newspaper makes a fabulous replacement for wrapping paper! Begin putting aside old issues that you can use for the holidays. For this, use sheets of paper that aren't crinkled for the best results. You can also use things like crayons, markers, or colored pencils to decorate the newspaper to make the gifts even more festive.
Old Maps
This is somewhat similar to newspaper, but even more creative! Remember those old atlas maps we used to use before technology took over? Those sheets of maps make great wrapping paper. Collect old atlas books or even folded maps to use as sustainable wrapping paper. These can be easily found at garage sales or thrift shops, so you won't have any problems coming across them if you don't have any of your own to use!
Paper Shopping Bags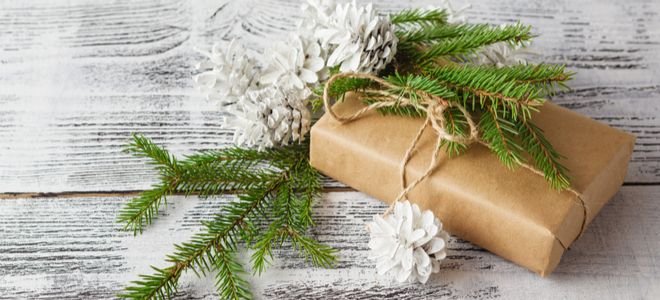 Those paper shopping bags you bring your groceries home in do more than just cart produce around. They make great wrapping paper too! Collect these on your weekly grocery trips so you can reuse them as wrapping paper when the holidays come around. To make these even more festive, use stamps with fun motifs to jazz them up on presents.
Kitchen Towels
Kitchen towels can be used to turn one gift into two! Wrap something small in a kitchen towel so that it sits at the bottom of the towel. Gather the extra fabric at the top and tie it with a ribbon. Just like that, you're giving someone not only the original gift but also a nice new kitchen towel to add to their collection. What a great way to wrap sustainably!
Kids Artwork
If you have little ones, enlist their help for wrapping gifts. Have them do artwork on printer paper or construction paper. Use their work to wrap small gifts. This is a sentimental way to wrap something sustainably!
Scarves
Old scarves make great wrapping paper! Pick some of these up at tag sales or thrift stores for a steal and they'll make for a great way to wrap a present - paper-free!
Dust Bags
Many new pairs of shoes or even purses come with a dust bag to protect them in storage. If you have some of these lying around, they are a great way to wrap gifts without using any paper.
Potato Chip Bags
This may seem like a strange item to use as gift wrap, but the inside of potato chip bags is silver. After you polish off a bag of chips, turn the bag inside out and wipe it down thoroughly. Save it to use for gift wrapping. The beauty of this is some bags are larger for bigger gifts or you can use chip bags from individual sized bags for smaller presents.
Reusable Tote Bags
Everyone loves reusable tote bags to bring to the market or their favorite boutique. So why not use any extras as sustainable wrapping paper this holiday? Not only does that cut down on the wasteful use of paper, but the recipient of the gifts wrapped in these totes will love getting the bonus of a new tote to use, too.
Pinecones
As you enjoy the great outdoors, collect pinecones to use to adorn gifts. These make a fun decoration on top of any gift and can be tied on with a ribbon or even glued right on top of the paper. These little accents can really elevate the look of the present.
You can collect these items to wrap more sustainably this holiday season. By wrapping with non-traditional items, you won't skimp on style or presentation but you'll get major points for creativity!
Sara LeDuc is a freelance writer for DoItYourself.com. She also writes for a handful of other websites and platforms. She has been growing her skills and client base for the past two years, but has been passionate about writing for as long as she can remember. She has worked with Internet Brands for over three years and enjoys learning about — and completing — DIY projects and keeping up with the latest and greatest home improvement trends. Besides her work for DoItYourself.com, Sara also has worked with retail, human resources, fitness, commercial, and medical clients to help them increase client engagement, grow their following, and drive traction to their blogs and websites. Sara has furthered her skills and reach by working as an editor with a media company. This has helped her diversify her abilities as a writer and work with additional writers, editors, and a wider range of clients. Sara enjoys continuously learning and building her skills in the field by working on SEO campaigns and outreach programs to increase the visibility of her freelance clients. She loves being creative, pitching article and post ideas to clients, learning more about the freelance industry, and completing DIY projects.