10 Projects That Aren't as Hard as You Thought
DIY projects are common activities these days, and there are endless ideas to keep you busy. Some projects will bring a bigger "R.O.I." or "return on investment", however, and are easy enough for the amateur DIY-er. If you've been thinking about upgrading your living space, these ten projects aren't as hard as you may have thought, and will be worth the time and money spent.
1. Fix and Install Trim
Ripping out and installing all new trim is an audacious enterprise, but if there's a window that's missing trim or baseboards that show gaps and could use some shoe molding, this can be a simple project to tackle. All you need to do is match up the "profile" of your existing trim, and find it at the local hardware store. Most cuts will be straight or 45-degree angles that can be done with a miter box or saw. You can use a simple hammer and nail method, or if you have a compressor and nail gun that will make the job even easier. Make sure you are using finishing or brad nails that won't split the trim piece, and always measure twice.
2. Paint Your Kitchen Cupboards
Kitchens are the most expensive part of the home to renovate, so it makes sense to do some face-lifting yourself. An easy job to tackle is painting or re-staining your cabinets, as these are expensive and time-consuming to rip out and replace. Not all cabinets will look better with new paint or stain so make sure yours have "good bones", and aren't too dated. Get some inspiration before you start, and give yourself at least the weekend to do it. A proper cleaning, sanding, and fresh coat of paint will turn a blah kitchen into a wow kitchen.
3. Change Kitchen Cabinet Hardware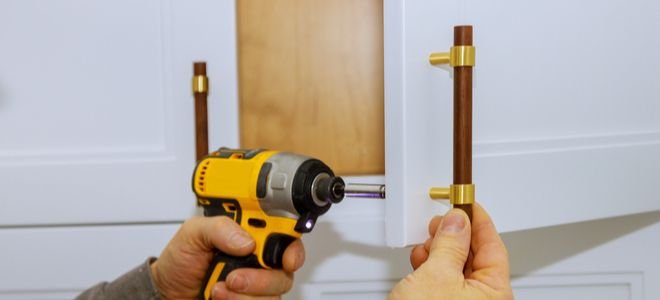 Regardless of whether you decide to paint or stain your cabinets, changing the handles and knobs can drastically improve the look of a dated kitchen. Take a look at the current trends and find something that will be worth the investment. All you need is a drill or screwdriver to take off the old hardware to replace it with the new ones. Time-wise, you're looking at ten minutes tops per cabinet or drawer. Remember to measure the space between the holes, as not all hardware is the same size.
4. Paint Your Walls
This job is easier than painting cabinets, and even if you plan to do your whole house, can be tackled by any level of DIY-er. Neutral tones and a cohesive color scheme are recommended, but feel free to experiment with your creative side. If you've never painted before, it may take some patience at first: "cutting" is when you use a small brush to paint along ceiling lines and around trim, and "rolling" is using a roller brush on a pole to paint larger swaths of the wall into the cut lines. Invest in some good drop sheets, ladders, brushes and rollers, and you'll be a pro in no time.
5. Plant a Perennial Garden
Gardens and landscaping can uplift a home's "curb appeal", and adding some greenery and color to your outdoor space isn't difficult. Head to a local nursery and talk to them about your space. Note things like what kind of light you get (full sun, part shade, etc.), what your planting "zone" is, and learn the difference between an annual and a perennial. Perennials come back every year, so while they may be more money up front, the investment is worth it. Plan to do most of your planting around the spring time and remember that it takes time for perennials to fully mature, but a few choice annual flowers can fill in some gaps while you wait.
6. Update Your Lighting
Take a look at the ceiling lights around your home. Could they be upgraded? Perhaps replaced with a combination light and ceiling fan? A good ladder and some general electrical knowledge are all you need to replace the light fixtures around your home. At the same time look at your outlets and switches. Are they dingy or broken? Replacing them all with newer ones that are uniform in color and size can be a small investment that makes a huge difference. Always shut off the power before doing any work, and remember: black to black, white to white.
7. Replace Door Knobs
Replacing all of the doors in your home can be an expensive undertaking, but investing in good quality, modern handles and knobs can be an easy and effective way to spruce up each room. The idea is to choose a design for the whole home that fits with your home's overall style. Black, matte handles have been very trendy for the past few years, but you can also play it safe with silver or chrome. The only tools needed here are a screwdriver or maybe a drill.
8. Install New Curtains
Proper window treatments can add beauty and shape to a room while also keeping heat and cold air from coming in and out. The great thing is that adding a curtain rod is one of the easiest jobs around! Proper measurements are the important thing here, so make sure you know if you want your curtains to fall to the floor or hang just above. Use a level and tape measure to get the spacing for your screws just right and voila, your living room or bedroom will be transformed into a cozy haven.
9. Update Plumbing Fixtures
This project knocks off two essential rooms: your kitchen and bathroom. If you have a little bit of plumbing knowledge, or want to try a new skill, changing out faucets, old toilets, and bath and shower-heads can be a great way to upgrade crucial areas of your home without having to renovate the entire room. While you're working on the bathroom, consider replacing the other fixtures like towel and toilet paper holders to something more modern, as well.
10. Refinish Hardwood Floors
This last one isn't for the faint of heart, but it's probably easier than you think, especially if you are looking for a project that will keep you busy while testing out your skills. There are essentially three steps to this job: sanding, cleaning, and staining. You'll need to rent a floor sander or buffer, but the rest of the tools are rollers, brushes, and a lot of elbow grease. Once the floors have been properly sanded and vacuumed, you'll need to do at least two coats of stain. Your floors will look brand new, and it will be a lot cheaper than installing new flooring.
The average homeowner may not think about doing these projects themselves, but they actually aren't as hard as you may have thought. While you may not be able to do them all at once, weekend warriors could easily tackle them over a few months. The sweat equity will improve your home and your skills along the way.