4 Common Electric Baseboard Heater Problems
To ensure our content is always up-to-date with current information, best practices, and professional advice, articles are routinely reviewed by industry experts with years of hands-on experience.

Reviewed by

on Mar 13, 2023
An electric baseboard heater is said to be one of the best alternatives to a furnace. Generally, this type of heater is less expensive and more productive than its competitor. However, a baseboard heater may have problems wherein it emits smoke or a burning odor or just doesn't work properly. These common problems will often result in high electricity bills and poor heating. Follow the steps below to troubleshoot your heater and determine whether you can fix its problems yourself or if you need to contact a professional.
1. Electrical Malfunctions
One common problem in an electric baseboard heater is that it will not turn on and produce heat. This can be rectified by making sure that the breaker is not tripping.
Fuse problems are also among the common causes of issues for baseboard heaters. If yours stops working, then it is often because of defects in the fuse. To fix this problem, replace the fuse in the fuse box.
2. Blocked Heat
Sometimes the baseboard heater will not adequately heat the room because there are pieces of furniture and drapes too close to the unit. Maintaining a free space of several inches in front of the heater will rectify this problem.
Always try to apply lubricant on the valves that are present inside the baseboard heater. This is because valves can corrode easily without proper lubrication and will stick together and block the heat from entering the room if left unattended.
3. Improper Cleaning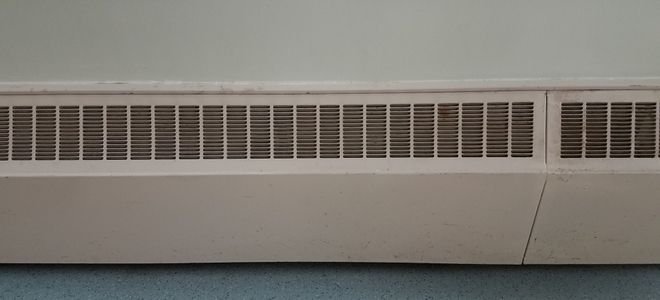 Without proper and regular cleaning, the baseboard heater will cause soot, smoke, and the smell of burning from debris in and around the heating element. After turning off the unit, always wipe it down with a piece of damp cloth. Ensure the heater is cool before cleaning.
4. Defective Thermostat
In extremely cold conditions, your baseboard heater may run for a short time and automatically shut off because of a defective thermostat. It can be temporarily solved by setting your thermostat to a higher temperature, but if the problem persists, you have to replace it.
Tips
It is normal for electric baseboard heaters to deliver a burning smell or chemical odor and this is because the lubricant inside the valve burns as it heats. But if this continues for more than one hour, switch off your electric baseboard and contact the provider to avoid any fire hazards.
Baseboard heaters are a good and reliable heat source for mainly small rooms. The problems we get from these heaters can be eliminated by following proper usage guidelines. Always consult an electrical baseboard operator when there is any serious fault. Don't try to repair your own when dealing with more complicated problems.