4 Different Varieties of Arborvitae
To ensure our content is always up-to-date with current information, best practices, and professional advice, articles are routinely reviewed by industry experts with years of hands-on experience.

Reviewed by

on May 05, 2023
1 hours

•

Beginner

•

0-1,000
One of the best things about the wide variety of arborvitae species is that you can experiment with them to find the best option for your yard.
These diverse hedges don't take long to grow, can live in different conditions, and serve a number of functions, like providing privacy and windbreaks.
American Arborvitae
Probably the most common of all arborvitae varieties, the American Arborvitae, is from Minnesota and is often used to fence property.
It not only provides privacy, but also can protect your home from wildfires because of their wind-blocking properties.
Physically, the American Arborvitae can reach the height of 25-40 feet and a spread of 10-15 feet. If hedges that size seem too large for you, dwarf varieties of this arborvitae are popular in landscapes.
In terms of its foliage, the American Arborvitae is bright green at the top with paler colors towards the bottom. It's normal for it to change into a yellow shade, especially when weather conditions are particularly harsh.
American Arborvitaes grow best in moist environments. However, they aren't overly vulnerable to droughts.
Emerald Green Arborvitae
Better known as white cedar, the Emerald Green Arborvitae gets its name due to the fact that it turns a darker shade of green as it matures.
This kind of arborvitae works well as a screen, as they can grow as tall as 15 feet in height and spread as wide as four feet. A white cedar screen does not even require pruning as the plant grows into its distinctive pyramidal shape naturally.
Although they can thrive in any kind of environment, white cedars live best in swampy areas with slightly basic soil. Just like the American Arborvitae, the Emerald Green Arborvitae changes into a noticeable yellow color during winter.
Globe Arborvitae
The Globe Arborvitae achieves its globe shape without pruning and only grows a maximum of five feet in height, which makes it great as a wind block for smaller plants or just as a convenient accent to your landscape.
Although it does not require much maintenance and can adapt well to different conditions, including droughts, Globe Arborvitaes need full sun or else they can turn a shade of brown.
TIP: If you plant Globe Arborvitaes in pots, you can move them around as the need arises to prevent browning as seasons change.
Techny Arborvitae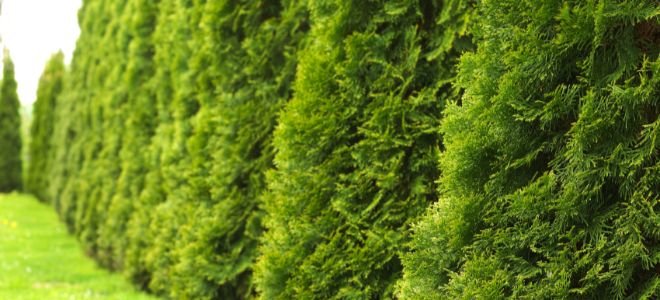 Techny Arborvitae is the perfect variety for your property if you want to grow a full shield in just a few years. Rather slender, the Techny Arborvitae grows to a full height of 20 feet and a spread of 6 feet.
If you have harsh winters where you live, this is the right arborvitae for you.