5 Alternatives to an Oven
Maybe you're living your best tiny home life. Maybe you live on the road. Or maybe you just don't use an oven that often. Regardless of why you're looking for an oven alternative, we've got you covered.
Ovens are expensive and take up a lot of space. Even if you're not in a small kitchen, you may just want the extra room for appliances or storage that you use more often. Oven alternatives come at most price points and in a variety of sizes so you can easily find something that works for you in your budget.
1. Air Fryers
Even in our own home (where we are definitely sporting an oven) we've switched over to using the air fryer more and more. Though an air fryer can't do everything an oven can do, it can certainly do a lot.
We cook everything from our favorite veggies to roasted chicken in ours, and we've also been known to use it to bake a dessert or two.
There are dozens of air fryers to pick from and several have settings that allow you to bake instead of air fry. This makes the air fryer our top suggestion for people in small spaces wanting to ditch the oven. You can purchase an air fryer for under a hundred dollars on sale, so this oven alternative is also incredibly affordable.
2. Toaster Ovens
A toaster oven is basically a miniature oven that sits on your counter. Toaster ovens come at several price points and with lots of different functions so you can pick and choose the features that are most important to you in an oven alternative.
Toaster ovens are much smaller than traditional ovens, and they do come with limitations, but they definitely can still get the job done. Depending on the make and model you pick, your toaster oven may also double as other appliances (like an air fryer) which is great when you're trying to save space.
Toaster ovens do take longer to bake with, and do have limited heat and space settings, but these tiny ovens are still a great alternative to your traditional oven.
3. Crockpots
Now, slow cookers aren't a perfect alternative to ovens, but they are very handy. For people on the go, having a slow cooker or Crockpot is a must because you can throw dinner in the crockpot before you leave and then have a hot meal when you return.
You can't bake and cook the traditional oven way using a crockpot, but there are thousands of recipes online that help you modify your favorite foods for the crockpot. There are also several crockpot meal delivery services that are perfect for on-the-go go-getters who don't have time to cook.
We've baked meatloaf and cooked a lava cake in our crockpot, so while it's not a flawless dupe, for under $50 it's a great option.
4. Dutch Ovens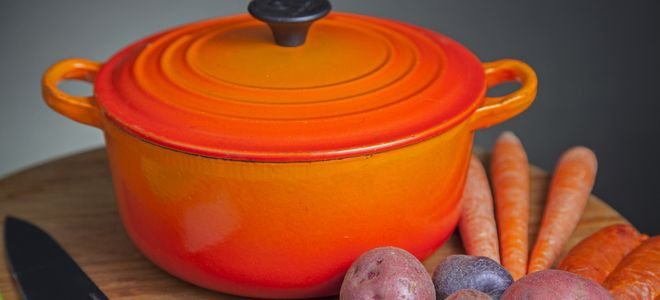 If you're camping or have access to a firepit regularly, consider investing in a good dutch oven. Dutch ovens rest on coals in a fire and act similarly to a conventional oven in the way they cook. While there's definitely a large learning curve when it comes to working with dutch ovens, the food is always amazing.
Dutch ovens can cost well over three hundred dollars, but there are also some great, affordable options for people who don't want to spend that much. Dutch ovens do have to be carefully cared for and cleaned to stay in pristine condition.
There are lots of dutch oven recipes online but we're personal fans of dutch oven Korean chicken and dutch oven cobbler.
5. Grills
Whether you get a conventional grill or an electric grill, there's a lot that a grill can do when taking over for the oven. Grills are a great alternative to ovens in the summer when you don't want to heat up the house. But in a small space, you may want to use a grill—traditional or electric—all year round.
Grills are offered in a wide range of prices and each price tag comes with its own set of features. Determine what you want out of a grill before you go and buy the first one that you see on sale. Knowing what functions your grill needs to have will help you make the best choice when it comes to this fun oven alternative.