5 Last-minute DIY Valentine's Day Gifts
Valentine's Day is coming up and you completely forgot. No worries, we've got you covered. Following are some last-minute DIY Valentine's Day gifts that you can create with minimal effort and time. The best part is that your Valentine will never know you forgot.
1. Celebrate with Libations
Nothing says "celebrate" quite like a bottle of bubbly. Put in a little extra effort and you can turn any drink into a great Valentine's Day gift. The trick is in the labeling and decoration.
You can use Champagne, wine, or a 6-pack of beer or soda for this project — whatever is your loved one's favorite beverage. Simply create your own label to cover the existing label. You can hand draw a label, use your computer to design one, or search the internet for free printables. Simply glue your new label onto the existing label and you've got a one-of-a-kind gift.
Tip: Be creative with your label. While you can certainly write "Happy Valentine's Day," try other cute phrases such as "I Love Your More Than Wine" or "Love Potion."
2. Lovely Warm Drinks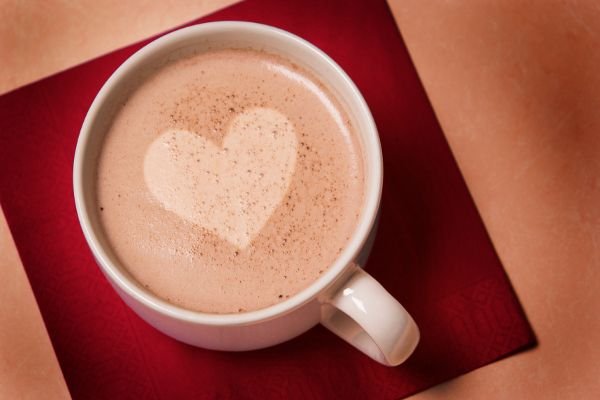 If liquor is not your loved one's thing, why not try a warm drink like tea or cocoa?
For tea drinkers you'll need a solid-colored mug, oil-based permanent markers, tea bags, and cookies.
Use the oil-based marker to draw a design on the outside of your mug. (You might want to practice on a piece of paper first.) Let the paint dry for a few hours to overnight. When it's dry, bake the mug in the middle of the oven, at 350 degrees Fahrenheit for 30 minutes. Turn off the oven and leave the mug in the oven to cool slowly. When the mug has cooled, fill it with tea bags and wrapped cookies.
Tip: In place of the cookies, a wrapped single serving of biscotti is a nice addition to this gift. Also, consider hand-washing the mug to ensure your design lasts.
For cocoa drinkers, you'll need a medium size Mason jar, hot cocoa mix, mini marshmallows, and cookies.
Depending on the size of the jar you're using, add ¼ to ½ a cup of hot cocoa mix to your Mason jar. Top with a handful of mini marshmallows. Add a few small cookies inside the top of the jar and then cover. All your Valentine has to do is remove the cookies and add hot water or milk, as you can drink straight from the jar itself.
Tip: Decorate the lid with Valentine's Day themed fabric or paper and add a tag with a special note and instructions.
3. Candy Jars
If your Valentine has a sweet tooth, a candy jar is a simple gift. The trick is to make it unique with a quirky decorative tag. You'll need a small to medium Mason jar and candy of your choice. Here's some ideas for cute candy and phrase pairings:
Candy: Reese's Pieces
Tag: I Love You to Pieces
Candy: Swedish Fish
Tag: You're a Catch
Candy: Hershey Kisses
Tag: Hugs and Kisses
4. Movie Night for Two
Why not celebrate Valentine's Day with a movie night at home? Get a basket, tote, or box and fill it with a variety of snacks, candies, drinks, and your favorite romantic comedy.
Tip: Purchase a new cozy fleece blanket for two to add an extra special touch to this gift.
5. Coupon Book Or Punch Card
Making a Valentine's Day coupon book or punch card is an easy last-minute gift that costs nothing but your time. What does your loved one like? Massages, foot rubs, breakfast in bed? How about extra gaming time, uninterrupted sports watching, or a night out with friends while you watch the kids? The ideas are endless.
You can create a punch card or coupon book with paper and markers or design on your computer and print it out.
Tip: Really short on time? Do an internet search for "valentine coupon printables" for free printables.
Ruth LovettSmith is a writer, artist, and designer with a BFA from the Massachusetts College of Art and Design. She has a passion for creating and sharing, and loves to get her hands dirty. She often writes articles on art and design, writing and blogging, parenting, gardening, food allergies, and healthy living. She also works as a graphic designer creating logos, media kits, invitations, cards, and more. She shares her writing, blogging, art, and design tips (in addition to her crazy life stories) on her blog RuthLovettSmith.com.