6 Maker Movement Events to Attend
Fans of various sci-fi and comic book universes go to conventions to meet each other and share information and theories. Those who DIY have maker movement conventions and fairs to attend, maker faires where they can exchange ideas and collaborate.
Maker faires are basically the comic-con for DIYers and crafters of all kinds, no matter the skill level or the medium that is being used. Even if you're not a DIYer but you're interested in making things by hand, you'll find lots to enjoy at various conventions and maker faires designed for DIYers that are held around the U.S. and elsewhere.
What is a Maker Faire?
Generally, maker faires are weekend-long events that have all kinds of goodies for DIY enthusiasts. Workshops, lectures, 3D printers, demos, panel discussions, and lots of other events are usually on the schedule.
Maker faires are festive and exciting events where you can see some incredible inventions and pieces of art. Robotics, engines, moving parts, you will see it all and much, much more at even a standard maker faire.
Maker faires are designed to celebrate DIYers and the DIY community. Anyone who creates something is a "maker."
Whether you make things out of wood or paper, 3D printing techniques, ceramics, or glass, you are a maker. That means maker faires are designed for you.
These events encompass an absolutely huge array of DIY skills and crafts. The maker movement is about bringing makers of all kinds together to share with each other and inspire each other.
This spirit of sharing is really the heart of maker faires and maker convention events. There is a drive in recent years to share technology and provide access to technological innovations.
This openness encourages people of all skill levels and mediums to participate in marker faires, which creates a more diverse showcase of skills, technology, and ideas.
Where Do Maker Faires Come From?
Maker faires are a relatively new type of event, with origins dating to the early 2000s. However, the spirit of sharing technology and innovation in a public and open way, crossing borders and eliminating boundaries to do so, is really one that originated in the World's Fairs that began in the late 1700s.
The first-ever world's fair was held in what is known today as the Czech Republic. This event celebrated and showcased various types of manufacturing methods, something that strikes right at the heart of modern maker faires.
Several historic World's Fairs were held in the 1800s and early 1900s, including the French Industrial Exposition of 1844 in Paris and the Great Exhibition of the Works of Industry of All Nations, held in London in 1851.
These events showcased new technologies, new ideas, new ways of thinking, and new advancements in manufacturing, design, art, and music. Clearly, these events are the grandparents of the modern maker faires that you can attend today.
Maker Movement Conventions
Maker movement conventions are a great place to find inspiration and ideas, not to mention other makers and DIY enthusiasts. It's a good place to buy materials and to learn new skills as well.
There are many reasons to go to a maker faire but one of the main reasons is that they're a lot of fun. You'll see a lot of cool things and stuff you never even imagined…or even knew was possible.
There are various conventions and faires for makers all around the world. But if you're thinking about going to one, consider one of the largest faires where you will see the coolest stuff.
Maker Faire
The first Maker Faire was held in 2006 in San Francisco, started by the editors of Make: magazine. The faire grew exponentially from there and now encompasses many different maker faires throughout the U.S. and in Canada and Mexico.
Asheville, Calgary, Mexico City, Los Angeles, and cities all over North America have started hosting their own annual maker faire events. The Maker Faires events keep on expanding and now include several European locations as well.
More than 200,000 people now attend Maker Faire events around the world, and new events are being put on the calendar all the time as more cities get in on the fun and decide to host their own fairs.
Maker Faire events can happen any time of year, and you may find that one is already being regularly held near you. Go to the main Maker Faire website to find which location is closest to your hometown if you'd like to attend one of these events.
Bay Area Maker Faire
Also known as Maker Faire Bay Area, this is one of the nation's biggest and oldest maker faire events. Dozens of different exhibitors display here every year, and the event takes place over three days for a weekend in May.
There is a full marketplace featuring handmade items and lots of different workshops and displays to attend at the Bay Area Maker Faire. This is a large, very festive event that has become increasingly popular over the years since its inception.
Burning Man
Burning Man is about much more than a big party. Though it's a bit different from others, this is a maker faire as much as it is a huge festival.
Once a year, the flat landscape of the Black Rock Desert becomes a DIY village full of amazing creations. Every year has its own maker theme and every year, extremely impressive creations are erected to delight, amuse, and amaze.
Burning Man is held in late summer and attracts tens of thousands of people. There's a real spirit of building and creating art at the heart of this event, which speaks to DIYers and makers of all types.
Burning Man is one of the biggest outdoor festivals and one of the biggest maker faire-type events you can hope to find in the U.S. There's a bohemian, artistic vibe to this event that can only be achieved at an all-outdoor deserve venue.
National Maker Faire
Held in Washington, D.C., the National Maker Faire takes place in June. This fair is open to people of all ages, including children, and it's a completely free event.
Various activities are featured at the National Maker Faire, including 3D printer crafts and other crafting activities, robotics, and much more. This event lasts for an entire week, and it's an open, public exhibition where anyone can learn more about making techniques and innovations in the DIY world.
Pinners Conference & Expo
The Pinners Conference and Expo is designed for those who love Pinterest, a site that encourages collaboration and sharing between crafters and DIY fans of all types. This is a multi-event expo that appears in various locations across the U.S.
Pinners conference events are already being held in Atlanta, Kansas, Utah, Idaho, Salt Lake City, Fort Worth, Scottsdale, and other locations across the country. You may find that a Pinners conference is being held annually in a city near year.
These events feature classes taught by expert presenters and hundreds of booths showcasing various crafts and DIY projects. The Pinners Expo tries to capture what it might be like if all your Pinterest boards came to life.
Here, you're encouraged to share ideas and get new inspiration. The Pinners Conference and Expo is meant to recreate the experience of being on Pinterest but in an even more social and active way.
World Maker Faire
As the name suggests, the World Maker Faire is one of the biggest maker faire events in the world and a widely-attended event with tons of stuff to see and do.
The World Maker Faire takes place in New York and features hundreds and hundreds of exhibits, interactive installations, robotic demonstrations, and much more. This event is held in Queens at the New York Hall of Science.
You can learn more about technical innovations and new experiments in mechanics here. The event has grown so large after being held annually for several years, it now includes both indoor and outdoor demonstration areas.
Attending Maker Faires
Maker faires are fun social events and inspiring DIY events that will fire the imagination, fill you with ideas, and perhaps even help you learn some new skills. You will get a chance to see inventions and creations that you never thought you'd see up close at events like this
Maker Movement Faires FAQ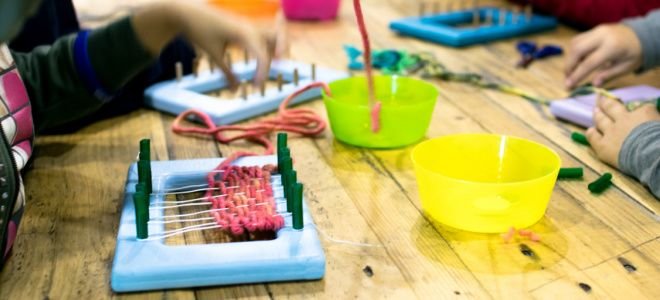 How can you find local maker faires in your area?
To find a maker faire that's in your local area, do a standard search online using social media or a search engine. This should point you in the right direction so you can find the maker faire or maker movement convention that's closest to you.
Maker faires have become incredibly popular, so chances are good that you will find a faire that's scheduled to come to a city that isn't too far from you. If you cannot find a maker faire that's reasonably close by, don't lose heart.
There are other options for those who want to connect to makers even without physical access to maker movement conventions, and there are ways to participate in maker and DIY communities without attending maker faires in person.
How can you become an exhibitor at a maker faire?
The requirements to be an exhibitor at a maker faire varies depending on the event. For the most part, exhibitors will pay a fee in order to rent space.
Sometimes, makers may be asked to submit samples of their work or other materials in addition to the exhibitor fee. Usually, the fee pays for the space, parts, and other additions that will make it easier to set up and take down a display booth.
However, the maker will be responsible for furnishing everything they want to exhibit as well as any additional items that may be required for the display.
Often, event spaces will provide extra setup and cleanup time for exhibitors so you have plenty of time to create a display that will capture the attention of faire goers.
At many maker faires and similar conventions, exhibitors may be individuals or organizations.
Are there online or virtual maker faires?
Maker faires are largely meant to take place in physical locations. However, more and more maker faires are offering virtual events that can be attended by people anywhere.
Virtual maker faire events allow people to connect with each other even across distances, and hosting these virtual events has become more popular as people become more aware of the dangers of large, public gatherings.
Many maker communities provide online spaces for collaboration and sharing, creating a festival atmosphere online that's always accessible.
What is a mini maker faire?
Mini-maker faires are independently-hosted events taking place in smaller communities that are hosted by organizations or individuals. Mini maker faires have been held all across the U.S. in large and small communities.
These mini-maker faires are exactly like their larger counterparts, but with smaller attendance and fewer events and exhibits. This is because these mini-faire events are centered around a smaller population, as opposed to the millions you can find in cities like New York and Los Angeles.
Mni maker faires give people in smaller cities and towns the opportunity to attend these events, as these mini-faires are located in many places and provide lots more chances for people to attend and share ideas.
Mini maker faires, as opposed to larger maker conventions, may be held over just one or two days, as opposed to three days or more.
What is a school maker faire?
School maker faires are held by schools at all levels of education to encourage innovation and collaboration among students in a particular learning institution and are often restricted to the school's students. Some marker faires hosted by colleges and universities are larger events that are open to the general public.
Further Reading
3D Printing Projects Every Beginner Should Try
5 Must-have Tools for the Advanced DIYer
5 Smart Tech Products for Gardeners
8 Skills Every DIYer Should Know
KC Morgan has been a professional freelance writer since 2006. Over the last decade, KC has published thousands of articles and blog posts that have been read by millions. KC has written how-to articles, guides, and tutorials on different DIY ideas and home improvement projects. KC doesn't just write about DIY projects, she does them in her spare time too. KC shares her DIY passion by creating original articles, so others can pursue their own home improvement goals and ideas too. KC's articles have appeared in Popular Mechanics, and have been featured on DIY guru Bob Vila's website. KC has written in-depth DIY articles for Sears.com and Overstock.com, as well as dozens of other websites. KC combines research and hands-on practice to provide useful tips and techniques for all sorts of DIY projects so that anyone can find ways to improve their own home and get the living space they want. KC works on her home every single day to learn new cleaning hacks, find DIY new projects, and discover new techniques to share with readers. When she's not writing or DIYing, KC enjoys watching college basketball, playing with her cats, and experimenting with new cupcake recipes.