11 DIY Craft Ideas
Make this year your craftiest year yet with an abundance of fun, creative, and useful craft ideas that add value or decor to your home and life.
The following craft ideas can be adapted to fit within a budget or meet a certain skill level. Each craft idea on this list will use a variety of supplies and skills, but shouldn't take more than an afternoon to complete.
Winter Craft Ideas
DIY Snow Globes
Snow globes aren't just for the holidays! Enjoy the winter season by making your own during the new year.
Make a medley of small, decorative snow globes to line a windowsill with shot glasses—either glass or plastic will work.
Use card stock paper as the base, some kind of trinket inside, hot glue to adhere the shot glass rim side down onto the card stock, and you have an easy and fun craft that will make any window wintery.
Penguin or snowman figurines make for great central figures.
If you want to tackle this craft on a budget, consider sourcing old glasses and figurines for the inside from a local thrift store.
This will keep your project on budget and will help you create a fun, unique craft.
DIY Catchall
Valentine's Day is technically part of winter, so add Valentine's Day crafts to your winter craft roundup.
If you're gifted—by others, or yourself—an assortment of chocolates in a heart-shaped box, think twice before you toss that box in the trash.
Instead, turn it into a festive catchall tray that can adorn your coffee table or nightstand.
Simply paint one piece of the box the color of your choosing and wait for it to dry. Then, stick pretty craft paper inside of it. You'll have an elegant-looking catchall to enjoy all year long.
You can also use the box as a starter mold for paper mache. You can use paper mache strips to cover the box and ultimately create a layered, textured heart.
After your mache strips dry, you can paint them, giving your cardboard heart box a unique texture and pattern.
Clay Jewelry
Winter often means more indoor crafting, and clay jewelry just happens to be one of our favorite indoor crafts.
Clay jewelry can be made using oven-dry clay and jewelry accessories. To make something like earrings you'd need earring backs, some strong adhesive, and clay.
You'll also need a small rolling pin to roll your clay out on and something to cut shapes with.
Start by combining clay until you have a color you like, roll it out, and then cut it to the size and shape you want. Then follow the instructions on the clay package for drying.
Clay projects can take a little time and patience, so go slow and make sure to follow all of the instructions that come with your specific brand of clay to prevent cracking and breaking.
Spring Craft Ideas
Rainbow Shoes
The colors of spring align well with the colors of the rainbow, so a fun craft idea for the spring is to make your own rainbow sneakers.
All you'll need is a pair of shoes you don't mind using as a canvas. Old or new, lace up or slip on—any variety works.
We recommend using a canvas or cloth shoe though, so your color sticks well. A basic pair of white, canvas sneakers works great.
Next, gather Sharpie permanent markers in a variety of colors, rubbing alcohol, and a medicine dropper.
To make your shoes rainbow, draw spots or shapes all over the shoes in different colors in a pattern of your choosing.
Then, fill the medicine dropper with alcohol and squirt the liquid all over the shoes.
The more liquid you squirt, the more the colors will run and blur together, giving a tie-dye look. Then, simply let your shoes dry and you'll be sporting the colors of spring.
If you don't want a tie-dye style shoe, use fabric paint instead. This will give you more control over the end product.
Make sure to use paint that is made specifically for fabric. While acrylic paint may stick to the shoe initially, it won't stay on the shoe long term.
Stained Glass Shape
As the sun begins to shine more and more regularly in the spring, a fun way to celebrate that is with a piece of DIY "stained glass" art for your window.
You can easily make one yourself in the shape of your choosing by printing a template of that shape.
Some fun spring-related shape ideas include butterflies, rainbows, or flowers.
Trace the shape on a piece of black card stock paper, then cut it out by going around the edges, and then cut it again about half an inch on the inside to create a frame.
Then cut a piece of contact paper that's slightly larger than the frame you created. Peel the back off of the contact paper and adhere your frame to the sticky side of it.
Cut up shreds of tissue paper in a variety of bold, vibrant colors. The shapes of these pieces should differ.
Place them on the inside of the frame, overlapping them slightly. Then, take another piece of contact paper and place it sticky side down on top of the frame.
Trim the excess paper around the frame.
Use a hole puncher to create a hole towards the top of the frame, stringing a ribbon or piece of twine through it and forming a loop. Hang this stained glass craft from your window and watch it catch the light on a beautiful spring day.
Cyanotype Prints
Spring is a great time to create cyanotype art. Cyanotype paper uses the sun to create a fun, unique print.
When you expose cyanotype paper to the sun, a chemical reaction happens and changes the color of the paper. Then you wash the paper in water to expose a final result.
If you just expose the paper to the sun though, the entire thing will change, which is why you need to collect objects to set on top of the paper.
Setting objects on the top of the paper will create a shadow and leave those parts of the paper unchanged, which gives you your final result.
We like using flowers or paper cutout shapes on our cyanotype paper. We use a clear piece of glass to secure these items on our paper so they don't move around while the paper sits in the sun.
You can purchase cyanotype paper online and should always follow the instructions associated with your specific paper.
After you have your print all sunned and washed, let it dry and then frame it.
Consider making this craft a double DIY by making your own picture frame to go with your new cyanotype paper art.
Summer Craft Ideas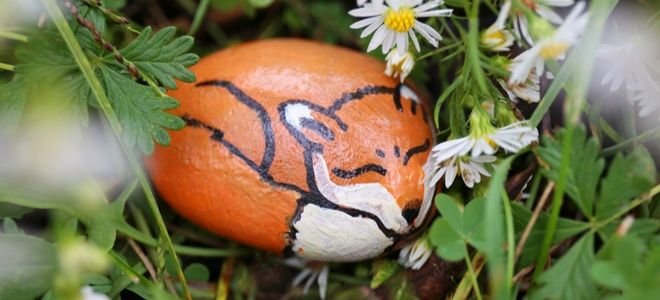 Rock Garden Plant Signs
If you have a garden, summer is definitely the time when it will flourish.
For that reason, rock garden plant signs make for a fun and useful craft.
To make these, simply find rocks in various sizes and paint them to look like the different plants you need to label.
For instance, you can paint one to look like a tomato and another to look like a carrot. If you wish, use a stencil or freehand the label on the rocks to note what each rock represents.
This craft is particularly good for labeling herbs that may look similar to other herbs. It's a fun way to keep everything straight in the garden.
If you don't have a garden to label with painted rocks but you still want to paint, there are other ways to put this craft to good use.
You can use these painted rocks for decor all over your yard. Maybe you need to create a commemorative stone somewhere in your yard, this is a great way to do that.
Or maybe you're just looking for a fun way to add personality to your outside space—these painted rocks are great for that too.
Gather stones, paint them up, and then spread them throughout your yard—in flower beds or hide them among other rocks. It's a fun, subtle way to accessorize outside.
Seed Packet Wreath
Continuing on the trend of the summer being the time to allow your garden and landscaping to flourish, another craft to consider is making a seed packet wreath.
This is something you can use to adorn your door throughout the entirety of the season.
Simply take about 12 to 14 seed packets—full or empty—and attach them with pins to a 12-inch foam wreath form.
Add faux or fresh flowers or herbs to the wreath to make it extra festive and top it off with ribbon to hang it from a hook.
If a seed-packet wreath isn't for you, that's okay, there are lots of other summer wreaths you can create.
We like to start with a basic, green wreath and go from there. Keeping the base simple will give you lots of freedom to accessorize and create something unique.
We like creating ribbon bundles with seasonal ribbon and attaching the ribbons to the top of the wreath, letting them hang down at varied lengths.
If you'd rather skip ribbon and go floral, find faux flowers you like and attach them with pins throughout the wreath. This will give you a seasonal wreath that's easy to change come fall or winter.
Fall Craft Ideas
Board Game Art
In fall, the air might start to chill as the weather begins to turn colder, creating the desire to stay indoors.
Often, board games make for a great way to pass the time inside.
For that reason, dig through some old board games and use them for a simple craft: using them as art.
Use command strips to adhere physical boards to the walls. You can even frame the instructions to put next to each game on the wall, too. This makes for fun artwork in a bedroom, family room, den, or playroom.
If you don't own any old board games that you're willing to sacrifice for art, consider heading to a thrift store. Thrift stores often have old games that you could easily frame.
Because board games are thick, you'll want to DIY or buy a deep frame, like a shadow box frame, to secure the board.
DIY Leaf Bowl
As the leaves fall outside, it presents the perfect time to gather them for a picturesque and seasonal craft.
Gather colorful leaves from outside and then use them to make a festive bowl.
Do so by taking a clear bowl and wrapping it with plastic wrap. Then use mod podge to adhere the leaves all around the outside of the plastic wrap so that they overlap and completely cover the bowl shape.
Once the mod podge has dried completely, peel the leaves and plastic wrap off the bowl. Then, carefully remove the plastic wrap and you'll have a lightweight and festive accent bowl.
If you want to fortify your leaf bowl, consider using epoxy to create a strong, outer shell that ensures that your bowl is durable and sturdy.
Follow the instructions that come with your epoxy very carefully and always use personal protective equipment.
Shower Steamers
We can't be the only ones who end up with a cold and a stuffy nose every fall, which is why we love creating our own shower steamers.
Shower steamers can be used to create a strong, peppermint or eucalyptus vapor in the hot shower that helps alleviate congestion.
Shower steamers also create a spa-like ambiance in the shower, which is always a win.
To create these steamers you need molds, citric acid, baking soda, sorbitan oleate, and pure essential oils of your choice.
Combine a cup of baking soda and a cup of citric acid. Then add a third of cup of sorbitan oleate. Lastly, add 200 drops of essential oils. These drops can be a combination of different oils.
Mix everything together, press it into a mold, let it dry completely, and then you have easy, DIY shower steamers to enjoy all fall long.
Refurbishing, rediscovering, upcycling, and reinventing—all things Maddison can do with a pair of scissors or a can of paint. A Brigham Young University grad with a degree in English and communications, Maddison has worked with small and large businesses alike, developing creative marketing strategies. Maddison is also a seasoned photographer whose work has been featured on ESPN and in several magazines in the US. After several years as a sports photojournalist, Maddison primarily focuses on product photography and capturing families, newborns, and kids with her camera.  As a DIY writer of 5+ years, with a decade more of experience, Maddison has a knack for turning trash into treasure and convincing her friends it came from Anthropologie. In the last few years, Maddison has begun consulting as an interior design specialist, working with corporate spaces and homes.