8 Designer Tricks You Can Do Without Hiring One
Space planning or creating a space for everything is one of our first tasks as a designer. Clients often have the space they need for everything they own, but they don't know how to organize it or display it so it looks nice. We need to know where everything you have will be stored before we buy you any more stuff. c
Here are a few insider tips on how we get your space in shape and help you live in a more organized and inspired space. Before you add more furnishings and decor, invest a day or two decluttering your space to create a clean palette. It also helps you to prioritize what areas need your focus.
1. Display Books by Color
A bookcase is one of the best places to make a room look like your designer had a hand in your decor. Start with displaying books by the color of their cover. Stack a few vertically, then add some horizontally to act as a bookend and also to display that pottery piece you just scored.
Have one color on each shelf or ombre them by gradation of color. If the books have a blue spine, mix it with other blue objects or art pieces that can do double duty as bookends. If you have a load of random color covers, just turn the books around and display their pages for an off-white look.
Some books are a different color than their dust jacket. You can always get rid of that to reveal the book cover itself. I prefer how books look without their jackets as it usually reveals a beautiful cloth cover. However, I wouldn't recommend doing this with any collectible books as it will reduce their value if you ever want to sell them.
Pro-Tip: Books don't always need to be displayed in a vertical orientation. Stacking a few horizontally with a few verticals on top of that is not only a space saver, it looks great!
2. Organize in Vessels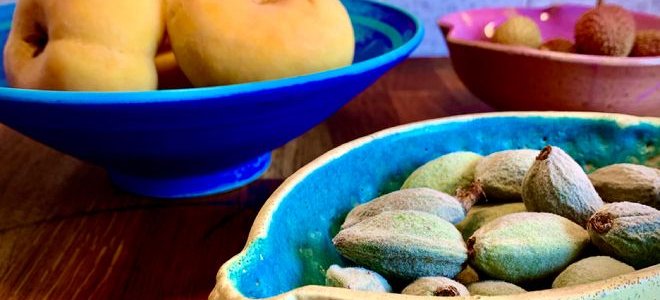 Keeping like-things in one space is a key design practice. I love to use my pretty bowls to display my haul from the local farmer's markets. Look out, stone fruit season! Peaches in the turquoise bowl, cherries in the pink one, lemons in the wood one. You get the idea.
My fruit looks fabulous and creates a display that I enjoy throughout my week, and the bowls look great as their own display grouped together.
For those of us without a linen closet, baskets to hold those towels or blankets are a visually pleasing solution for storing them. Roll them, triple fold them, and color match them.
Color matching doesn't mean you have to go out and buy tons of new towels. Just pick a color that you want to collect and stick with it. Hint; white is the easiest color to collect, and you can bleach any stubborn stains.
Use large square baskets to hold your folded towels and large round one's to hold your blankets rolled up. Keep the blankets next to your sofa or bed for easy access and to declutter your space.
All designers love trays, trays, and more trays! They're not just for breakfast in bed. Small trays for keys. Large trays for beauty products. Trays are great at mealtimes to hold all the condiments and sides.
A collection of candles on your coffee table will look striking with a colorful tray as a backdrop. A tray not only looks nice holding our things, it reminds us to put those things back in their allocated place, giving your home an effortlessly organized look.
Pro-tip: Keep the things you need constant access to close by. For example, you probably have your most used cooking utensils in a container on your kitchen counter. Put out a tray for your oils and salts to live next to the stovetop as well.
Hair products on glass trays can look as good as all those perfume bottles grouped together. I have a friend who keeps all her nail polish in a large glass candy jar.
3. Pick Favorite Colors
This is one design trick that is easiest to implement in a bathroom and bedroom. I love crisp white bed linens. They make me feel like I'm staying at a fancy hotel. Thick white towels that match my white bathrobe also give me that hotel feeling. And why shouldn't you get to feel like you're staying in a hotel all the time?
The good thing about choosing all white linens and towels is that they'll always match, and it's calming to be in a room with matching linens. These are also items that you can use bleach on and not worry about discoloring. If white isn't for you, pick a soft color that makes you happy and build on that.
Kitchens can benefit from this monochrome choice as well. The same color dishes make it easy to set a table, and they look neat and tidy on open shelving or in glass cabinets.
When you pick a color you love, it'll make it easier to add to your collection, and when your mom asks what you want for your birthday, you have a built-in answer.
4. Choose the Right Size Rugs
This is a biggie. Pun intended. Your area rugs are not covering enough area! This faux pas is one of the biggest giveaways that a designer didn't help buy your furnishings.
Think of your area rug as an island in the middle of your room. You want the furniture to feel like it's grounded on the rug with at least half the width of your couch on its surface.
A rug that covers a larger area of the footprint of your room will make the room feel much larger. It's ok if your furniture sits completely on top of the rug with only a few inches of floor around the perimeter. This is especially important in the living room, a space where you want to encourage a relaxing, stay-a-while vibe.
Even if you have wall-to-wall carpet in your bedroom, you can layer that with an area rug on top. Make sure the rug is big enough to orient it at least halfway under the bed. If you've chosen all white linens, a rug is a great place to introduce color and then have your window coverings tie into the rug's colors.
Please, please put a good thick rug pad down first for an extra lux feeling! It not only feels great to walk on, but it will make a less expensive rug look like you spent more money. This is especially helpful on those thinner kilim rugs that offer great colorways but little in the way of coziness on a hardwood floor.
You can order these pads in custom sizes, and you want them to provide complete coverage under the rug as well as keep them from slipping. I like a dual surface rug pad with a felted top that helps hold your rug in place and a rubber grip on the bottom that keeps it from slipping around on your floor.
I usually use ⅓ inch thickness for a rug with a standard pile and ½ inch thickness for kilims or cotton rugs.
Pro-Tip: Make sure your rugs are sized to clear the door swinging into the room. You don't want to get a rug home only to realize you'll need to cut your doors down to get into the room.
5. Lower Your Barstools
This is a mistake I see in homes where the owner has paid close attention to every detail but manages to drop the ball here. One of the problems may be that we ubiquitously call them "bar stools."
Most of us don't actually have a bar in our home and therefore don't have any business buying a bar-height stool. Your typical bar is 40-42 inches high and accommodates a 30-inch bar stool, while your kitchen counters are typically 36 inches high.
The height indicates the measurement from the floor to the top of the seat, not the height of the back of the stool if it has one. In most cases, what you need to look for is a counter height stool, typically 24-26 inches to the seat height, so you can sit comfortably at that 36-inch high counter.
Choosing the correct bar stool height creates a more comfortable experience as you sit around your kitchen island, either working or eating. You'll digest your food better if you aren't hunched over and will have less shoulder pain as you work on those spreadsheets.
If you're like me and spend a lot of time at the island, invest in a comfy stool with a back.
Pro-Tip: Rule of thumb for deciding on how many chairs or stools you can use is to allocate 30 inches per person. This is the amount of room you comfortably need to move your elbows and get up and down from your seated position.
6. Uplight Your Plants
No art, no problem. Give your plants the spotlight! One way to create a chic interior is to add some striking house plants. House plants are lovely soaking up the sun but get lost at night.
You can light them like you might a painting with a picture light. Long spiky leaves will add a shadow wallpaper effect to your wall when lit from below. Try one in each corner and have their shadows overlap for a really dramatic effect.
Fiddle figs are a go-to for designers, and you can often find them on sale at your local home store. They are tall, and their big glossy leaves offer a focal point in any room, but if you really want to take it to the next level, add an uplight or spotlight on the floor and light those pretty leaves from below.
Mix in a few other plant varieties that enjoy being inside in various spots around the room with their own light, and the ambiance will blow your guests away.
If you're looking for a plug-and-play solution, check out some options on Amazon.
7. Avoid the Super Trendy
Remember the industrial furniture trend? You fell for it, and now you're stuck with those loud, cold metal stools that hurt your back and have destroyed your floors. Clients who send me their Pinterest boards before we start a project are shocked to discover that I'm not on board with their trendy picks.
Decorating your home is an expensive venture and probably not something you'll do every few years. So you'll want to choose more classic looks for longevity. You can use your wardrobe to get those trendy looks out of your system.
But if you insist on indulging your hipster, do it with smaller purchases like occasional tables or art objects that you can afford to replace when you get tired of looking at them.
8. Hide the TV
Let's all disavow ourselves of the notion that a TV should be used as the focal point of your living room. This is NOT a designer look! Period. As designers, we get it, you all want a big TV, and you want it on a wall so that it can easily be viewed from everywhere in the house.
Unless you're blessed to live in a house with a media room, let's start thinking about ways to make your rooms less about the TV. Nothing says, I still live in a dorm room, more than a TV as the only visual interest on your walls.
The TV should never be above a fireplace or mantle. Never! You don't need to put the ugliest thing in the room above the prettiest thing in the room. Reserve that area for a beautiful piece of art.
Invest in a media cabinet or some shelving that can surround the TV with books and art objects. If you paint the area in a shelving unit behind the TV black, the TV is almost camouflaged and goes away when it's not on.
Books are my go to to make a TV less obtrusive. When designing built-in housing for a TV, always leave yourself some room to grow into a larger TV. Leave a few inches all the way around and remember that TVs are measured diagonally.
Now, dear reader, you have a great starting point to get that space looking design worthy!
When you purchase through links on our site, we may earn commissions at no cost to you.