9 Cheap Flooring Options
The floor of the home is the thing that holds it all together. Everyone will see it, and it will be the focal point of any room no matter what. That means when you're choosing from different options for your floors, it's a pretty big decision.
Consider cheap flooring options that look nice but don't cost you so much money that you can't afford to put any furniture on your floors.
Bamboo
Bamboo is an eco-friendly flooring option because it's made from a renewable resource. In fact, bamboo grows quickly. It looks nice, it's strong, and it's environmentally friendly, which is why more people are using bamboo flooring in interior design.
It's also naturally pest-resistant and easy to maintain. Mild soap and water are all that are needed to clean bamboo floors. The surface can be refinished when needed. Sanding and re-sealing the material will make it look new again. Engineered bamboo flooring, however, cannot be refinished.
Bamboo is durable and can withstand high traffic. It stands up even against reasonable impact damage because it's so durable. You can also install this flooring as a DIY project. Bamboo naturally resists termites, a huge advantage that other wood flooring options don't have. It's also inhospitable to pollen, dust, and mites.
Bamboo can be scratched, however, like all woods. Little nicks and scratches occur over time due to regular day-to-day use. Bamboo also doesn't stand up well to moisture.
Bamboo can swell and crack in the presence of moisture or dryness, which means it's not ideal for bathroom floors and other high-moisture areas of the home. The cost of bamboo varies widely depending on thickness, finish, and other properties. Bamboo ranges from $2 to $12 per square foot, on average.
Carpet
Carpet is a classic flooring option that everyone is familiar with. Carpet is made from fabric, and it's made from many, many different materials and blends. Carpet is available in all different price ranges and levels of quality but, on average, carpeting will last for around ten years.
With regular maintenance, such as vacuuming, it can remain attractive even longer.
This is a soft cushioning flooring, and it's a very popular choice. Carpeting looks nice, it's easy to care for, and it's even comfy to sit on in a pinch. Carpeting can be installed in sections with nails and tacks. Peel-and-stick varieties are also available.
Carpeting costs $2 to $7 per square foot in the cheaper price range, though some carpeting can be far more expensive depending on the fabric it's made from and the various features it has. Carpeting can be installed as a DIY project, but it is difficult and labor-intensive. In most situations, it's best to hire a professional.
Cork
Cork is an eco-friendly type of flooring that is easier to install than hardwood and far more affordable. This floor is made from cork oak trees and turned into floor tiles, planks, or sheets.
Cork is a soft floor. This makes it nice to stand on, but it makes cork less durable than some other options. This means that the floor can scratch and dent. High humidity levels, such as what you'll find in bathrooms, can cause breaks and cracks in the floor.
Because it's made from the cork oak tree, this is a renewable resource and an eco-friendly flooring option. It's also highly affordable, as it starts at around $2.00 per square foot. As far as wood flooring options go, cork is definitely one to consider.
Laminate
Laminate is a composite material that can be made to look like many other types of flooring, such as stone or hardwood. This is because the surface of laminate is embossed so that it resembles these other materials. Laminate is often seen in styles made to look like hardwood.
Laminate is not as durable as vinyl. It does not withstand heat well, it's not waterproof, and even with standard everyday use and good maintenance, will only last about ten years. Areas that are prone to moisture, such as bathrooms, are not a good choice for laminate.
Another drawback to laminate is the fact that it's static. Once you choose your laminate, that's it. You cannot refinish or reseal laminate, so the way it looks is always the way it looks. A trendy, hot home look one year may be highly retro and outdated just a few years later.
Laminate flooring is installed in click-and-lock pieces that are not glued to the subfloor. It typically costs between $1 and $6 per square foot. You can install this yourself in a relatively hassle-free process.
Linoleum
Linoleum is one of the best-known affordable flooring options. Everyone's familiar with this material, which is very similar to vinyl but is actually a different but similar material.
Linoleum is low-maintenance. It's easy to clean, and it's durable. It's also somewhat water-resistant, so it can handle regular spills, humidity, and other moisture conditions.
One drawback is that linoleum is subject to ambering, or a yellowing effect. This is caused when the material is over-exposed to sunlight. Regular waxing can prevent this effect. Linoleum, on average, costs $2 to $3 per square foot, and you can install it yourself, which will save you even more money.
Polished Concrete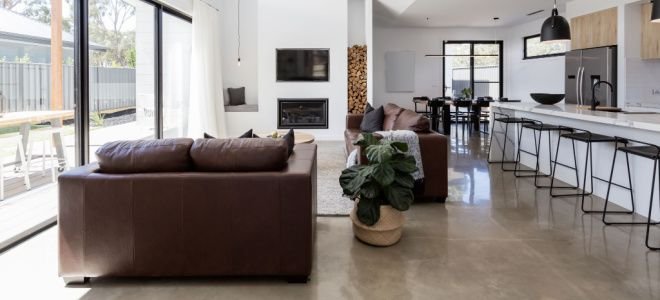 Polished concrete is an extremely durable flooring option that is also very low-maintenance. These floors can last you an entire lifetime. Polished concrete has a nice look to it, and it can be tinted to have many different finishes and final looks. It's very easy to clean and will withstand a great deal of wear and tear.
Concrete is a very hard material, however, and it can get very cold. If you fall on concrete, you will absolutely feel it. You also cannot install this floor as a DIY job, unless you already have extensive experience with concrete. Polished concrete flooring ranges from $2 to $8 per square foot.
Plywood Planks
Plywood is one of the most inexpensive types of wood flooring available. Plywood is created with many thin layers of wood veneer that are glued together at angles. The layered design makes plywood resistant to expansion. However, it is softer than hardwood, which makes it less resistant to chipping, scratching, and damage.
Plywood can be finished to look like hardwood, and it is durable against regular foot traffic and daily use, but it is not tolerant of moisture. You can install plywood planks yourself in a DIY that isn't too difficult. Plywood plants typically cost $1.00 to $2.00 per square foot.
Tile
Tile is a popular flooring option that can be used for interior or exterior spaces. Tile can be used on floors and walls, and it can be made in any color, pattern, or size. Many different tile patterns and designs have been used to complete interior spaces.
Tile can be cut into different shapes to create various patterns. There are many ways to play around with tile, and this is one flooring material that anyone can learn how to DIY.
Ceramic tiles, which start at around $1.00 per square foot, are easy to clean and durable against daily foot traffic and regular wear. However, ceramic tile is brittle and can break. Impact damage can cause breaks and cracks in tile. Individual tiles can be replaced as needed, so repairs are simple.
Porcelain tile is very moisture-resistant, which makes it a good choice for bathrooms and kitchens. Porcelain is denser than ceramic and repels water, making it easy to clean and maintain. Like ceramic, porcelain tile is prone to impact damage. It can chip, scratch, and crack.
Vinyl
You have lots of flooring options with vinyl. There are several different types of vinyl flooring, including sheets, tiles, and planks. Vinyl is made with PVC, polyvinyl chloride, a durable plastic that's used in all sorts of building materials.
Vinyl flooring is very easy to keep clean and highly durable. With regular cleaning and average everyday use, a vinyl floor can last up to 25 years.
Sheet vinyl comes in very big sections, which makes them difficult to install and fit onto floors. Generally, you want a professional to install sheet vinyl. Sheet vinyl costs somewhere between $0.50 to $2.00 per square foot, according to Forbes.
Plank vinyl is one of the most affordable vinyl flooring options. Planks come in small and manageable sizes, which means that they can be installed as a DIY effort. These planks can be glued into place or installed as peel-and-stick or click-and-lock designs.
There are different types of vinyl plank flooring as well. Prices for the flooring vary depending on the type you purchase, such as engineered vinyl plank, luxury vinyl plank, rigid core vinyl plank, and waterproof vinyl plank. This type of floor starts at around $1.50 per square foot.
Unless you've worked with vinyl flooring before, you don't want to take this on as a DIY option. It can be tricky to place vinyl flooring, so unless you're using peel-and-stick tiles, you probably want to get the aid of a professional.
Cheap Flooring Options
You can spend a lot of money on expensive flooring options. There are high-quality carpets, stone tiles, hardwood planks, and many different ways you can choose to spend a lot of money on getting a breathtaking floor.
But there are many cheap flooring options that are also beautiful, and they're easier to take care of and much, much more affordable. Consider cheap flooring options and get something that will be durable and nice looking for years to come.
Because at the end of the day, floors are something that you walk on…and you don't need to spend a ton of money on that.
Cheap Flooring FAQ
How Do You Figure Out the Cost of a Floor?
You might think you can afford the type of flooring you want, only to learn you have to buy more of the material than you ever suspected you would. There are ways to figure out how much your floor is going to cost you using online tools.
Take accurate and precise measurements of your floor to determine the total square footage. Enter this into a flooring calculator where you'll provide these measures and the cost of the material you want to use, and then you will know exactly how much money you will need to get your new flooring.
Don't forget to factor in the cost of incidental items, such as wood glue, nails, tacks, and any other assorted items that may be needed for you to fully install your floor. Do the math first, so you don't run out of money midway through your flooring project.
Should You DIY Your Flooring?
There are many reasons why you might want to install flooring as a DIY effort but perhaps just as many reasons as to why you may not. If you have your own tools and you're a DIY enthusiast already, tackling a floor may not be such a big deal. But if you don't have a lot of DIY experience or a lot of tools, it may be better to use the services of a professional.
How Do You Choose the Right Flooring for Your House?
The flooring you pick is a huge decision you'll make for your home. You'll have to live with it for a long time, and it will dictate the appearance of your home for many years to come. Take the time to make the right decision.
Consider not just price but appearance, durability, moisture tolerance, and maintenance needs. Go to home improvement stores to look at flooring samples and get a better sense of what the different types of flooring actually look and feel like.
If you take the time to consider all of your options, you will make the right choice for your home.
Further Reading
Cork Floors vs Laminate Floors
How To Clean Cork Flooring
Making Laminate Flooring Waterproof
Porcelain Floor Tile vs Ceramic Floor Tile