The Best Pipe for the Job
To ensure our content is always up-to-date with current information, best practices, and professional advice, articles are routinely reviewed by industry experts with years of hands-on experience.

Reviewed by

on Jun 26, 2023
Often, it's not the mechanics of home repair that make DIY projects difficult. Sometimes, there are so many options that even the simplest projects become overwhelming. When it comes to your plumbing system, it's important that you use the right type of pipe. Learn how to find the best pipe for any job, and plumbing repairs and upgrades will become simple again.
PEX Pipe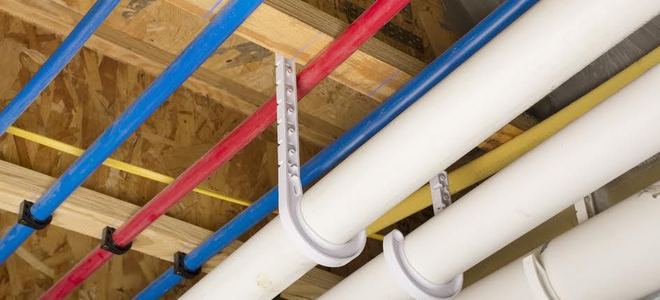 Used in construction for water supply lines, PEX pipe is very easy to work with. It's tolerant to temperature changes and rarely leaks. Unlike metal pipes, it almost never bursts. This pipe is flexible and easy to cut, and it will bend wherever you need it to bend. This is a favorite choice among DIYers because PEX is so easy to work with that anyone can use it.
You don't need to be a professional plumber to work with PEX. It's even color-coded. Blue PEX pipes are for cold water lines, and red pipes are for hot water. Plumbing really isn't going to get any easier than this. The drawback for many is that PEX can be expensive, especially if you're using a lot of it for a large-scale plumbing project.
PVC
PVC pipe, also known as polyvinyl chloride, is a popular DIY pipe, but it's not always used for plumbing projects. PVC is easy to work with and comes with so many bends and fittings that you can use it to build all sorts of items. If you're an avid DIYer, you may already be familiar with PVC pipe. But plumbing with PVC isn't like those other DIY projects.
In plumbing, PVC is most often used for stacks and waste pipes. Fitting a bunch of PVC pieces together to make a soccer goal and using them to build a drain line are two very different things. You need PVC pipes to be watertight when you're using them for plumbing, and that means you need to use PVC cement with every fitting. Every bend, every drop, every section of pipe has to be put together with PVC cement. This technique can be tricky and can even require professional expertise. PVC pipe itself is affordable, so there may be room left in the budget to hire a professional plumber.
Copper
Despite its many good qualities, copper piping is generally only used in small doses. It's often attached to hot water heaters and used for very short water supply lines. Copper pipe doesn't corrode and keeps water clean. It is very durable and can withstand extreme temperatures.
Monetarily, copper has a lot of intrinsic value. Some abandoned houses are even looted for their copper pipes. Copper pipes are expensive, which is why they are not often used to plumb entire homes. Copper is also difficult to work with, unless you're experienced with plumbing. Copper has to be cut with a saw, and it can be tricky to fit into other pipes and to other pieces of copper.
Galvanized Steel
Galvanized steel is almost synonymous with plumbing because it is used so often. Extremely durable, galvanized steel is a very strong pipe that's not used often in newer construction. You will find this a lot in older homes, however, because galvanized pipes were a construction standard for many years.
Galvanized pipes are very expensive and difficult to work with. Galvanized steel pipes are threaded on each end and require fittings to connect with other pipes. That's why these pipes can leak around the joints and fell out of fashion in home building.
Choose Your Pipe
Think about the DIY project you have in mind, the repair work you need to do, or the upgrade you'd like to make. Selecting the right materials is the hardest part of some jobs. Once that's done, your project is already half over.