Can You Remodel a Bathroom for $5,000?
1-150 hours

•

Intermediate

•

0-5,000
Although we often don't spend as much time in the bathroom as other rooms in the house, it's a space where we like to be comfortable.
Whether you're going for a spa-like retreat or rustic simplicity, you may be looking to swap out the tub, build-in a tile shower, and replace the dated cabinetry.
Like every home improvement project, however, costs can quickly spiral much higher than you intended.
There are countless upgrades to consider, tempting you with everything from future cost savings (solar water heater and smart lights) to luxury (high-end linens, a sauna, and a jetted tub). So can you get everything you want for less than $5,000?
How Much Does It Cost to Remodel a 5x7 Bathroom?
There are countless factors in calculating your final bill, but in general, a 35 square foot bathroom will cost between $4,200 and $10,000.
Remodel or Renovation?
It's important to understand the difference between a remodel and a renovation. A remodel will add new elements to your room. In the case of the bathroom, it probably means a new shower or bath, toilet, fixtures, and vanity.
A renovation, on the other hand, typically includes some restoration or repairs. For example, you might need to reroute plumbing fixtures, fix an issue with a floor, or bring the electrical wiring up to code.
Obviously, this means a renovation is going to incur much higher costs than a remodel.
What Is the Cheapest Way to Remodel a Bathroom?
Saving money on the bathroom remodel might be the only way to make it happen. Fortunately, there are abundant options for saving some dough while still providing upgrades.
Just remember, as the adage goes, you get what you pay for. So while peel and stick tile is a very inexpensive option, it may not be long before it's falling off the wall and you're facing another update.
Another consideration is that materials for the bathroom need to be able to stand up to the moisture and water contact in the room. It's essential there are no leaks that could allow water to seep below the floor or behind the shower wall.
Water-resistant materials are the best option in a bathroom. Inasmuch there are some limitations and potential additional expenses to achieve that performance.
Shower and Bathtub
Fiberglass shower and bath combos are ubiquitous for a reason. Well, several, actually. They are inexpensive, long-lasting, highly durable, and easy to care for. They are also quick to install.
Acrylic showers are very similar to fiberglass in the overall cost, installation, and look. However, acrylic is available in a large variety of textures and styles, so you can get some variation from the standard pre-formed shower.
In fact, acrylic is available in many looks of faux tile, marble, stone, and others. Acrylic has increased durability and is longer-lasting than fiberglass, which is more likely to scratch, fade, and puncture. It's mold, mildew, and stain resistant too.
Other materials that offer performance without a massive price tag include PVC panels, stainless steel, and resin options.
Probably the most expensive type of shower is a custom tile option. Tile also requires upkeep and is more difficult to keep clean than acrylic or fiberglass surrounds.
However, tile and stone are luxury options that speak to a natural appeal and offer a soothing atmosphere alongside a connection to the outdoors. They add warmth, depth, and strength.
Custom tile, stone, marble, granite, glass, and quartz work requires the skills of a professional or newly acquired skills of the DIYer. This adds both expense and time.
Bathroom Flooring
The shower and/or bathtub will likely be the most expensive item in your bathroom remodel. Next in line is probably the flooring.
There are inexpensive options like the ever-popular vinyl floors of the 1970s. For small bathrooms, you can probably even find a cutoff at your local floor covering store.
Vinyl is versatile and waterproof. You can cover it with other flooring materials, including more vinyl, without tearing it up.
It's easy to cut, handle, and glue down. However, it's full of toxic chemicals that are not good for you or the environment. It's also thin and lacking warmth both aesthetically and to the touch.
Linoleum, on the other hand, is durable, made from natural materials, and equally easy to install and maintain. Often confused with vinyl, linoleum is actually a product of linseed oil, a plant-based material. It comes in countless patterns and colors to match any decor and is very affordable.
Luxury vinyl tile (LVT) is another affordable and functional option. With a bit of trial and error, the tongue and groove planks can be installed by even a beginning DIYer.
Since it is basically plastic, LVT does lack the natural appeal of stone or tile, and it's not a very environmentally-friendly option. However, as a functional flooring for bathrooms it offers balance between budget and function.
Again, as you move into natural materials like porcelain or ceramic tile, stone, marble, etc, the price and specialty work both rise, so they may be out of budget depending on your other priorities.
Bathroom Countertops
The same is true for countertops. Materials that may be most appealing to you likely have a high price tag, while there are more affordable options available.
Formica is a common budget-conscience material for countertops. It's brittle when working with it during installation but quite durable once mounted to the countertop.
Formica can last decades, comes in a vast assortment of colors and designs, and can often be found in smaller sizes in the remnant section at the home improvement store.
You can also go with stainless steel, copper, or well-protected butcher block. Cement is another material option for bathroom floors and countertops.
How Can I Remodel My Bathroom for Cheap?
Obviously material selection is going to be a large ticket item during your bathroom remodel. That alone can mean the difference between staying under the $5,000 mark or not.
However, if you want to invest in some nicer materials, perhaps you can cut costs in other ways so you can have them.
Porcelain Resurfacing
Instead of replacing the aging bathtub or sink, you can refinish them. It's a job you can hire out at a cost. A sink will likely run around $300 to resurface, while a bathtub will be a bit more. For less than $1,000 you can achieve a new surface on your existing tub and sink. That's significantly less than replacing them.
There are also DIY resurfacing products you can order online or pick up at the home improvement store.
While the kits have the different products you'll need, be sure to practice safety while you work. These cleaners, chemicals, and epoxies are toxic so wear a respirator, goggles, and gloves while you work. Also note there will be several days when you won't be able to use the bathtub or sink in order to allow proper time to cure.
Patch and Paint
Of all the bathroom remodel tasks you can tackle, putting on a fresh coat of paint is perhaps the least expensive and most impactful.
Select the right paint for the job and use a primer if necessary.
Remember, a good paint job is contingent upon good prep work. Check all your wall surfaces. Fill nail holes and patch larger ones. Sand down any rough edges on the surface.
Protect all surfaces while you paint. Use a quality plastic sheet to catch drips and splatters. Also tape off mirrors, the edges of the bathtub, windows, and all other adjacent surfaces.
Wallpaper
While you might have been thinking you'd like to mount ship-lap boards to your walls, when you add up costs, you might find yourself looking for an alternative.
Wallpaper is inexpensive and is something you can do yourself, saving the money of hiring out services. You can wallpaper an accent wall or cover every side of the room.
Wainscoting
Another wall-covering option is wainscoting. Even in convenient kits, it's an inexpensive way to cover wall damage and give the room a facelift.
Put wainscoting along the bottom half of the wall and paint or install wallpaper above it. This allows you to play with colors and textures at minimal expense.
Vanity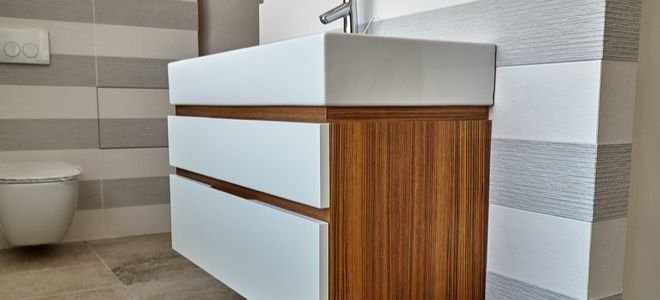 Buying a prefabricated vanity that fits into your space will save you a substantial sum compared to the cost of having a custom vanity built.
Go with open shelving and you'll pay less for materials too. Even though a prefabbed vanity may not fit perfectly wall to wall in your space, you can use any gaps for a laundry basket, stool, or an additional shelving unit.
Do your research when ordering your vanity. Make sure the sink will rest in the right location, so you don't have to do extensive plumbing work.
Find the specifications and understand the measurements, including length, height, and depth of the cabinets and countertop.
There are countless options, so you can find the color combinations and material selections you prefer.
Do the Work Yourself
We are a Do It Yourself site, so obviously we love this idea. You'll find when it's time to work on a bathroom remodel, the uppermost tactic for saving money is to do the work yourself.
Having said that, we don't encourage you to cut corners, especially with important jobs like proper electrical installation or water sealing. Done incorrectly, these jobs can cost you more in the long run if you need to make repairs.
Even worse, if you don't get the proper permits or have the work done by licensed and insured workers, your insurance may not cover your claim should one arise. That means you can find yourself paying for a renovation to the recently remodeled bathroom, and perhaps other spaces where water damage occurred.
Take it as a warning that while you're trying to save money, having a professional do some jobs will pay off in the long run.
Back to the DIY optionsthere are many tasks you can tackle yourself. Consider installing your own toilet, putting down the flooring, making wall repairs where the old cabinets were, and bringing in the new vanity.
You can likely hook up the sink or sinks, swap out the exhaust fan, install new light fixtures, hang the medicine cabinet and mount the mirrors too.
Having said all that, if you do decide to use a contractor on the job, do your legwork to save yourself some money there too.
Understand that as a business, your contractor has overhead, so you're not just covering the cost of the employee's hourly wages. Be fair, but also be clear in your expectations.
A standard bathroom remodel should take anywhere from three to five days. Calculating employee costs, you can reasonably expect a bid of around $2,500 or more. This is, of course, in addition to the material costs.
With an idea of all the material costs and the number of hours required to do the job, start calling for some bids.
Some contractors will want to come see the space while others will provide a rough estimate over the phone. If you're realistic about time and material estimates, you can say thank you and hang up if bids are $10,000.
If a contractor quotes $3,000 on the other hand, make sure they understand the scope of the job.
Investigate any contractors you hire. Look for online or personal reviews. Ensure they are licensed and bonded. Ask for pictures of previous jobs.
Also make sure you get a contract that covers the specifics of the job including all materials, timelines, payments and a detailing of who is responsible for getting permits, scheduling inspections, and ordering supplies.
Advantages of a Bathroom Remodel
The average national cost of a bathroom remodel is $14,000 to $16,000. However, with the planning and cost-saving methods covered above, your remodel will cost much less.
At any cost, updating a bathroom adds value to your life. Enjoying a clean, inviting, fresh space is both invigorating and relaxing to meet your needs. Take in a rain shower in the new surround and draw pleasure from the streamlined flooring.
Your new bathroom will also increase the value of your home. In fact, the average bathroom remodel raises the value over $11,000. That's a good return on investment.
Remodeling your bathroom can happen in phases, or you can go for it all with a timely remodel. Either way, consider some Tips on Bathroom Remodeling and Remodeling Small Bathroom Spaces for some inspiration.