Choosing the Best Material for a Sauna Floor
To ensure our content is always up-to-date with current information, best practices, and professional advice, articles are routinely reviewed by industry experts with years of hands-on experience.

Reviewed by

on Jan 13, 2020
You will find the coolest part of your sauna is the sauna floor. It is important that you do not allow this to cause any heat loss or bad insulation. You will need to have a heatproof floor. There are several different types of floors that can do this for you. You also want to make sure the floor you choose does not become too hot and burns the bottoms of your feet.
Concrete
Concrete is always the best option for a sauna floor. You will need to make sure it has a sealer applied to it so it is waterproof. You can then finish it with ceramic tile. The tile can handle the heat of the sauna without causing you to be uncomfortable walking on it. But you will need to use caution because tile can become slippery when damp. Walk slowly and make sure the bottoms of your feet are completely dry before you walk on the tile. Because this sauna floor can be a little bit expensive, it is not always the first choice.
Vinyl
If you happen to have vinyl tiles in your sauna, they can also withstand the heat and humidity. Although they are cheaper initially, they are not as durable. You will need to replace vinyl more often than ceramic tiles.
Plywood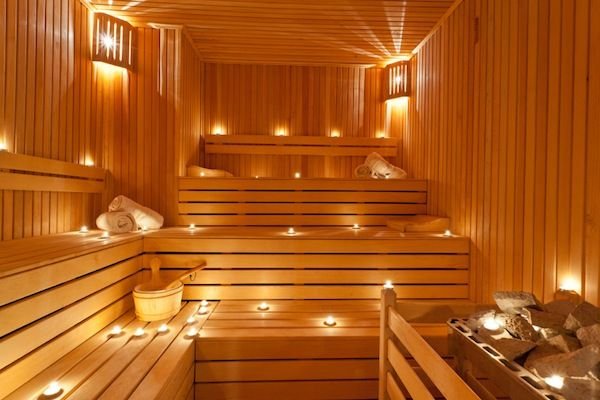 If you are working with plywood floors, make sure they are properly sealed. You will want to seal all of the joints properly with wood preservative. Apply multiple coats to make sure the wood is protected. Plywood floors can have a lot of issues with the sauna's heat and humidity if you don't properly protect the wood.
Adhesives
There are several different types of adhesives you will need to use so the wood floor in your sauna can be completely waterproof. You can use ceramic tiles or seamless sheets of vinyl or fiberglass to waterproof your wood floors. The adhesives will still be necessary, though.