Choosing the Best Material to Build Your Garden Gazebo
To ensure our content is always up-to-date with current information, best practices, and professional advice, articles are routinely reviewed by industry experts with years of hands-on experience.

Reviewed by

on May 05, 2022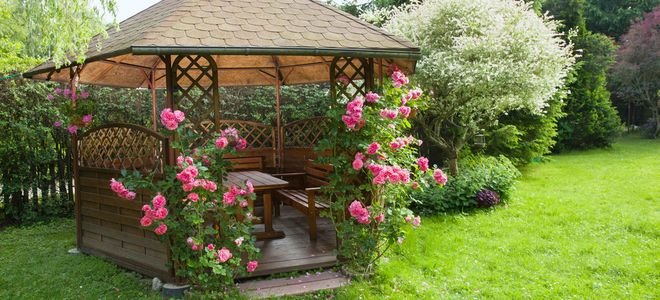 A garden gazebo is a beautiful outdoor structure. It is usually built having 8 sides. Most garden gazebos make a great shade pavilion. Garden gazebos can be decorated with plants surrounding it to match whatever style of garden you have. A pathway can be laid to walk to and from the gazebo and you can even decorate it with different types of lighting.
When planning to build your own garden gazebo, you have to decide what materials you will like to use. The older traditional ones were made of wood. Today there are various types of materials used to build garden gazebos. Some of the most common materials are canvas, bamboo, wrought iron, wood, aluminum or steel.
When choosing the best material to use, consider the climate where you live and how it will affect the type of material your gazebo is made out of. Metal, brick or stone should be used in a more humid climate whereas cloth and open metal work should be used in dryer environments.
Wooden Garden Gazebos
Wood is one of, if not, the most popular material used to make garden gazebos. They are also a bit more costly than the vinyl or iron garden gazebos. Wooden made garden gazebos last for years and look great!
Cedar wood has been known to be the most popular wood to use. You can use any type of wood that is treated with a varnish to give your gazebo a lovely appearance. If you are considering a wooden garden gazebo, it is probably best and more economical to build it yourself.
Materials
It does not matter what kind of materials you select to build your garden gazebo, but you will need to know something about them. Pressure treated wood will need to be used for anything that is tough on dirt. If you are planning to have a deck, cedar wood or cypress wood can be used for the railing and overhangs.
Pine or oak should never be used for any type of wood that will openly be exposed to the conditions from the weather. Stone can be used to build the garden gazebo floor. Decorative gravel, concrete and pavers can also be used to build the floor.
Choosing Roofing Materials
A roof made from metal material is more expensive than the other roofing material types. Metal roofing lasts longer with an anticipated life span of up to twenty five years. Metal garden gazebo roofs can be made to resemble slate or tile. Some homeowners prefer a glass or plastic roofing material. They come with UV resistant components to protect against the exposure of harmful sunlight.
The plastic garden gazebo roofs do not shatter and are lightweight. They also come in different color and style variations. Fabric is another material for a gazebo roof that can be used as a temporary structure or a permanent one. Fabrics come in different varieties. When choosing the types of materials to build your gazebo, consider where you want to put it and how it will stand up against the climates in your area.