Considerations for Converting a Chair into a Rocker
To ensure our content is always up-to-date with current information, best practices, and professional advice, articles are routinely reviewed by industry experts with years of hands-on experience.

Reviewed by

on Nov 08, 2019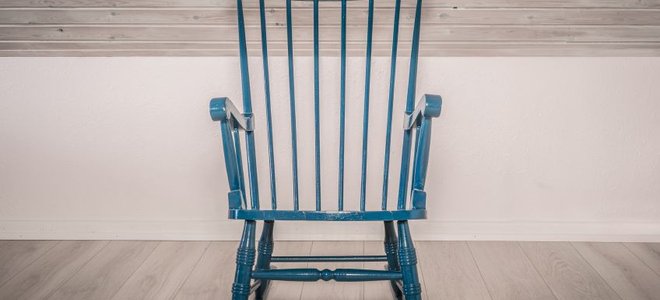 Converting an ordinary chair into a rocking chair can be done in a few different ways, depending on what type of rocker you want to create. While conversion kits are available, designing your own conversion kit is the most personally rewarding way to go. Before you begin converting your chair, this article will offer some suggestions and considerations to make the process both easier and safer.
Rocker Rails
Take a lesson from typical antique rocking-chair designs. The rocker rails, or the bottom rails of the chair, should be approximately the same length as the total depth of the chair from the tip of the back to the front edge of the seat. If the back is built at a recline, the bottom rails need to be extended to account for the increased overall chair depth. The width of the rails is not a major concern, and some innovative designs use uncharacteristically wide or narrow rails to complement the design.
Simple Rocker Conversions
A simple porch rocking chair can be made by cutting two rails out of a piece of 2x6 or other material. These two rails are then shaped to match the curve of the rails. As a general guideline, the front and back ends of the rails should be approximately 1 1/2 to 2 inches above the floor when they are at full rest. This shallow curve is not written in stone but makes a useful guide. If the curvature is too great, the chair will tip over easily, and if it is too shallow, the chair will not rock properly at all. The good news here is that some minor corrections can be made with a jigsaw after the chair has been converted.

While making your own runners is most cost-effective, you can also purchase premade rocker rails online and in some home-improvement stores. These rails come in multiple sizes, and they usually come undrilled. Some rocker rails also come with instructions and other installation materials like screws.
Rocker-Swivel Mechanisms
You can also purchase rocker-swivel mechanisms online to attach to your chair. This 4-pronged base can be attached to any chair for cheap. Usually, all it takes are a few boards secured to the bottom of your chair to then secure the swivel mechanism underneath. Refer to your manufacturer for specific directions.
Should You Build Your Own or Use a Kit?
Rather than trying to design your own conversion, it is likely faster, and possibly safer, to purchase a conversion kit and follow those directions. Using a kit saves you the trouble of calculating the curvature of the rocker rails and makes assembling the pieces a relatively simple process. Plus, you can add your own personal touch by painting the rocking chair to suit your needs.
However, if you decide that you do want to make your own rocker out of a chair, it is doable with a bit of time and effort.