Decorative Roof Inspiration
Roofs
Roofs
Roofs are a necessity in every home, so people tend to be practical in their roofing needs, considering weather, angle, and materials that will work best for their home. Roof decor is often an afterthought.
There are several decorative roof options, though, that can add to your curb appeal. Most are cheap to add to your existing roof, while some are pricier and will necessitate the use of a contractor.
Fun Colors
Having a fun color, like a pop of yellow, can really make your roof stand out. The color could be on the roof itself or in an area near the roof. Most roofs are gray or black, so an unusual color can really make it stand out and give anyone passing by a sense of your flair for design.
Steep Roof
Roofs generally make a triangular shape with your home. Still, your roof can have different variations as far as how steep or gradual the slope of the triangle is. A steep slope can add drama to your home and build visual interest. It can also make your home appear taller and more imposing than surrounding properties. And if you ever want to add an attic, a steep roof gives you more head room to do so.
Contrasting Trim
Black and white is a classic combination. You can apply it to your roof by adding white trim in the area around your black roof. This makes the roof standout and is a classic decor choice.
Triangles
Most roofs create a triangular shape on top of your house. You can take that shape one step forward by adding additional triangular shapes near your roofline. This will create some added interest and draw further attention to the beautiful shape of your roof.
Flat Roof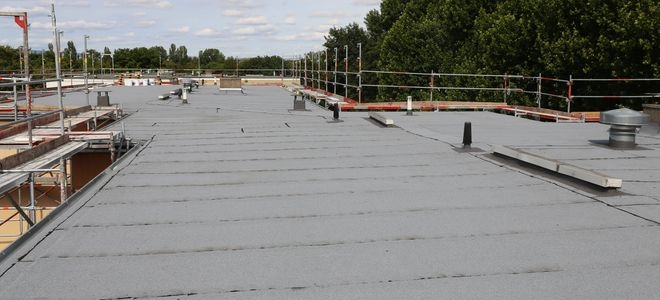 A flat roof may not be the most visually stunning roofing option, but if you live somewhere that doesn't get a lot of rain, it can be a great way to add outdoor living space to your home. If local codes allow, you can string up lights and add furniture to make the area pretty and a usable entertainment option.
Weathervanes
Weathervanes can be a great, affordable way to add some style to your roof. The decorative items can easily be placed atop your roof and give your home a country chic feel.
Decorative Gable
A decorative gable can be a nice touch to your home. These can give your traditional style house a modern flair. They are also relatively easy to add and inexpensive, making it a win-win roof option.