Designing a Small Space Dining Area
To ensure our content is always up-to-date with current information, best practices, and professional advice, articles are routinely reviewed by industry experts with years of hands-on experience.

Reviewed by

on Nov 17, 2022
When it comes to a small houses or apartments, oftentimes there is no dining room. But, even if your small house or apartment doesn't have a designated dining area, or if it only has a very small one, you can create a space to eat that's beautiful and functional.
Of course, living in a small space can be challenging, but there are ways to work around it and make your space more functional for daily dining. Whether you have just downsized to a smaller space or are squeezing in to your first home or apartment, here are some considerations for creating a usable dining space.
Use any space you have.
If your apartment or house doesn't have a dining room, you might have to get creative to make a space in another room. That room could be your kitchen, living room, or even a den, but wherever you choose, you'll have to use any space you have available.
Push it against the wall.
You can also push your dining table right up against the wall or a window sill if you don't have enough room to have it pulled out. Sometimes you just have to make it work for your space even if it means breaking certain design "rules."
Put it in a corner.
Although it can be nice to have a big dining room with a large table in the center, it's not always possible. Putting a table in the corner of the room is a great option for smaller dining areas. You can add banquette seating to create a unique eating space, or use a round table with chairs that tuck underneath.
Get creative with your furniture.
You don't necessarily have to use a dining table in your dining area; you can use a bistro table, a desk, a bar table, or even a counter top. Sometimes you have to get creative to fit a dining area in a small house or apartment, and that might mean shopping for a table that fits the space even if it wasn't initially designed to be used as a dining table.
Use dual-purpose furniture.
A lot of furniture in a small living space should have a dual-purpose, like an ottoman that can be used as a coffee table or an extra seat. When it comes to your dining area, try adding a table that you can also use for another purpose.
A popular choice is turning your desk into a dining table when needed and vice versa. Or, you can buy a narrow sofa table with a drop leaf that can be turned into a dining table whenever you have dinner guests over.
Fold it away.
If your space is really small, you can always get a tabletop that you can either fold down or fold and put away completely. That way you don't have to leave it out permanently, but you can still have a table to sit at when you want to eat somewhere that's not your couch.
There are a lot of different kinds of folding tables you can choose from, from ones that you mount on your wall, tables with a drop leaf, or even folding tables you can store away after each meal. All of these options are perfect for small dining areas.
Add a bench.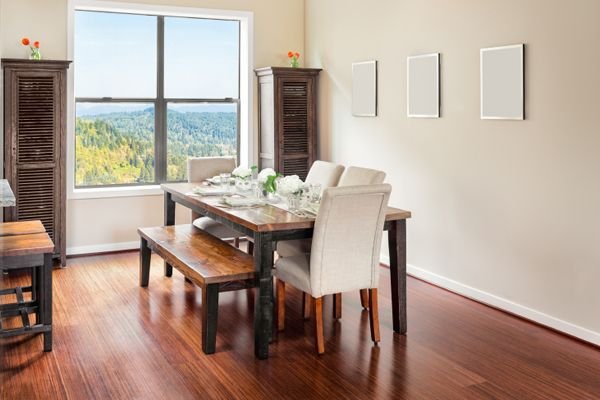 Adding a bench can save you space and provide more seating than a chair. Benches are especially good if you have children, who can all squish together when necessary. Plus, a bench can be easily tucked underneath the table allowing more walking space when the table isn't in use.
Blend it in with the surrounding space.
When you live in a small space, the colors and shapes you choose have a big impact on how big your space will look and feel. Your dining area will look and feel bigger if you blend the style of furniture and decor with the rest of your small house or apartment.
You can do this by selecting furniture and wall colors that compliment or blend into one another, like matching beige walls with an oak table. By matching your furniture with the other colors in the room, it will feel like less is going on in your dining area, and therefore, it will feel less cluttered.
Add a mirror.
Having a mirror in your dining area can help make the space feel larger. Mirrors work wonders in every room when you're trying to create a light, spacious area. When placing a mirror in your dining area, try to put it opposite a window or open space to make your dining area feel larger.
Keep it simple.
If you're trying to squeeze a dining area into an already crowded room, it's best to keep the furniture, accessories, and decor all minimal and simple if you don't want your dining area overpowering the rest of the room.
Accept it.
Finally, if you don't want to follow any design tricks and would rather just accept your small space for what it is, that's fine, too. Your space is your space and if you want to create a big, loud dining area in your small house or apartment that's completely up to you! The important thing is that you enjoy your home and the area where you eat.