DIY a Portable Child's Bed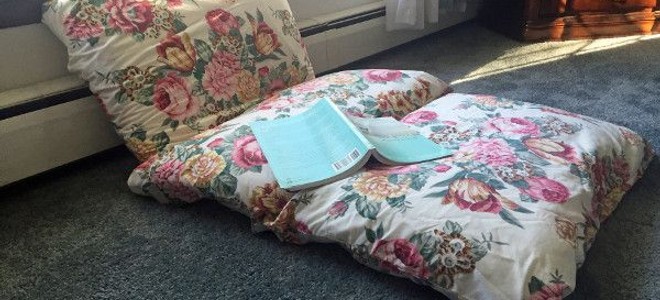 3 Pillows
3 Pillowcases
Needle and thread or sewing machine
When I was a child, I spent as much time as I could in my grandparents' living room. When we were together, my whole family would gather around their big television and watch old game shows late into the night. Every person had their own assigned spots; as my siblings all lounged on the huge leather sofa and all the chairs were filled with adults and teenage cousins, I always had a nice spot on the floor, though you would never hear me complaining. I actually enjoyed my place thanks to a nice blue and orange foam foldable bed that was the perfect size for me. Recently, however, when I tried to find something similar for my own nieces and nephews, I was astonished at the prices they are available for in stores. In reaction, I made my own and it was such a simple project I want to share my findings with others who may need something similar for their own little ones. Here is how to do it.
Step 1 - Acquire Pillows
To begin this DIY, one will need to find three pillowcases that can be washed in a washing machine. Kids are messy, so having the option to freely clean this bed as needed is a true blessing. In the above photo, I chose three cases that were from a single bed set, but feel free to get crazy in your creative process.
Step 2 - Align Pillows
Lay the cases on a flat surface so that the long sides are in alignment, three in a row.
Step 3 - Sew the Pillowcases Together
Using a needle and thread, sew the three pillowcases together at their seams, leaving the open end untouched. This can be done by hand or on a sewing machine, though a machine stitch will be more durable and best able to withstand whatever is thrown at it.
Step 4 - Insert Pillows
By this step, all three pillowcases are sewn together, and you are ready to being the stuffing. To do this, simply fill your pillowcases with old pillows, forming your very own DIY sewn child's bed.
Additional/Optional Steps
Pillow Size: Depending on the size and style of your pillowcases, you may find that once your kids begin to relax on the bed, the pillows may fall out on one side. If that is the case, I would recommend first changing the size of the pillow used in the project. By decreasing the pillow size, it gives added fabric and more options to fix the problem (one of which is detailed below).
Velcro: After decreasing the size of the pillows, additional fabric is made available which allows one to simply close the hole by doing a number of things. I added two strips of Velcro to mine, but what you do should be based solely on your ability and how you are planning on using this project. Zippers would be cool; a drawstring would be great as well (though it would require a bit more sewing).
Pillows: One final thing to consider before beginning this project, even if you have to go and buy new (inexpensive) pillows, is to use machine-washable pillows. We all know how messy little ones can get and although the pillowcases themselves can be easily cleaned in the washing machine, the same is not true for all pillows!