DIY Projects for Leap Day
February 29th is a date that only comes around once every four years. Referred to as Leap Day, the fact that it's not always built into the calendar makes it something to celebrate! To show your appreciation for the day, try out some of these crafty DIY projects meant to highlight this holiday.
Leap Day Time Capsule
A lot can change in four years, so why not make a Leap Day time capsule to bury or stow away until the next time the holiday comes around? This is an easy craft, as you can take any cylinder shape container you're willing to part with—an empty Pringles can, for instance.
Wrap the outside with craft paper and decorate it with playful cutouts like frogs or kangaroos, and letters and numbers to spell out "Leap Day" and the year. Inside, place whatever your heart desires. For instance, a list of your current favorite things or those of your children, or a list of your hopes and goals for the next four years. If you're doing this activity with kids, consider tracing their hands and writing down their height as a point of comparison with where they'll be in four years.
Place the paper in the capsule, then bury it or stow it away until the next Leap Day rolls around—just don't forget where you put it!
Froggy Fruits
Why not create something festive and edible to celebrate Leap Day? One cute, easy option is sliced kiwis, strawberries for tongues and mini marshmallows with chocolate bits or seeds for eyes.
Another popular choice is a watermelon frog, which can hold an entire fruit salad in its giant month. Carve out your watermelon with a big slice in front that looks like an open mouth. Place the watermelon at an angle so that it looks like the body of a sitting frog, shaving a small bit off the bottom so that it sits flat. Use a melon baller to carve out chunks of melon to fill in the mouth with tasty chunks.
Use a second watermelon you cut in half to make the legs, feet, and eyes (something dark like cherries or grapes make good pupils). Cut a ring out of half of the melon, then cut that in half into two semi-circles to use as the legs.
Take the chunk of melon you carved out for the frog's mouth as the feet by cutting it in half, scooping out the melon. You'll have two triangles to use for the feet. Adhere the legs and feet to the body with toothpicks, then fill the mouth with chopped fruit, and you have the perfect Leap Day centerpiece.
Lily Pond Vase
Another non-edible Leap Day centerpiece is a lily pond in a vase. This is something you can enjoy well past this rare day, and it's easy to make. Start with a cylindrical vase of whatever size you wish. Put a few floral frogs in the vase and use them to support the stems of plants like water lilies and galax leaves.
Cut these to different heights to give your arrangement some depth. Put one or more stems into each frog, then cover the frogs with stones. These can be store-bought stones or some that you find outside. Fill the vase with enough water to partially cover the leaves, just make sure the the blossoms are out of water.
These arrangements look great by themselves and paired together in vases at varying heights.
DIY Calendar
Since Leap Day is all about adding an extra day to the calendar, why not create your own DIY calendar to enjoy planning the rest of the year? Dive deep into your organizational software, or make a paint-sample calendar for a colorful design element you can reuse month after month.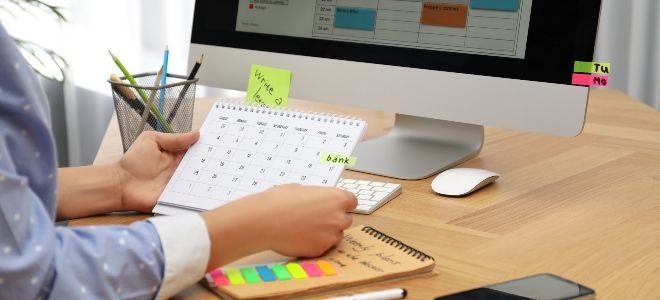 If you're going the physical route instead of working in an app, use a frame and poster board to get started. Glue poster board to the back of the frame and use glue to adhere paint sample rows to the poster board using shades of your choosing. Arrange the samples into five columns with seven squares across each.
On the top of each column, place a small strip of the coordinating paint sample that displays the days of the week. Place the glass in the frame, completing a dry-erase calendar you can use each month, allowing you to fill out the dates in the correct spots and adjust the calendar all year long.
Sara LeDuc is a freelance writer for DoItYourself.com. She also writes for a handful of other websites and platforms. She has been growing her skills and client base for the past two years, but has been passionate about writing for as long as she can remember. She has worked with Internet Brands for over three years and enjoys learning about — and completing — DIY projects and keeping up with the latest and greatest home improvement trends. Besides her work for DoItYourself.com, Sara also has worked with retail, human resources, fitness, commercial, and medical clients to help them increase client engagement, grow their following, and drive traction to their blogs and websites. Sara has furthered her skills and reach by working as an editor with a media company. This has helped her diversify her abilities as a writer and work with additional writers, editors, and a wider range of clients. Sara enjoys continuously learning and building her skills in the field by working on SEO campaigns and outreach programs to increase the visibility of her freelance clients. She loves being creative, pitching article and post ideas to clients, learning more about the freelance industry, and completing DIY projects.