DIY Wall Art Projects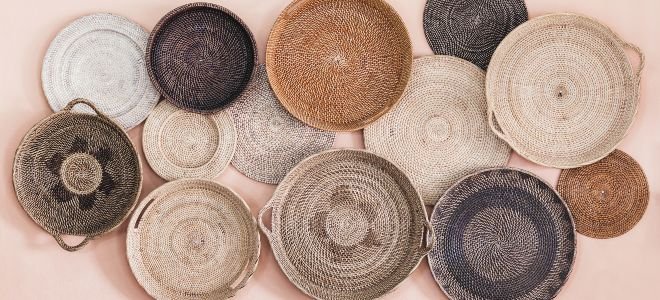 1-3 hours

•

Beginner

•

0-50
Clipboards
Paint
Tape
Canvas
Basket
Fabric
Bead
String
Cardboard
Clipboards
Paint
Tape
Canvas
Basket
Fabric
Bead
String
Cardboard
Whether you're sprucing up a dorm room or decorating your living room, tackling a DIY wall art project is a fun way to get crafty while adding a little personality to your home. Before you dive into your DIY, take a good look at your space.
Make sure to plan to fill the area on the wall so that it looks nice and balanced—beware of overfilling the space. Start small and centered as you place your decor on the wall. Remember that you can always build-out. If it helps you to visualize, draw out your designs on a piece of paper to scale.
My Type
Use free printables from online or prints from Etsy to build out a motivational type wall. Typography is a fun, artistic way to add personality to your home. An easy way to display these works of word art is on clipboards.
You can take fancy clipboards and use command hooks to create a collage on the wall. Then you can change your typography out seasonally. If you have old clipboards laying around, give them the old DIY try by painting and decorating them. This allows for total personalization that matches the room's decor.
Paint Night
Get together with your friends and enjoy a fun paint night. Grab a pack of acrylic paint or watercolors and some canvases and get going. You can start simple with color blocking or geometric lines or get adventurous and paint something from nature. If you get stuck, pull out a roll of masking tape and tape lines all over the canvas.
Paint all around the lines and fill the spaces between with fun, bright colors. Once your paint is almost all the way dry, take the paint off and you'll have a trendy new design for any room in your home.
Basket Case
Head to your local thrift store and grab an array of flat baskets. These baskets can be arranged all across your walls to create a fun, visual statement in any room. If you find baskets that need a little love, don't shy away. You can paint and glue baskets back to great condition—trust us. Before you start nailing your baskets to the wall though, lay the design out on the floor to make sure you like the look.
Sew Good
If you're a sewist at heart, put a little bit of your favorite pastime on your wall. Look at the colors in your room and select coordinating fabrics. Then take those fabrics and make a large version of your favorite quilt square. Remember to think about the sizes of square frames as you do so, so that when you are finished, you can frame it easily.
Once the front of your square is done, add batting and backing. Even though those two layers won't be visible in the frame, they will give the square the look and texture that make quilts so iconic. Use a small binding to go around the edge of the square and you are good to go.
Bead It
For a long, layered look with a more retro vibe, get your beads out. While beads used to popularly hang in doorways, the look now pops on walls. You'll need a wooden dowel, string, and beads. Take string of the same length and tie it evenly spaced across your wooden dowel. Then add beads to the string, completely filling it.
After you've filled the string tie it off and move to the next string. Do this until all of the strings are filled with beads. Then tie one final string across the top of your dowel to create something to hang the bead rod with.
Fabric Frames
If you love fabric but aren't one for sewing, all you need is some fabric, spray adhesive, and cardboard to make cute framed art. Take a piece of fabric and cut it slightly larger than the piece of cardboard you have cut.
You'll be framing the cardboard, so make sure it is a traditional size. Spray the adhesive on the cardboard and then slowly press the fabric down, making sure to press out any bubbles. Once the creation is dry, frame it in one of your DIY frames.
Refurbishing, rediscovering, upcycling, and reinventing—all things Maddison can do with a pair of scissors or a can of paint. A Brigham Young University grad with a degree in English and communications, Maddison has worked with small and large businesses alike, developing creative marketing strategies. Maddison is also a seasoned photographer whose work has been featured on ESPN and in several magazines in the US. After several years as a sports photojournalist, Maddison primarily focuses on product photography and capturing families, newborns, and kids with her camera.  As a DIY writer of 5+ years, with a decade more of experience, Maddison has a knack for turning trash into treasure and convincing her friends it came from Anthropologie. In the last few years, Maddison has begun consulting as an interior design specialist, working with corporate spaces and homes.