Downspout Repair: How to Fix a Loose Downspout
To ensure our content is always up-to-date with current information, best practices, and professional advice, articles are routinely reviewed by industry experts with years of hands-on experience.

Reviewed by

on Mar 20, 2020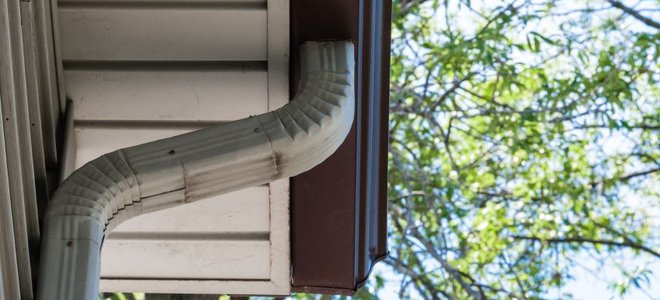 1-2 hours

•

Beginner

•

10-200
3/8" Sheet metal screws
Screwgun
Gutter clips or straps
Replacement downspouts
3/8" Sheet metal screws
Screwgun
Gutter clips or straps
Replacement downspouts
It is wise to perform downspout repair on your home's gutters every spring and fall. Improperly working gutters and downspouts can put your roof and foundation at risk due to excessive wear and water damage. Here you will find information on how to repair your downspouts.
Step 1 - Inspect Downspouts
Inspect the exterior of your home and check for downspouts that are in need of repair or replacement. These are areas that have gaps between the gutters and the downspout where runoff water is not properly routed, are rusted, or have weak or rust spots on them.
Step 2 - Reattach Downspouts
Using the sheet metal screws and the drill, drive two screws into the top of the downspout, attaching it to the gutter. Put one screw in on either side of the downspout. For a long downspout, give it additional stability and security with straps to the side of the home.
Step 3 - Replace Decayed Downspouts
Replace any rotten or broken downspouts by removing the clips, unstrapping, or unscrewing the downspout from where it is connected to the home or gutters. Replace with new downspouts in the reverse order that they were removed.