Essential Moving Checklist
Moving can be stressful, but the more prepared you are, the easier the process will be. Get ready to embrace a new space with a handy and comprehensive checklist.
Start Early
Whether you live in a large house or a small apartment, packing and organizing yourself for a move takes quite a bit of time. Don't leave your packing until the day before, and certainly don't procrastinate on your move preparations. The earlier you start, the easier this process will be.
Book Services
If you hire professional movers, you'll need to book them well ahead of time. You should also vet them by reading online reviews. Shop around and get quotes from several different companies to find a pricepoint that works for you, and make sure the services extend to any especially large or awkward items you might be bringing.
If you're planning to ask family and friends help you move, reserve the date with them ahead of time, too, and consider budgeting for some pizza to thank everyone for lending a hand.
Purge Your Space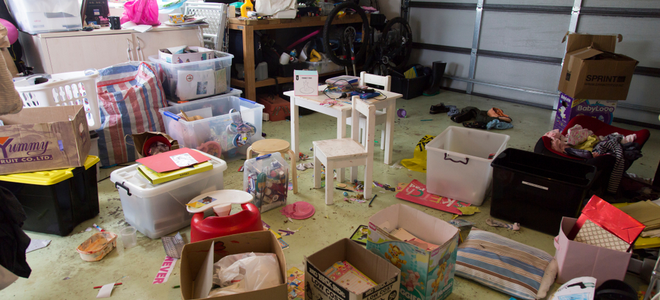 To cut down on the stuff you're relocating, start with a good thorough purging of your space. Moving is the perfect time to clean, organize, and get rid of old and unwanted items.
Go through clothes, kitchen supplies, linens, and anything else you have an excess of. Make piles of items to keep, items to sell, and items to donate and get rid of these things accordingly.
You might even make some extra cash off unwanted items that are in good condition by selling them on sites like Facebook Marketplace, OfferUp, or Poshmark, but keep in mind that those things take time—don't get stuck trying to meet with buyers when you need to be focusing on other things.
Remember that the more you purge, the less you'll have to transport to your new home.
The Right Supplies
Moving takes many supplies, and you'll want to have them on hand before your moving day arrives. This includes boxes in various sizes, plenty of packing tape, heavy-duty scissors, packing supplies such as craft paper and bubble wrap, and markers to label things.
Plan Out Your New Space
One fun part of moving is planning out your new space. Use tools like Plan Your Room to envision how your furnishings and gear will fit into your new home.
This way, you can organize items by room in your new house while packing so you can bring them directly into their new space on the big day.
Administrative Tasks
Besides physical labor, there are many administrative tasks associated with moving you may not be thinking of. These include changing your address with the USPS, moving over your utility accounts to your new address, and changing your home or renter's insurance. If you do this in the weeks before your move, you won't be scrambling to do it when you're busy packing and lifting.
Stay Organized
As you work through this process, stay as organized as you can. Keep all instruction manuals and warranty information you come across in one master folder for easy access. Store all of your important financial, medical, and personal files in one safe place to be moved from one home to the next.
Keep all your moving confirmations and receipts in one place, too, as they may need to be used for tax deduction purposes.
Pack, Pack, Pack
Begin packing as far out as you can, starting with infrequently used items you won't mind not having direct access to. For instance, if it's summer, it's probably safe to pack up your winter coats, shoes, and clothes and get them ready for the move.
Packing is time-consuming and exhausting, so doing a little at a time day in and day out preparing for your move will help. Of course, in the days immediately before your move, you'll likely be packing nonstop.
Be sure to label things well and even mark the boxes where things will go in your new home for an easier unpacking process.
You should also pack up a "first night kit" to use in your new home with the essentials you'll need for that first night. That way, you won't be scrambling to find the items you need if you haven't fully unpacked on that first day.
Final Walkthrough
Once everything is loaded in the truck on moving day, it's time for your final walk-through of your old place. Do a final cleaning, run your garbage disposal one final time to ensure it's clear, lower all of your blinds, turn the thermostat down or up as needed, and lock all doors and windows. Don't forget to hand over your keys to the next resident before driving away!
Sara LeDuc is a freelance writer for DoItYourself.com. She also writes for a handful of other websites and platforms. She has been growing her skills and client base for the past two years, but has been passionate about writing for as long as she can remember. She has worked with Internet Brands for over three years and enjoys learning about — and completing — DIY projects and keeping up with the latest and greatest home improvement trends. Besides her work for DoItYourself.com, Sara also has worked with retail, human resources, fitness, commercial, and medical clients to help them increase client engagement, grow their following, and drive traction to their blogs and websites. Sara has furthered her skills and reach by working as an editor with a media company. This has helped her diversify her abilities as a writer and work with additional writers, editors, and a wider range of clients. Sara enjoys continuously learning and building her skills in the field by working on SEO campaigns and outreach programs to increase the visibility of her freelance clients. She loves being creative, pitching article and post ideas to clients, learning more about the freelance industry, and completing DIY projects.