Crafting With Real Flowers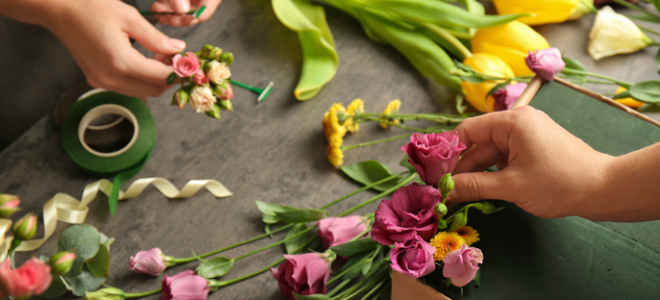 Pressing, drying, and crafting with real flowers is a centuries-old art that's great for making personalized gifts, kid-friendly projects, and decorations for the home.
Combining flower lore and crafting techniques, this wonderful pastime engages all ages and skill levels, while deriving items from your very own garden.
Even if you're new to it, or don't have a garden, this article will go over ways to get started on some easy, practical, and low-cost flower crafting ideas.
The Language of Flowers
Flowers and plants have a traditional language of their own; rosemary or poppies for remembrance, daisies for purity and innocence, roses for love and romance, and lilacs for renewal are some common associations.
Learn a little more about what the flowers and herbs in your garden represent, and keep these meanings in mind when selecting ones to craft with to give the project more sentiment.
If you're commemorating an event, there may be flowers to take (with permission, of course) from the site, or choose something from your garden to make at home. You can always purchase fresh-cut flowers from your local flower shop, or from a garden center if you don't have any blooming.
While it can seem like a fun idea to go on a hike and collect wildflowers, this can affect the health of your local ecosystem in a much larger way than most people realize.
Native, beneficial pollinators need wildflowers for nectar as well as shelter, and forestry services around the country ask that you leave wild plants be. Consider growing your own pollinator garden with enough blooms that you can pick a few for yourself.
Fresh Cut vs Dried Flowers
Fresh-cut flowers add beauty and natural color to any room—but as their loveliness fades, flower crafts pick up where a wilting bouquet leaves off. While fresh flowers and their petals can be used in crafts, remember that their lifespan is limited in that form, but also consider how they may look once dried.
Fresh flower crowns adorning heads or front doors are a whimsical way to use them in another way besides the typical "in a vase" idea, which is great if you only want to use them for a day.
Fresh-cut flowers can also be used for celebratory events like weddings, birthdays, and funerals, as their freshness is only needed for a 24-48 hour period.
Anyone can take these arrangements home and dry them as they wish, commemorating the day and event for years to come.
How to Dry Flowers
There are many different ways to dry flowers, but the most common methods are to hang them, press them, or simply allow them to dry in the vase.
Drying them out in a vase is an easy way to keep the flowers in their natural state. Fresh flowers can be kept in water for a few days, but you don't want to wait until they wilt, become soggy, or moldy before you dry them out, best to start the drying process while the flowers are still somewhat fresh.
Wires are helpful to keep them arranged as you want, which is easier to do before they are dried out as they will crumble easily afterward when handled. You can also place your bouquet in a mix of water and glycerine to help maintain their suppleness, leaving them in it for around three weeks.
Some people prefer to hang bouquets of fresh flowers to dry them out. This will prevent any drooping that might happen with certain species. Putting them in a dark, cool place can help retain their color and vibrancy while they dry.
Flowers that were in a glycerin mix can also be hung to dry so the fluid reaches any wilted parts. Either way, dry times will depend on the flower and how large or supple they are, but the process usually takes around 2-4 weeks.
Pressing flowers is a good way to preserve and dry your flowers, but this will change them into a two-dimensional state, unlike these drying methods which will keep them in 3D.
How to Press Flowers
Pressed flowers are more commonly used in crafting since they are flat and easy to work with. Dried bouquets are more ornamental, and aren't easy to work with once dried.
Preserving flowers by pressing them is quite simple, but there are a few different methods. A common DIY method is to put blooms between two sheets of wax paper or parchment paper.
Then place them in a flower press of some kind—heavy books stacked on top of a hard surface work well, or in the middle of a phone book. Whatever you have that's heavy and flat will work fine, just space out the flowers when you're laying them out.
A wooden press or tool press can work, too, and in this case it's recommended to use thin, flat cardboard in between the press and parchment paper. Pressed flowers also take around 2-4 weeks for the flowers to completely dry.
Pressing flowers using a microwave is handy when you want them ready to use immediately. Results will vary with this method, and you may need to use the trial-and-error approach.
There are products you can buy to safely microwave the flowers, but these range around $100-$200, and DIY methods work just as well.
Start out with naturally flatter flowers like daisies, asters, or leaves to see how it turns out. Flatten the items on a paper towel or microwaveable cloth, and cover with another paper towel or cloth.
Place a heavy dish on top to press them down. Microwave at half power for 60-90 seconds and then observe. They will stiffen up as they cool, but if some moisture remains, pop them in for another 30 seconds.
Frame It!
This is an easy DIY project that can put your dried flowers on display for anyone to see. Floating frames work well since you can layer your flower in between the two pieces of glass, but choose whatever frame you like.
Make a layout first to decide how you want to display the flowers, and once you are happy with it, you can glue them onto the backing, one by one. Consider taking a picture of the design before you start moving things around as a guide to look back on.
You don't need a lot of glue; just a tiny dot here and there to affix the delicate petals and stems. Some flowers may not need glue at all if you find they stay in place.
Add other mementos like real photos or custom messages to go alongside the dried flowers to create a collage effect. Children's art also looks great framed with flowers they picked and pressed themselves.
DIY Personalized Cards
This project is very similar to the photo frame project, but instead of framing the flowers in glass, you'll lay them against card material. White card stock is a common choice, but have a browse around the craft store at other options like rustic, brown paper, or other colored poster board.
Do a dry run arrangement, and with this project, less is more. Cards are sentimental, no matter the occasion, but you don't need a lot of flowers to make a statement.
This is a great time to use the "language of flowers" to adorn cards for certain events: holly for Christmas, baby's breath for baby showers, calendula for birthdays, or lavender for weddings.
Glue your flowers against the paper; unless you plan on using a laminate cover, which can also work to hold everything in place and give the card a finished look. Gently, but firmly press the flowers down and wait to see if anything pops up overnight.
Options for customizing your cards are endless, but you won't need to add much more in terms of decoration. Consider having cards printed with any text you want before adding the flowers.
Pressed Flower Pin
Pins are a fun and easy project that you can make for yourself, your kids, or to give as gifts. Since pins are small, choose one flower, herb, or leaf: a pansy petal, twig of thyme, or tiny maple leaf or clover are just some ideas.
Glue the dried flower to the backing of your choosing (card stock or white paper work well) once they've been cut to the shape of the blank pin. Let that dry overnight to make sure the flower has adhered fully, then pop it into the pin, and voila!
This process can also be done for lockets or added to necklaces if you wanted to make your own custom jewelry. Applying the flowers into resin might be something to consider for this kind of craft.
Flower Candle Holders
For this project, any flower that flattens out nicely will work, and while a bouquet of different petals and herbs would look lovely adorning a tall candle holder, think about using just one kind like a red poppy to make it "pop"!
Red poppies are used for Remembrance Day events, and you could give these to a war veteran you may know who would appreciate the heartfelt and handcrafted gift.
Use plain votive candle holders or other glass containers like Mason jars, but consider the practicality, safety, and ease of using lighters with whatever container you choose to decorate.
Glue the chosen flowers onto the front of the glass with Elmer's glue or mod podge, using a small paintbrush to cover entire areas.
If you only want to cover a smaller area, or add flowers one-by-one, it would be better to apply the glue to the back of the petal itself with a toothpick or small brush so you don't see the glue. Frosted glass would look beautiful adorned with dried flowers.
DIY Pressed Flower Bookmarks
This project can reuse clear, unlabelled, plastic containers, or sections of leftover white printer paper to make a custom bookmark. Re-using materials teaches kids how to use waste items, making it a fun lesson on how to make crafting eco-friendly.
Cut out two strips of plastic and/or white paper in the shape of a normal bookmark using a ruler or cutting along a straight edge to give you perfect lines. You may want the plastic to border around the white paper, or you may want to leave the white paper out entirely.
Stencil around an existing bookmark, or if you don't have one, the standard bookmark size is 2-inch by 8-inch, or 2-inch by 6-inch for smaller books.
Choose and arrange your flowers, and then use a toothpick to apply a thin amount of Elmer's glue to each petal. Tweezers are great tools for picking up and placing flowers. Gently press down onto your plastic or paper.
Press the other strip on top, making sure there is a thin, barely visible line of glue along the edges and corners to hold the strips together. If you want to add a tassle, punch a hole at the top of the bookmark and thread one through.
Photo Album or Garden Scrapbook
This project has a few different ways that you can use dried, pressed flowers, and even gives you a way to dry them at the same time. The cover, as well as the pages, can be adorned with flowers in any way you choose.
The album itself could be a collection that showcases your favorite garden flowers and plants after every season; very helpful for anyone who wants to look back and see what did well, or how things have progressed.
Text can be added to make notes about the species and performance; or organize flowers by species to keep a log of companion planting or future garden designs.
Dried flowers can also be used as decorations alongside family photos when you want something tangible, unlike viewing albums off of smartphones and computers.
Some photo albums have sticky backings already in place, whereas other journal-type books will need the flowers to be glued on.
Eucalyptus Leaves
Eucalyptus leaves and their delicate scent can be used in a wide range of crafts to form wreaths or simply accent shelves and other household items.
A plain lampshade can be transformed by a border of eucalyptus leaves attached with a glue gun. Or, consider bleaching leaves and applying them to your lampshade for an elegant white-on-white effect.

Leaves can also be used on sections of walls—the perfect border for a sunroom for instance. Soak your leaves in rainwater and apply them to your wall surface. Spray the backs of the leaves with spray adhesive and apply them to the wall in any design you like.
Apply several coats of non-toxic sealer afterward and you have a most unusual and lovely accent. Consider this same craft for other objects like vases, tabletops, backsplashes, and more.
The crafts you can create from flowers are varied. From rose-petal hand-made papers to pure peppermint oil in a pressed flower bottle, you can find a flower craft that uses the essence of the plant, whether in looks or for its botanical characteristics.
Using dried flowers is an economical and sustainable way to create something meaningful and beautiful. They're fun and easy for kids to work with, but can also be an interesting challenge for adults.
Growing your own flowers is part of the fun, and you can even make scented oils or homemade potpourri with your plants. Bringing the garden indoors is not only a great pastime, it's a lovely way to add natural beauty to your home.
Whether you grow your own, or source them sustainably, crafting with real flowers brings endless creative possibilities for you and your family to enjoy together.
Emily grew up in a household where there was always a summer garden, and a room being renovated. This influence followed her into adulthood as she has worked in various trades for more than a decade, specializing in tile and trim carpentry. She owns and runs MLE Renovations and has over 15 years of professional renovation and landscaping experience. Emily has a Bachelor's degree in English Literature from the University of Guelph, a Masters in Creative Writing from Humber College, and a Journalism diploma from Conestoga College, so writing about DIY projects is her dream job! She's particularly interested in green design, re-purposing items, and creating environmentally-friendly outdoor landscapes. She always has a project in mind. Next on the list: creating a rain garden on the front lawn, and turning her garage into a working office and guest suite. Emily lives just southwest of Toronto, but grew up in Chicago, and has family across Canada and the United States. She currently works in a Lowes garden center and has an orange tabby cat who helps her decide where plants should go - without getting his paws dirty.