Green Cleaning Hacks
To ensure our content is always up-to-date with current information, best practices, and professional advice, articles are routinely reviewed by industry experts with years of hands-on experience.

Reviewed by

on Feb 22, 2023
Green, or environmentally-friendly, cleaning is trendy these days, and for good reason: the number of single-use cleaners and chemicals we use to achieve a perfect home happens to be terrible for the planet. With plastic-filled oceans and polluted waters, it's time to to eliminate the amount of waste we produce. If eco-friendly cleaning interests you, here are some green cleaning hacks to get your home sparkling, safe, and guilt-free clean.
All-natural Cleaning Agents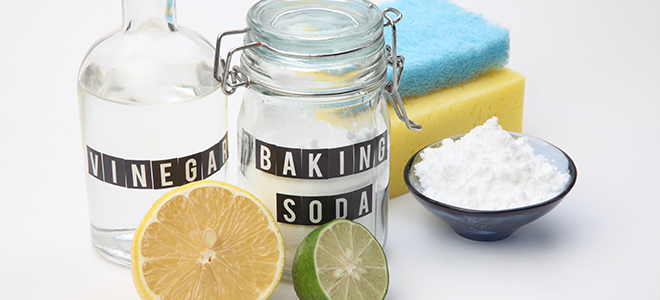 Eliminate toxic waste by switching to cleaners like vinegar, baking soda, hydrogen peroxide and Borax. These are real all-natural products (not just labelled as such) and are biodegradable as well. They can be used on their own or in combination with each other to get your home just as, if not cleaner, than products marketed for a particular job.
Vinegar is a multi-use natural degreaser and disinfectant great for cleaning floors, wiping counters, descaling coffee makers and dishwashers, or used as laundry softener. Try mixing baking soda and water into a paste to tackle tough grime like oven grease and stained grout lines—add Borax to the mix and you have a powerful scrubbing agent and deodorizer. Hydrogen peroxide is a great bleach alternative that can get whites white and prevent and eliminate mold in your washing machine, dishwasher, or the bathroom. Just remember that it's acidic and shouldn't be used on stone or marble.
Bulk Concentrate
If you're not into making cleaning concoctions, bulk concentrates like Castille soap or other brands are a great alternative to having multiple spray bottles under your sink (or in landfills). Most are all-natural and biodegradable—just check labels. Buy one large bottle and mix a small amount of concentrated liquid with water into a few reusable spray bottles. Many brands are good for surface cleaning and can be used as laundry detergent and body wash, making them versatile, convenient, and better for the environment.
Eliminate Single-use Cleaning Supplies
There are a number of products that are competitive alternatives to wasteful paper towels. Look for ones made of sustainable resources like bamboo, which is a strong material good for multiple uses rather than single-use. Renewable and sustainably sourced wipes and towels will leave a much smaller footprint on the Earth after a long life of cleaning.
Newer versions of microfiber cloths are so good now you just need water to clean surfaces and leave windows streak-free (eliminating the need for Windex!). Look for alternatives to plastic as well, think: toilet and dish scrubbers. Many of these options are available at big-box stores where you do your regular shopping, so just take a second longer to source out environmentally-friendly products.
Laundry Balls
Detergent bottles and fabric sheets are a major source of environmental waste but the verdict is still out on whether laundry balls are all they claim to be. Manufacturers say they will clean and soften clothes the same as detergent or fabric sheets without using harmful ingredients. Their reusable design makes them highly tempting for any environmentally conscious laundry-doer, however reviews on this trendy product suggest they don't perform near as well as traditional methods. It might be worth checking out, but buyer beware—these so-called "magic" laundry balls may just be a gimmick making money off the latest eco-craze.
Fake Smells
Did you know air fresheners are actually quite toxic? They may smell nice, but are also releasing volatile organic compounds (VOCs), phthalates, and other harsh chemicals into the air, numbing your sense of smell and causing health issues. Fabric cleaners that claim to freshen furniture and bedding with a quick spray are another kind of product meant to trick consumers into thinking they are cleaning something. Fabric sheets, sadly, can be added to this list. The best way to eliminate bad odors is to clean the area where the smell is coming from with natural cleaning products like those already mentioned.
Don't be sold a bill of goods when it comes to safe cleaning products. Many brands will make claims that their products are "green" or "natural" but check ingredients and do your research before investing in what might look like an eco-friendly product. You know what they say, you can't judge a book by its cover—and you shouldn't with cleaning products either.
Emily grew up in a household where there was always a summer garden, and a room being renovated. This influence followed her into adulthood as she has worked in various trades for more than a decade, specializing in tile and trim carpentry. She owns and runs MLE Renovations and has over 15 years of professional renovation and landscaping experience. Emily has a Bachelor's degree in English Literature from the University of Guelph, a Masters in Creative Writing from Humber College, and a Journalism diploma from Conestoga College, so writing about DIY projects is her dream job! She's particularly interested in green design, re-purposing items, and creating environmentally-friendly outdoor landscapes. She always has a project in mind. Next on the list: creating a rain garden on the front lawn, and turning her garage into a working office and guest suite. Emily lives just southwest of Toronto, but grew up in Chicago, and has family across Canada and the United States. She currently works in a Lowes garden center and has an orange tabby cat who helps her decide where plants should go - without getting his paws dirty.

H.R. Helm is an accomplished DIY craftsman. He has been DIY since childhood and is now a septuagenarian. He is experienced in wood and metal construction, having designed and built several houses and metal buildings. He built every permanent building on his current homestead and did all the plumbing and electrical work. He has several years experience as a professional cabinet builder, and he is an accomplished auto repairman, having operated an auto repair business for many years. He currently has a home shop where he sharpens and rebuilds saws, repairs lawn mowers, mobility scooters, hydraulic jacks, and anything else that comes along. He also builds custom tools for metal working. Invention prototypes are another of his many accomplishments. He owned and operated a manufacturing business building Compact Utility Vehicles for homeowner use. H.R. enjoys making jams and jellies during fruit season along with cooking meals. He is committed to outdoor cooking in a Bar-B-Q pit he welded together several years ago. He maintains fruit and nut trees along with helping his wife with a vegetable garden. He farmed commercial garden produce for several years. It helps to have over 50 years of farming and ranching experience. Employment/Education Highlights ASE Certified Master Auto Technician Certified Welder Cross country truck driver -- over dimensional freight Design Engineer/Project Manager for injection molded plastic company Bus Driver/Substitute Teacher Inventor with two patents (weight training – anti-rollback for manual wheelchair) BS in Industrial Technology