How to Install a Garage Door Opener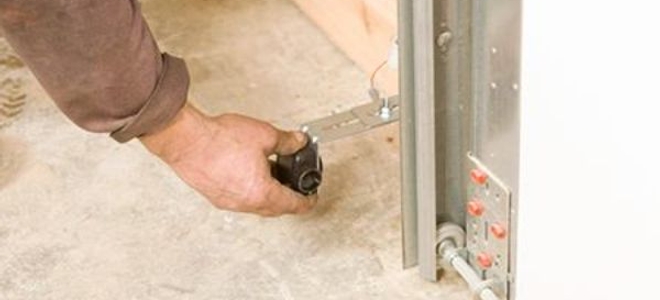 Garage door opener
Pencil
Electric drill
Hammer
Adjustable wrench
1-inch and 2-inch lumber for shims
Steel angle for reinforcing lightweight garage doors
Stepladder
Steel measuring tape
Drill bits
Screwdrivers
Pliers
1x6-inch mounting board
Read this article for information on the basic process for installing a garage door opener. Keep in mind that all systems are unique, so the manufacturer's instructions will be able to provide better details for your system.
Garage door openers fall into 1 of 3 categories, which are chain driven systems, belt systems, and screw systems. The information you are about to read pertains to chain systems.
Safety First
Before you begin any work, make sure that your garage door opens and closes properly. Hire a professional to make any necessary repairs. Once you know that door is in good order, disconnect the hardware which supports the door and disengage all locks. Don't wear loose clothing or accessories.
During Installation
Place the power unit at least 7-feet high with the manual disconnect at 6-feet. Put the button control 5-feet high. Shut of the power if you have to run wires. Make sure that you comply with the packaging instructions.
After Installation
Don't let kids touch the controls and keep away from the door while it is in motion. Keep the system free of all obstructions. Inspect the safety features once every 4 weeks. Always shut off the power for maintenance and call a professional for repairs.
Installing the Opener
Read the owners manual to familiarize yourself with the opening system. First attach the tube to the power, then put the traveler over the tube before you have completed putting together the idler.
Click on drawing above to view animation.
Attach the chain with the traveler before you wrap it into the power unit. Create the correct tension.

Set the head bracket in place and connect the parts. Make sure there is proper clearance for the power unit. Use the 2x4-inch lumber and mounting straps to set the power unit.
Connecting the Opener
Test the system to make sure it operates smoothly. Most systems require 1-inch of space between the door and the tube. Then attach the bracket. Don't damage the wires while you connect them to the unit.
Make all of the final safety adjustments. Use a motion sensor to as an added precaution.
--
Information in this article has been furnished by the National Retail Hardware Association (NRHA) and associated contributors.