Hot Topics: Yellow Oily Drops Bleeding Through Walls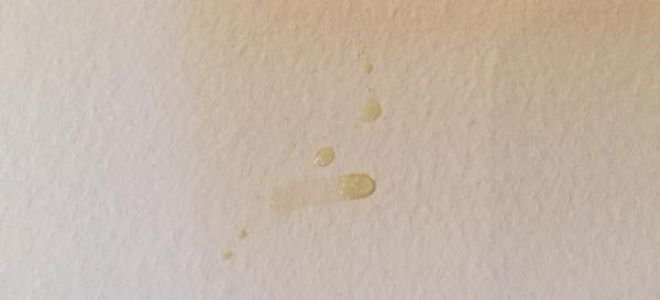 Our DIY forums feature chats between a quarter-million contributors in over 120 categories, so we highlight active threads to help with popular projects. This transcript has been lightly edited. Hope it helps!
Karlbel2 - Member
Hi,
My son's bedroom has yellow oily droplets bleeding through his walls, does anyone know what this could be? We have never repainted the walls and have lived in the home for 8 years. We are also non-smokers.
Thank you
Belinda
Check out wall cleaners on Amazon.
marksr - Forum Topic Moderator
Welcome to the forums Belinda!
Is it something that would show up in a pic? What are the walls made of? plaster, drywall, wood, masonry?
Pigmented shellac primer like Zinnser's BIN works well at sealing stains and might stop further bleed thru ..... really depends on what is bleeding thru.
Pulpo - Member
Since you are outside America (Au?), should I presume that the walls are plaster? Is it an outside wall? If not what's next to it? What's above it?
XSleeper - Group Moderator
Sounds like rusty drywall nail heads. They get rusty on the exterior walls from being cold in the winter, water condenses on them. Stain blocking primer like the BIN shellac followed by a fresh coat of paint should cover them up. If the surface over the nail is not smooth (popped nail or a countersunk dip) you should put a new screw near the nail and then coat them both with 2 coats of joint compound and sand before painting.
joecaption - Member
Did you clean the walls before painting?
Is it's oily stains that look like nicitane stains running down the wall a good cleaning with an orange cleaner and an oil based primer may be called for.
I see this mainly on paneling.
Karlbel2 - Thread Starter
Yes you are right it is plaster, out of the 4 walls, 3 of them have these oily yellow tear drops. Behind 2 of them are bathrooms and the 3rd backs on to a hallway near the kitchen. I have never painted these walls in the past 8 years we have been here so I have no idea what it has been painted with. Also we are a house of non-smokers and the home did not smell of smoke when it was purchased. My main concern my son's health, It does not stain, I just wipe it of with soapy water and my walls are fine. It's just so strange!
Karlbel2 - Thread Starter
All walls affected are internal plaster walls.
Karlbel2 - Thread Starter
Another one of the walls: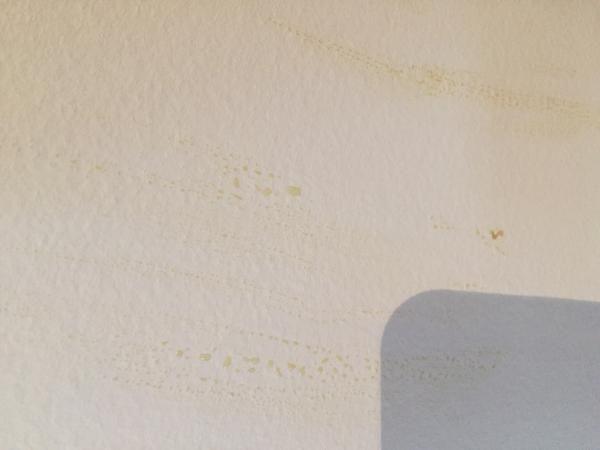 marksr - Forum Topic Moderator
If it washes completely off I would think it's something in the environment and not something behind the walls. Generally if it's something coming thru the wall it won't wash off leaving no evidence behind. How long ago did this start? have there been any other changes preceding this event?
Very strange, hopefully some of the others will have ideas of it's source.
Pulpo - Member
Do the walls that have the spots feel colder, to the touch than the others? It's strange that 2 of them are behind bathrooms.
marksr - Forum Topic Moderator
I'd really be surprised if it's something coming thru the wall since it washes off and doesn't leave a stain behind.
How old is the boy? could he be splashing anything onto the walls ??
Pulpo - Member
Now that I looked at the pics more closely, it certainly does look like something is being thrown against the walls. Is there a ceiling fan in the kitchen? That would explain the oil.
Karlbel2 - Thread Starter
Initially that's what I thought it was so I just wiped it off and did not think about it until it happened again & again over the past month. My son is only a couple months old and we definitely haven't spray anything in there especially more than once. I will feel the temperature of the walls when he wakes this morning. Thanks for all the feedback, I appreciate it!
marksr - Forum Topic Moderator
Do you know if it's happening in the same spots?
stickshift - Group Moderator
I'd tape some paper over the walls in common areas for this and see if the stain ends up on the paper without being on the wall behind or vice versa.
marksr - Forum Topic Moderator
That sounds like a good idea don't use scotch tape! painter's blue or green tape would be best as it won't damage the wall when it's removed.
XSleeper - Group Moderator
Are you running any kind of steam humidifier in the room?
Bud9051 - Member
All of the help advice is doing well, just want to add my thoughts. Condensation, cool walls, and a humidifier could be a source of that moisture.
Repeat on X's question about, are you using a humidifier?
If no humidifier, can you check the relative humidity in that room?
Pulpo - Member
So there is a ceiling fan? If so run a rag over the tops of the blades.
Karlbel2 - Thread Starter
No Humidifier, there is ceiling fan but it hasn't been used in about 6 months. 2 of the walls do back on to bathrooms, could it be condensation from the shower? I would definitely like to check the room for humidity, what is the best way to do this!
It is winter where I live but it is a sub-tropical climate so the cold is very mild. The humidity is a lot higher during summer.
Thanks again for all the advice!
marksr - Forum Topic Moderator
Typically when moisture migrates thru a wall it leaves a stain behind. Is there excessive humidity in the bath rm? an exhaust fan? Have you had a chance to try stickshift's suggestion of taping paper to the wall and see what happens?
Pulpo - Member
I ran into a similar problem once. It was in an 11 room rooming house which I think was once a large farm house or mansion. The walls were plaster. There was what appeared to be some white gooey stuff oozing out of the wall. It was only about 3". I scraped, sanded, spackled & painted the spot. A few weeks later, I was told that it reappeared. I never really found out what it was.
Some other thoughts: Even though the ceiling fan hasn't been used, can you run a rag on the top of the blades? Just see if the dust is dry.
One of the drops in the last pic seems to have a tail on it going from left to right as if it were thrown in that direction. There is also discoloration above those drops.
XSleeper - Group Moderator
I'd say it's from condensation and the odd collection of goop is from the wall never being completely washed or painted for who knows how long. The condensation causes all the foreign material that is on the wall to coalesce into the water droplets.
Pulpo - Member
Maybe some pics of the entire kitchen might help.
marksr - Forum Topic Moderator
I thought the room in question was a bedroom.
Shadeladie - Super Moderator
Yes, it's a bedroom. X's guess sounds right to me. I'd think a good washing or priming and a fresh coat of paint, would solve the problem. It's amazing what fresh paint does!
When you purchase through links on our site, we may earn commissions at no cost to you.